Few students have traveled farther than Justus Uwayesu '18 to reach a Harvard classroom.
A native of Rwanda, Uwayesu lost both parents in the 1994 genocide, and at age 7 walked from his home village to the capital of Kigali, where he found himself living in a garbage dump. When a humanitarian visited and asked what she could do to help, Uwayesu told her he wanted to go to school.
The educational journey he began that day will come to an end next year, when he receives his diploma from Harvard College.
"When I was done with high school in Rwanda and deciding where to go to college, I chose Harvard," said Uwayesu, a recipient of the Betsy and Alan Cohn Scholarship Fund. "I chose Harvard for its reputation for producing leaders dedicated to their country's futures, but, frankly speaking, it was also one of the few colleges I could afford to attend.
"In this very hall, I had the opportunity to meet and interact with freshmen from all over the world," he added. "Even as a child, I knew that education was the way out of poverty … so I'm deeply grateful to be part of the Harvard community. I started my journey at Harvard with the expectation that my academic experience would equip me with the tools I need to make a positive change in my community back home, and I believe it has."
Uwayesu told his story during the Celebration of Scholarships dinner, which brought together students who benefit from financial aid and donors who support the program.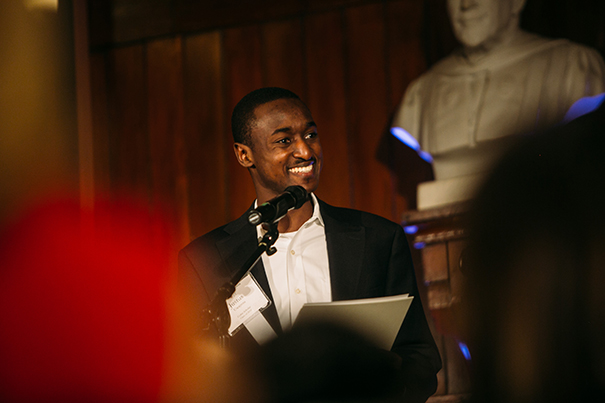 Held in Annenberg Hall, the 11th annual dinner was co-hosted by Financial Aid Campaign Committee co-chairs Tim Barakett '87, M.B.A. '93, and Michele Barakett, Lloyd C. Blankfein '75, J.D. '78, and Laura Blankfein P '16, '10, '08; Ken Griffin '89; and Jerry Jordan '61, M.B.A. '67, and Darlene Jordan. It featured comments from Edgerley Family Dean of the Faculty of Arts and Sciences Michael D. Smith and Dean of Admissions and Financial Aid William R. Fitzsimmons, both of whom extolled the financial aid program as being among Harvard's most important.
"What you do truly matters," Smith told the donors and students. "We do an amazing number of things across the Faculty of Arts and Sciences, things that open my eyes, that excite and amaze me … but what you have done for the students here tonight and the students to come is truly exceptional. Thank you for your commitment to sustaining Harvard's financial aid program, and thank you for everything you do for every one of our students across Harvard College who benefit from your generosity."
Among the donors who spoke was co-host Lloyd Blankfein, chairman and CEO of Goldman Sachs, and a financial aid recipient as an undergrad.
"I started my experience with financial aid with a great sense of gratitude for having received aid," he said. "And I know students today still feel that way, because just a few hours ago, I met with recipients [of Blankfein family scholarships] and they expressed their appreciation.
"But what they don't know is what I get out of it," he added. "If I started out by feeling grateful that I was receiving aid, today I feel grateful that I give it, because I get to feel connected to these amazing students."
For the students who receive it, the impact of financial aid is incalculable.
Harvard was always at the top of the list for Fitchburg resident Michael Richard '17, a recipient of a Gerald Jordan Family Scholarship, but it initially seemed as though attending wasn't in the financial cards.
As the child of a single parent who'd been forced to retire from her job as a nurse following an injury, coming to Harvard wouldn't have been possible without aid.
"My mother said, 'You can go to a small state school,'" he said. "I decided to apply to a lot of schools that had good financial aid programs … and Harvard was one of the last that I heard from. Not only did I get in, but when we saw the financial aid, we were floored. It was unbelievable. It felt like I'd just won the lottery."
It was an experience shared by junior Christina Zeina '18.
Though she'd visited the Boston area with her sister, who attended Boston College, the notion of attending Harvard herself was a "pipe dream," said Zeina, who receives aid through the John Francis O'Brien Scholarship Fund.
"I remember telling my dad, when I applied early, 'Are you sure there's no deadline for community college enrollment? Because this is definitely going to be a rejection,'" she said. "But when I read the email, I burst into tears. I called my sister and she said, 'It's OK, rejection is part of life,' and I had to tell her I was crying happy tears.
"When I saw the financial aid amount, it was a game-changer," she continued. "I don't think I would have gone here if it wasn't for financial aid, and now I'll likely graduate debt-free. I can't thank Harvard enough for that. I would not be the person I am today if it weren't for the financial aid program."
Following her graduation next year, Zeina hopes to attend medical school, a path that might not have been open to her were it not for financial aid.
"I know some people don't pursue what they wanted to because they have so much college debt," she said. "Financial aid makes it possible for you to explore, find your passion, and follow it on your career path."
That same freedom also allowed Richard to pursue a degree in economics and find his passion in public service.
"Harvard's financial aid gives you more freedom than you realize," he said. "If you graduate with loans and debt, that's going to influence the choices you make after graduation. The amount of freedom Harvard provides, that was very special from the beginning."