June 2016
Homi K. Bhabha, Anne F. Rothenberg Professor of English and American Literature and Language and director of the Mahindra Humanities Center, wins a Humboldt Research Award for his extensive work in the humanities.
Harvard John A. Paulson School of Engineering and Applied Sciences (SEAS) researchers demonstrate the first at lens that works with high efficiency within the visible spectrum of light, with exciting potential in wearable optics for virtual and augmented reality.
A cross-disciplinary Harvard team creates a system that uses solar energy to split water molecules and hydrogen-eating bacteria to produce liquid fuels, converting solar energy to biomass with 10 times the efficiency of the fastest-growing plants.
Astronomy Professor David Charbonneau wins a Blavatnik Award for his pioneering discoveries of exoplanets, most notably an Earth-like planet orbiting a nearby star that is considered the best target for future exploration.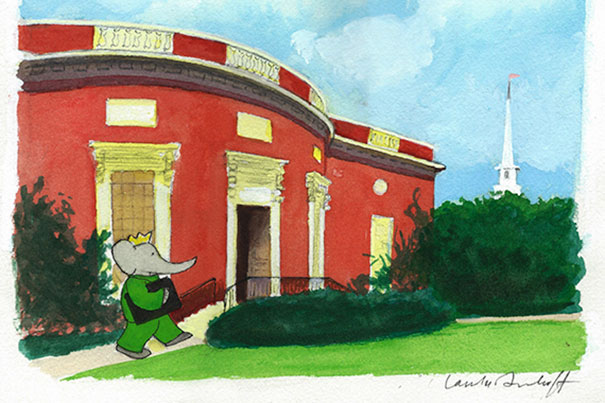 (above) Houghton Library celebrates Babar with an exhibit including a commissioned piece by author Laurent de Brunhoff, who visited with his wife, Phyllis Rose, Radcliffe '64.
With a gift from the Hutchins Family Foundation, at the direction of Glenn Hutchins '77, J.D./M.B.A. '83, the Winthrop House courtyard is named for the late James F. Rothenberg '68, M.B.A. '70, University treasurer and longtime benefactor.
July 2016
Robin Kelsey, Shirley Carter Burden Professor of Photography and chair of the Department of History of Art and Architecture, is named dean of arts and humanities.
Harvard Law School (HLS) and the Berkman Center for Internet & Society announce a $15 million gift from Michael R. Klein, LL.M. '67. In recognition, the center is renamed the Berkman Klein Center for Internet & Society.
Katherine O'Dair is appointed dean of students at Harvard College.
Harvard and Berklee College of Music announce a dual degree program that will let students earn a bachelor of arts degree at Harvard and a master's degree at Berklee in five years.
Martha Tedeschi begins as the new Elizabeth and John Moors Cabot Director of the Harvard Art Museums (HAM).
Michelle Williams, S.M. '88, Sc.D. '91, begins as dean of the Harvard T.H. Chan School of Public Health (HSPH). "I know she will approach her new role with the intelligence, dedication, integrity, and humane spirit that she brings to all she does," says Harvard President Drew Faust.
August 2016
Three Harvard Divinity School (HDS) students reach No. 2 on the iTunes Podcast charts with "Harry Potter and the Sacred Text," which started as a class at the Humanist Hub.
Ahead of a 2019 exhibition celebrating the Bauhaus centennial, HAM debuts a digital gallery of more than 32,000 objects related to the famed art school.
President Faust calls HDS a "pinnacle of pluralism" in welcoming remarks at HDS's Convocation, which also marks the start of the School's yearlong bicentennial celebration.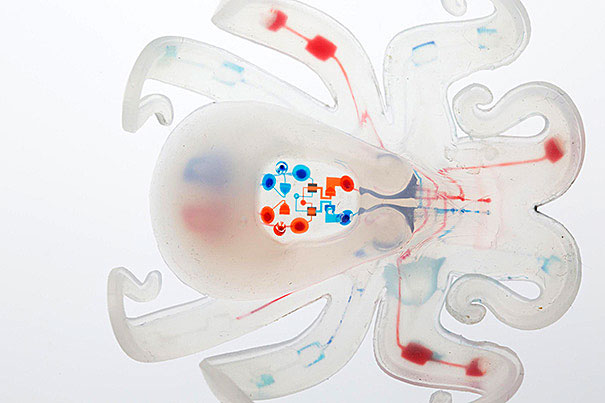 (above) The 3-D-printed "octobot," developed by a team of SEAS researchers, is the first autonomous, entirely soft robot powered by a chemical reaction controlled by micro fluidics instead of electronics, paving the way for a new generation of machines.
Bloomberg Philanthropies, Harvard Kennedy School (HKS), and Harvard Business School (HBS) announce the launch of the Bloomberg Harvard City Leadership Initiative, a collaboration to advance leadership, management, and innovation in cities all over the world.
September 2016
Jackie Lender '16 kicks off the Harvard Presidential City of Boston Fellowship, which places a recent College graduate at Boston City Hall to work with Mayor Martin J. Walsh and his team for one year.
A $10 million gift to HSPH from an anonymous donor is announced to support financial aid for students in the School's Nutrition and Occupational Health Sciences programs and Doctor of Public Health Program.
Louis Menand, Anne T. and Robert M. Bass Professor of English, receives the National Humanities Medal from President Barack Obama, recognizing his contributions to the study of cultural history.
Washington Post reporter Jason Rezaian and his wife, reporter Yeganeh Salehi, join Harvard as Nieman and Shorenstein fellows, respectively. Rezaian spent 543 days in an Iranian prison on dubious espionage charges before his release in January 2016.
William G. Kaelin Jr., a professor in the Department of Medicine at the Dana-Farber Cancer Institute and Harvard Medical School (HMS), wins the 2016 Lasker Award for Basic Medical Research, widely regarded as America's most prestigious biomedical honor.
Hannah Zurier '17 discovers a new species of truffle fungus on the grounds of the Arnold Arboretum, naming it Tuber arnoldianum.
(above) Aung San Suu Kyi, leader of Myanmar and a Nobel laureate, receives the Harvard Foundation Humanitarian of the Year award.
The Howard Hughes Medical Institute, the Simons Foundation, and the Gates Foundation name 10 Harvard scientists fellows of a new funding initiative.
Harvard announces that the Smith Campus Center, currently under renovation, will now include the Moise Y. Safra Welcome Pavilion, a new common space for community members and visitors when the center reopens in 2018.
President Faust convenes the Presidential Task Force on Inclusion and Belonging to examine ways to help the University thrive as a place where all members of its increasingly diverse community feel they belong.
October 2016
Drawing from approximately 1.5 million items in the Polaroid corporate archives, HBS' Baker Library launches the first of three planned exhibits on the iconic company, from its startup days to the release of the Polaroid Land Camera Model 95 in 1948.
Steven Hyman, M.D. '80, Harvard University Distinguished Service Professor of Stem Cell and Regenerative Biology, wins the 2016 Rhoda and Bernard Sarnat International Prize in Mental Health for his work on the treatment and understanding of mental illness as a biological disease.
The Graduate School of Design (GSD) establishes the Richard Rogers Fellowship, a residency hosted at the Wimbledon House, the landmark London residence designed by Lord Richard Rogers.
The Hutchins Center honors Ursula M. Burns, David L. Evans, Pam Grier, Lana "MC Lyte" Moorer, David Simon, Jessye Norman, and the 1966 Texas Western Miners men's basketball team with the Du Bois Medal for their work making a difference for African-Americans and for cultural understanding.
Winslow Homer's "Summer Night" (1890), a masterwork on loan from the Musée d'Orsay in Paris, goes on long-term view at HAM.
HSPH Dean Michelle A. Williams and Professor Karen M. Emmons, dean for academic affairs, are elected to the National Academy of Medicine, one of the highest honors in health and medicine.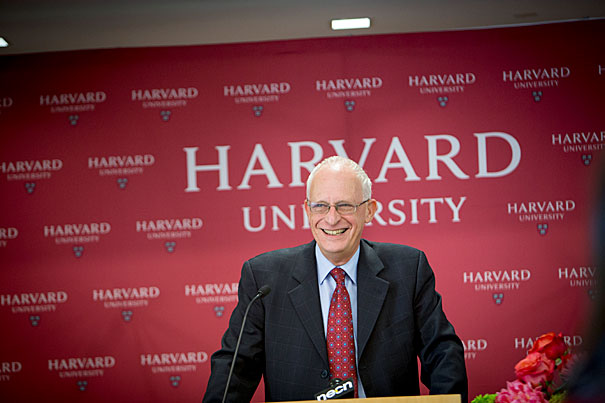 (above) Oliver Hart, Andrew E. Furer Professor of Economics, wins the 2016 Sveriges Riksbank Prize in Economic Sciences in Memory of Alfred Nobel.
Harvard researchers make the first entirely 3-D-printed organ-on-a-chip with integrated sensing. Built by a fully automated, digital manufacturing procedure, the organ can be quickly fabricated and customized, allowing researchers to collect reliable data easily.
Brooklyn Nets guard Jeremy Lin '10 announces a $1 million gift to support undergraduate financial aid and renovations to Lavietes Pavilion, the College's basketball arena.
The Radcliffe Institute's Schlesinger Library hosts "Righting the Record: Conservatism and the Archives," about the importance of academic libraries maintaining greater ideological diversity in their collections of political materials.
The Pagliuca Harvard Life Lab is the newest addition to the growing portfolio of innovation facilities on Western Avenue in Allston. Made possible by a gift from Judy Pagliuca, M.B.A. '83, and Steve Pagliuca, M.B.A. '82, the lab will offer shared space for high-potential life sciences and biotech startups founded by Harvard faculty, alumni, students, and postdoctoral scholars.
November 2016
Speaking at the inaugural Harvard Women's Weekend, President Faust cites the succession of milestones that have marked the growth of opportunities for women at Harvard and the trailblazing students and faculty who helped achieve them.
"Doris Salcedo: The Materiality of Mourning" opens at HAM, featuring works by the artist known for sculptures and public installations that honor, acknowledge, and mourn individuals lost to civil violence.
ROTC celebrates its 100th anniversary at Harvard as Harvard Library debuts a new exhibit, "To Serve Better Thy Country: Four Centuries of Harvard and the Military."
Five Harvard College students are among this year's 32 Rhodes Scholars from the United States The scholarship covers up to three years of study at Oxford.
HKS reaches a milestone in its campus transformation as it completes the exterior construction of its three new buildings.
A team of undergraduates at SEAS uses synthetic biology to tackle marine micro-plastic pollution. Their solution, Plastiback, wins a gold medal at the annual iGEM competition, beating more than 300 student teams from dozens of nations.
President Faust addresses the concerns of Harvard's undocumented students, reaffirming the University's "clear and unequivocal support for these individuals, who are part of the fabric of University life." She is one of 200 college and university presidents to sign an open statement in support of maintaining and expanding the DACA immigrant program.
A generous gift from Jeff C. Thomas to the HLS Animal Law and Policy Program goes toward improving quality of life for farm animals.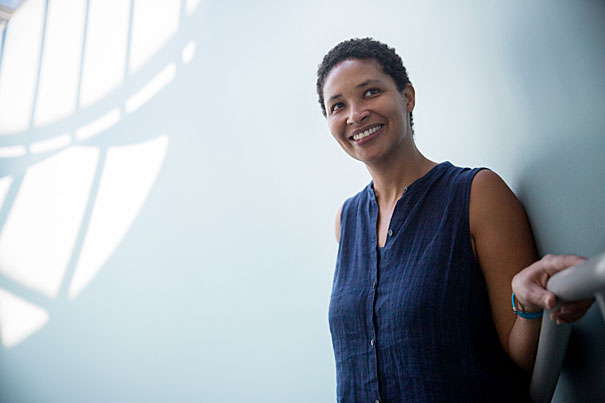 (above) Danielle Allen is named the James Bryant Conant University Professor, Harvard's highest faculty honor.
Peter Berman, professor of the practice of global health systems and economics at HSPH, receives the 2016 Carl Taylor Lifetime Achievement Award in International Health from the American Public Health Association.
Wendy Jacob RI '05 debuts "Calm. Smoke rises vertically," an exhibition designed for the sighted, sightless, and hearing-impaired, at Radcliffe Institute's Johnson-Kulukundis Family Gallery.
Harvard loses The Game in football for the first time in 10 years, falling to Yale 21-14 at Harvard Stadium.
Michael Reich, Taro Takemi Professor of International Health Policy, receives an award for lifetime service from the Alliance for Health Policy and Systems Research and Health Systems Global.
The Peabody Museum of Archaeology and Ethnology kicks off the celebration of its sesquicentennial.
To honor his retirement at the end of the 2016-2017 academic year, the Weatherhead Center for International Affairs dedicates its Warren and Anita Manshel Lecture in American Foreign Policy to one of its former directors, University Distinguished Service Professor Joseph S. Nye Jr.
Alumni and friends gather at the Deutsches Historisches Museum in Berlin for Your Harvard: Germany to celebrate the alumni community in Europe.
December 2016
HAM announce a $1 million donation from Ken Hakuta, M.B.A. '77, nephew of artist Nam June Paik, to establish the Hakuta Family Endowment Fund and create the Nam June Paik Fellowship.
Naomi Oreskes, professor of the History of Science, receives the Schneider Award for Outstanding Climate Science Communication.
ClassACT, a nonprofit initiative of the Harvard-Radcliffe Class of 1973, establishes an international leadership program in memory of their classmate Benazir Bhutto, the former prime minister of Pakistan.
Three Harvard College students are named Marshall Scholars. The scholars are invited to study for up to two years at any university in the United Kingdom.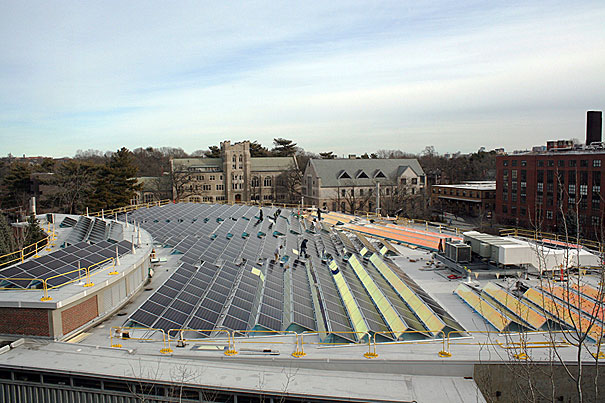 (above) Harvard University achieves the ambitious climate goal set in 2008 to reduce its greenhouse gas emissions by 30 percent.
The Andrew W. Mellon Foundation gives Harvard a $506,000 grant to establish a Summer Institute for Technical Studies in Art, designed for graduate students from art history programs across North America to broaden their experience with object-focused technical inquiry, methodologies, and instruction.
Harvard joins the American Talent Initiative, a coalition of 30 elite colleges and universities, with the goal of recruiting students from backgrounds and means who are often underrepresented in the student rolls.
Thirty-five new representatives convene at the Institute of Politics for the Bipartisan Program for Newly Elected Members of Congress, hosted biennially at HKS since 1972. Members discuss a wide range of policy areas and receive advice on practical issues relating to their work in Washington.
Thomas C. Schelling, a major figure in shaping HKS, dies at age 95.
HMS geneticist Stephen Elledge is awarded the 2017 Breakthrough Prize for his research into cell life, death, repair, and recycling.
Ten Harvard students and alumni are selected to attend Tsinghua University in Beijing as Schwarzman Scholars.
Tommy Amaker becomes the Crimson's winningest men's basketball coach after notching his 179th victory.
January 2017
HLS Dean Martha Minow announces she will step down at the end of the academic year. "Martha Minow has devoted herself to making HLS stronger and better, more inclusive, and more intently focused on the quest for fairness, equality, opportunity, and respect for the rule of law," says President Faust.
Harvard and Boston Children's Hospital researchers develop a customizable soft robot that fits around a heart and helps it beat, potentially opening new treatment options for people with heart failure.
New Harvard Management Company head N.P. Narvekar announces a major reorganization of Harvard's endowment management arm, including investment strategy shifts, staff reorganization, and changes in how compensation is calculated.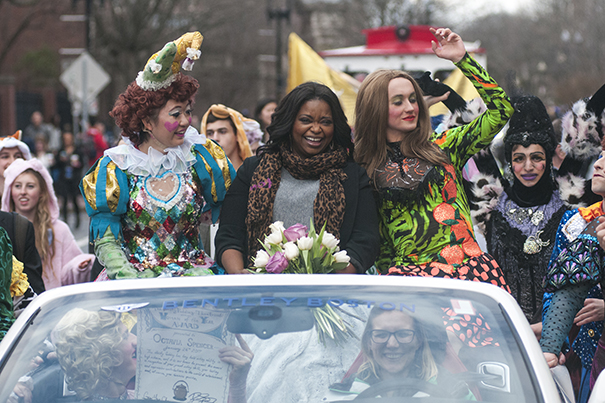 (above) Oscar-winning actress Octavia Spencer is honored as Hasty Pudding's 2017 Woman of the Year.
William Sisler, Harvard University Press director who led the publisher through an era of major transitions, announces he will retire at the end of the academic year.
Nearly a century after it was theorized, Harvard scientists say they have produced metallic hydrogen, a breakthrough that could help answer fundamental questions about the nature of matter.
George Q. Daley, a leader in stem cell science and cancer biology and a longtime member of the HMS faculty, is named dean of the Faculty of Medicine.
Architectural historian and scholar of Renaissance architecture James Ackerman, Arthur Kingsley Porter Professor of Fine Arts Emeritus, dies at 97.
Harvard's Center for Middle Eastern Studies opens its first overseas field office in Tunisia with support from Hazem Ben-Gacem '92.
With renovations complete, staff moves back into Memorial Church as Sunday Services and Morning Prayers return to the building for the first time since May 2016.
Winthrop House renovations are completed ahead of schedule, enabling all 400 residents to return for the 2017 fall semester.
February 2017
"Next of Kin," an exhibit at the Harvard Museum of Natural History, brings an artist's eye to the ongoing extinction crisis affecting the planet.
Actor Ryan Reynolds is honored as Hasty Pudding's 2017 Man of the Year.
In a visit to a turnaround public school, Miami Northwestern Senior High School, President Faust joins Shaunte Butler '14, a Miami Northwestern graduate, to tout what's possible through higher education. Faust later joins hundreds of alumni at the city's Faena Forum for Your Harvard: Miami.
At Global Food Plus, 24 scholars from Harvard, MIT, Northeastern, Boston University, Tufts, Cornell, Bard, and the University of Vermont present seven-minute live-streamed talks on research at the nexus of food, agriculture, health, society, and the environment.
Harvard receives a record 39,494 applications for the Class of 2021, up 1.2 percent from 2016.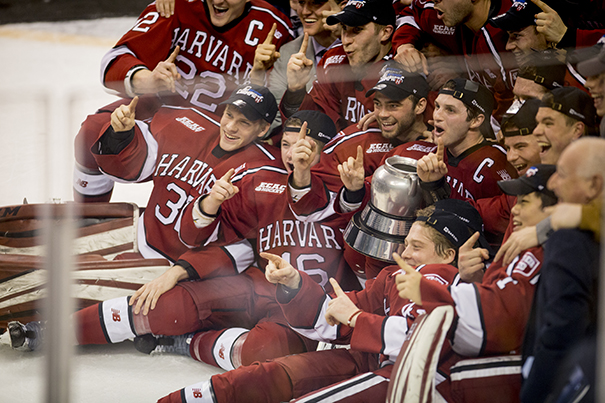 (above) Harvard men's ice hockey team defeats Boston University for its 11th Beanpot title and first since 1993.
Michèle Lamont, Robert I. Goldman Professor of European Studies, wins the 2017 Erasmus Prize for her dedication to social science research and her influential work on how diversity and minority well-being bene t society.
Khizr Khan, LL.M. '86, father of Capt. Humayun Khan, who died fighting in Iraq, speaks on civil liberties and democratic values at the JFK Jr. Forum.
The Harvard Foundation awards Grammy-winning artist Robyn Rihanna Fenty the Peter J. Gomes Humanitarian Award for her work supporting education for Caribbean students in the United States and health care initiatives in Caribbean countries.
In conjunction with HarvardX, GSD launches its first massive open online course (MOOC). The course invites learners from around the globe to consider architecture as a form of cultural expression.
March 2017
In a new pilot program, HLS announces it will accept the GRE or the LSAT for admission to the three-year J.D. program.
Award-winning writer Ta-Nehisi Coates delivers the keynote address to a capacity crowd at "Universities and Slavery: Bound by History," a conference hosted by the Radcliffe Institute for Advanced Study and President Faust.
Seven research projects led by scientists, historians, economists, and public health experts from five Harvard Schools are awarded a combined $1 million in the third round of grants from the Climate Change Solutions Fund.
Plans are unveiled for the renewal of Lowell House, including the establishment of the new Senior Common Room and social spaces in Otto Hall, named in recognition of a gift from Alexander Otto '90, M.B.A. '94.
The Office of the Vice Provost for Research announces a new University-wide Data Science Initiative. Francesca Dominici, professor of biostatistics at HSPH, and David C. Parkes, George F. Colony Professor and area dean for computer science at SEAS, will lead the initiative, which will unite efforts across the University to develop cross-disciplinary methodologies and discover new applications.
Jonathan Moore, who helped create the Shorenstein Center on Media, Politics and Public Policy at HKS, dies at age 84.
President Faust travels to Singapore to join hundreds of alumni at a Your Harvard event, and then to Vietnam to speak to national education leaders, Harvard alumni, and schoolchildren about the opportunities education can bring.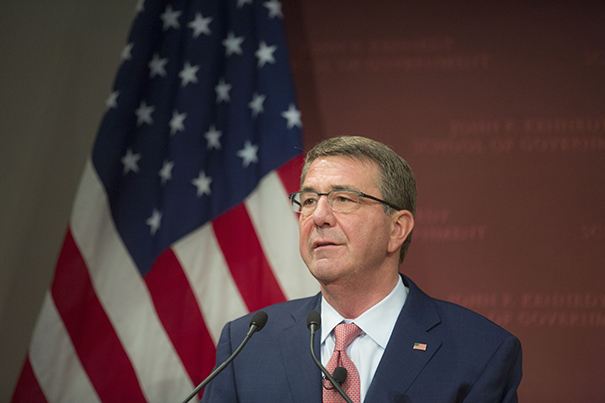 (above) Ashton "Ash" Carter, former U.S. secretary of defense, is tapped to head the HKS Belfer Center for Science and International Affairs and lead a new initiative on technology and global affairs. He succeeds Graham Allison, who will continue to teach at the School.
The family of the late Supreme Court Associate Justice Antonin Scalia, J.D. '60, donates his papers to the HLS Library.
Viola Davis is awarded the Harvard Foundation's 2017 Artist of the Year medal during the 32nd annual Cultural Rhythms Festival.
Elena Kramer, chair of the Department of Organismic and Evolutionary Biology and Bussey Professor of Organismic and Evolutionary Biology, and Martin Nowak, professor of mathematics and biology and director of the Program for Evolutionary Dynamics, are named the 2016 recipients of the Fannie Cox Prize for Excellence in Science Teaching.
SEAS researchers find that thinning Arctic sea ice may be responsible for frequent and extensive phytoplankton blooms, potentially causing significant disruption in the Arctic food chain.
Thirteen local nonprofits are selected to receive Harvard Allston Partnership Fund grants. The program, established by Harvard University and the city of Boston in collaboration with the Allston community, was created to support nonprofit organizations providing neighborhood improvement, cultural enrichment, and educational programming.
David Rockefeller '36, a business leader and generous benefactor to Harvard who once headed the Board of Overseers, dies at 101.
University Choir celebrates the reopening of Memorial Church and debut of the new Student Oasis with a special concert of American music and a new piece by Memorial Church resident composer Carson Cooman,'04.
Mary Maples Dunn, a historian and advocate for women's education who presided over Radcliffe during its merger with Harvard, dies at age 85.
Harvard releases new data highlighting its role in helping Massachusetts thrive as an engine of entrepreneurship. The findings show that Harvard is a vital part of the innovation ecosystem that drives discovery and fosters economic growth.
Mark Zuckerberg, chairman, CEO, and co-founder of Facebook is selected to speak on Commencement Day.
April 2017
Civil rights attorneys Nicole Merhill and William McCants are named Harvard's Title IX officer and director of the Office for Sexual and Gender-Based Dispute Resolution, respectively.
The culmination of the Presidential Task Force on Inclusion and Belonging's initial "listening phase," students and staff share their experiences and ideas for making Harvard more inclusive at the "Afternoon of Engagement on Inclusion and Belonging" in Sanders Theatre.
Neil Gorsuch, J.D. '91, is confirmed to the U.S. Supreme Court.
Samantha Power, former ambassador to the United Nations, is named the Anna Lindh Professor of the Practice of Global Leadership and Public Policy with a joint appointment at HKS and HLS.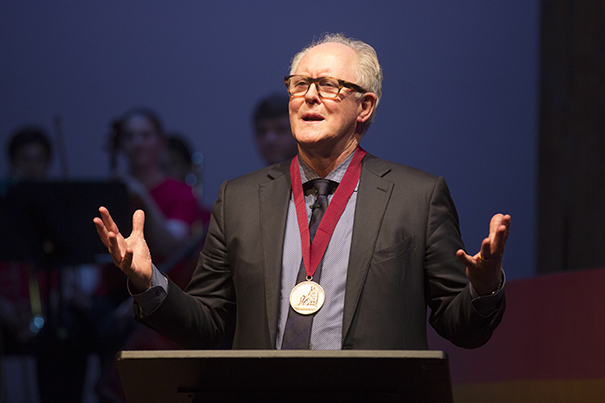 (above) Kicking off the 25th anniversary of Arts First, award-winning actor and Arts First founder John Lithgow '67, Art.D. '05, receives the 2017 Harvard Arts Medal. "A Celebration of Harvard Artists" marks the anniversary of the festival and Harvard's ongoing commitment to supporting the study and practice of the arts across campus.
Meir Stampfer, professor of epidemiology and nutrition at HSPH, receives the American Association for Cancer Research–American Cancer Society Award for Research Excellence in Cancer Epidemiology and Prevention.
Harvard is well represented in 2017's Pulitzer Prizes, with honors for sociologist Matthew Desmond in general nonfiction, David Fahrenthold '00 in national reporting, Colson Whitehead '91 in fiction, and composer Du Yun, a Harvard Ph.D., for music.
Thanks to generous support from Penny Pritzker '81 and Rose Pritzker Traubert '16, a transformed Science Center atrium and Cabot Science Library reopens as renewed study and common space, with the addition of Pritzker Commons.
Former U.N. Secretary General Ban Ki-moon, M.P.A. '84, is named the Angelopoulos Global Public Leaders Fellow at HKS.
Massachusetts Attorney General Maura Healey '92 is elected chief marshal of the 366th Commencement ceremonies.
The American Academy of Arts and Sciences announces the election of 228 new members, including 13 Harvard faculty.
President Faust joins the presidents of Stanford and Ohio State universities at the 2017 Higher Education Panel in Washington, D.C., to emphasize the importance of federal funding to maintain equal access to education and innovation in science and technology.
HKS hosts the John F. Kennedy Centennial Symposium to honor the 100th anniversary of the birth of the late president, a 1940 graduate of the College.
Joe Biden, former vice president and six-term U.S. senator from Delaware, is selected to deliver the annual Class Day address to the Class of 2017.
May 2017
"NewsHour" co-anchors Judy Woodruff and the late Gwen Ifill are named Radcliffe medalists for their journalistic influence and integrity.
"A New Light on Bernard Berenson: Persian Paintings from Villa I Tatti," featuring illustrated Persian manuscripts and detached folios collected in the early 20th century, opens at the HAM.
Scott A. Abell '72, past president of the Harvard Alumni Association, is elected president of Harvard's Board of Overseers, and Tracy P. Palandjian '93, M.B.A. '97, is named vice chair of the board's Executive Committee for the academic year 2017-18.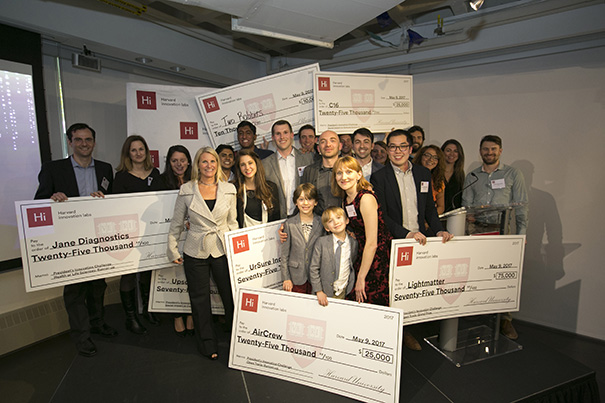 (above) Three student ventures and three runners-up are recognized at the 2017 President's Innovation Challenge awards, splitting $310,000 in prizes.
The steel framing of the new Science and Engineering Complex begins to take shape on Western Avenue in Allston.
David Cox and Lorgia García Peña win the 2017 Roslyn Abramson Award for excellence in undergraduate teaching.
Dan Byers is named the John R. and Barbara Robinson Family Director of the Carpenter Center for the Visual Arts.