What is the cultural price of progress?
That was the overarching question posed to graduates during Phi Beta Kappa Literary Exercises Tuesday at Sanders Theatre.
In the powerful morning ceremony kicking off Commencement week activities, orator Sherry Turkle, founder and director of the MIT Initiative on Technology and Self, began her address by admitting that she skipped her own Phi Beta Kappa (PBK) ceremonies at Harvard. The year was 1970 and Turkle chose not to go as an act of protest against the Vietnam War.
"I wanted to protest what I thought was wrong, but I didn't want things to be hard. I wanted things to be easy," she told the audience of graduating seniors and their families.
In her speech, titled "How Technology Makes Us Forget What We Know About Life," the social scientist and author of "Reclaiming Conversation" implored students to learn from her mistake — to slow down, embrace solitude, and, most important, to not shy from the hard work true empathy demands.
"My message today goes beyond a generational challenge to do better than we did — to recognize what is difficult and call it what it is. It extends to a challenge we all face together, every day. We all have to live in our technological world, but remember what we know about life. Life teaches that presence matters. People respond to commitment and deliberateness. When you put away your phone to have a conversation, that's the decision that counts: People care about your offer of attention. Empathy is built on such little gestures, the ones that communicate that you don't know what someone else has to say but that you want to learn."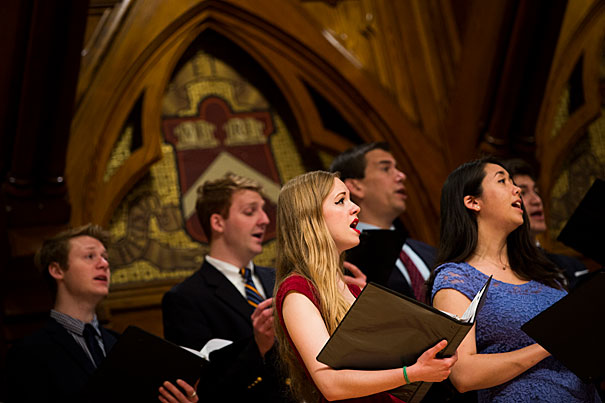 Turkle was joined on stage by poet and memoirist Mark Doty, who recited "Air Rights," an original poem informed by the gentrification of his Manhattan neighborhood.
"We have, after all, a real estate developer in charge of our country," said Doty, a National Book Award winner and the first U.S. poet to win the U.K.'s T.S. Eliot Prize, introducing the piece.
A third of the way through the reading, he asked:
How do they stand it, in Cairo or Rome,
when any shaft in sand reaches down
five thousand years? Bad enough in New York:
artifacts of quarantine, of industry and revolt,
the bullets that did or didn't strike the rioters,
squatters or immigrants, Irish or black …
Then Doty reflected on the opening of a Barneys New York on the same street as a French-Haitian church once home to recovery meetings for addicts:
The tower wall grows more sheer, its surface
offering fewer opportunities to engage,
an old church's ramshackle intimacy shrinks
beneath what we all see coming:
one of those seamless façades interested only
in itself, dwarfing the red church it doesn't crush
because — why should it? The air rights
are for sale. Fit yourself around whatever it is
you want, pay them some fraction —
enormous, in their eyes — but nothing
to the unreal numbers you'll accrue; build,
and keep on display what you swallowed
to erect this chilly Babel tower on my block.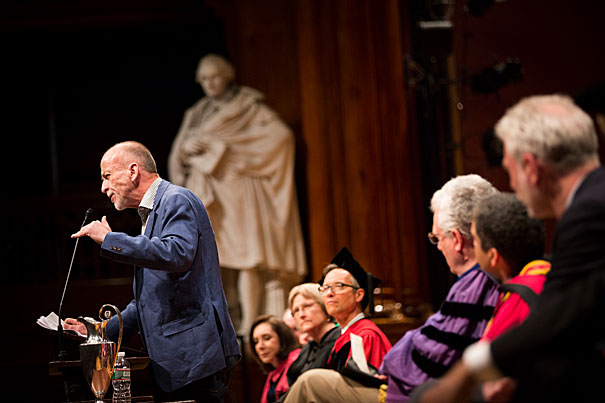 In welcoming guests to the ceremony, among them President Drew Faust and Dean of Harvard College Rakesh Khurana, arts and humanities dean and outgoing PBK president Robin Kelsey advised departing students to continue to find ways to combine friendship and free inquiry as "the workaday tends not to."
"Consider starting a book club or a writing group," he said. "Host dinners, and discuss recent discoveries or the great issues of the day. Attend lectures or concerts with friends, and go out afterward to share your thoughts and impressions. The spirit of Phi Beta Kappa resides in such pursuits."
The undergraduate honor society Phi Beta Kappa started in 1781 as a social and debate club. Tuesday's celebration included the induction of Doty and three members of the Class of 1967 as honorary members, and bestowed teaching prizes on biology lecturer Andrew Berry, history professor Alison Frank Johnson, and professor of religion and Indian philosophy Parimal Patil.