The Harvard Alumni Association (HAA) has announced that Henry N. Cobb '47, M.Arch. '49, Warren Masters Little '55, and A. Clayton Spencer '82 will receive the 2017 Harvard Medal.
Drew Faust, president of Harvard University and Lincoln Professor of History, will present the medals on Commencement Day, May 25, during the Annual Meeting of the Harvard Alumni Association (the Afternoon Program).
First awarded in 1981, the Harvard Medal recognizes extraordinary service to the University. The service can range across University life, from teaching, leadership, and innovation to fundraising, administration, and volunteerism.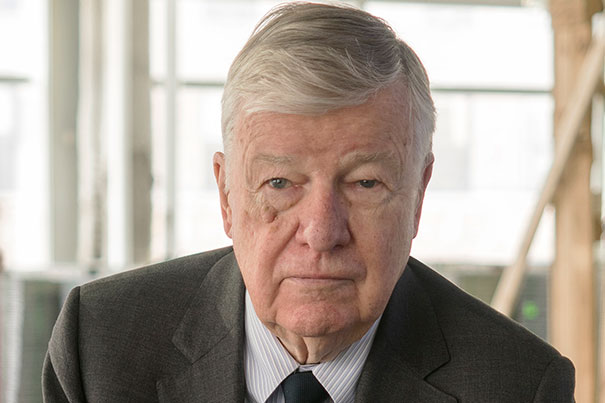 Henry N. Cobb has demonstrated a strong commitment to Harvard as an alumnus, teacher, administrator, and architect. During his term as president of the Harvard Graduate School of Design (GSD) Association from 1969 to 1971, he also served as an appointed director for the HAA, representing the GSD, and as a member of the GSD visiting committee. From 1980 to 1985, he was studio professor of architecture and urban design and chair of the Department of Architecture, where he continues to teach occasionally as a visiting lecturer and design critic. Currently, he serves as an honorary member of the GSD Campaign Committee.
Cobb designed the Harvard Center for Government and International Studies (CGIS), completed in 2005 and comprising two buildings flanking Cambridge Street; the renovation of several houses on Sumner Road; and the rehabilitation of an important mid-block open space shared by the University and the adjoining residential community. Dean Mohsen Mostafavi described the CGIS project as "representative of Harry's contributions to the University and the Harvard community, and of his vision as an architect."
As a founding partner of Pei Cobb Freed & Partners LLP, Cobb has contributed to the work of his firm since its formation in 1955. His practice has embraced a wide variety of building types across North America and around the world, including 200 Clarendon St. (formerly the John Hancock Tower), the John Joseph Moakley U.S. Courthouse in Boston, and the Portland Museum of Art in Maine. His current projects include the Four Seasons Private Residences Boston and the International African American Museum in Charleston, S.C.
Born and raised in Boston, Cobb and his wife, Joan Spaulding Cobb, live in New York and are the parents of three daughters, two of whom are graduates of Harvard College. Joan Cobb's father, Francis T. Spaulding, was dean of the Harvard Graduate School of Education from 1940 to 1945.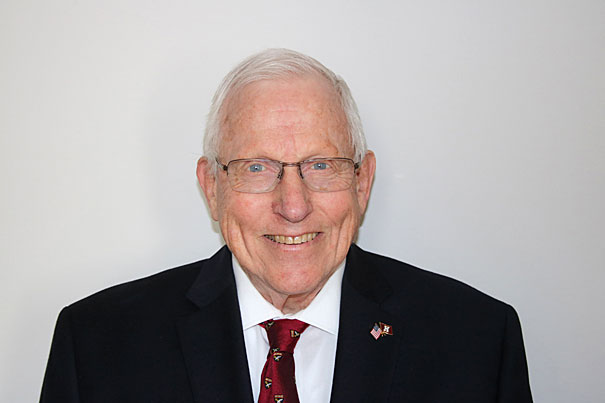 Warren Masters "Renny" Little cares deeply for Harvard. Whether it be with the Harvard College Class of 1955, the HAA, his athletic teams, secretary and veteran associations, or in myriad other ways, he has demonstrated his devotion to the University. As class secretary since 1961, Little has served as the nexus point, producing 11 quinquennial class reports and two yearly newsletters. The class elected him chief marshal for Commencement at its 25th reunion.
In 1997, Little earned the HAA Alumni Award, recognizing his longtime service and leadership to alumni and the HAA. As a board member of the HAA since 1977, he has served on many committees, including 33 years on the Happy Observance of Commencement Committee, 18 as its secretary. He has also served as commentator for Commencement's Afternoon Program for several years. To commemorate the HAA's 165th anniversary, Little authored "Reflections on Our Past (1840–2005)," a brief history and catalog of the HAA.
An avid Harvard athletics fan, he served as vice president and is an advisory committee member for the Harvard Varsity Club. He is an active member of the Friends of Harvard Track and rarely misses a meet, home football, or women's hockey game. For Harvard's 350th, he created an exhibit of Harvard's athletic memorabilia. The pro bono curator of the Lee Family Hall of Athletic History, Little has collected Crimson treasures, refurbishing many for display.
A former paratrooper, Little served in a number of historical and educational roles, including as executive director of the Cambridge Historical Society, executive director of the Higgins Armory Museum, director of education at the New England Aquarium, and as a teacher and coach at the Rivers School in Weston, Mass.
Little received an Ed.M. from Tufts University and an Ed.D. from the University of Massachusetts at Amherst. With his wife of more than 60 years, Jean Hardy Little '55, he lives in Cambridge, and has three children and six grandchildren.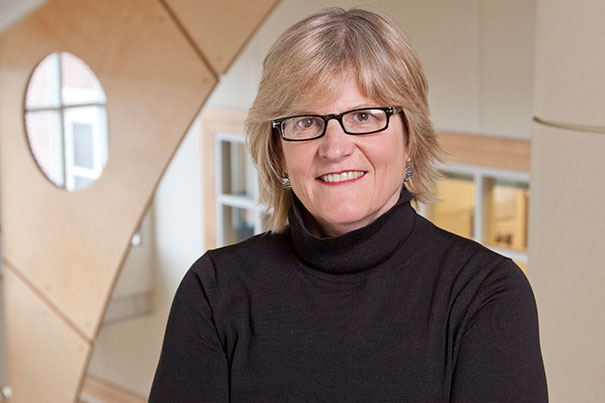 A creative administrator, Clayton Spencer dedicated more than 15 years of extraordinary service to Harvard as adviser to four presidents. In 2012, she became the eighth president of Bates College.
Spencer was named the associate vice president for higher education policy at Harvard in 1998. In that role, she was deeply involved in a number of high-profile University initiatives, including the merger of Radcliffe College and Harvard University and the creation of the Radcliffe Institute for Advanced Studies; the creation of the Crimson Summer Academy, a program that engages local high school students to "expand their vision of what's possible" and helps them become stronger candidates for admission to challenging four-year colleges and universities; and the development and expansion of the Harvard Financial Aid Initiative, which eliminated the family contribution to the cost of attending the College for many students from lower-income households and made it more affordable for middle-class families.
In 2005, Spencer was named the University's vice president for policy. In that position, she worked closely with the president to develop a series of strategic priorities for Harvard; directed policy analysis; oversaw the office of institutional research; managed the offices of the president and provost; managed numerous searches for deans and senior administrators; and served as presidential liaison to the Council of Deans. In addition to her administrative duties, she also lectured at the Harvard Graduate School of Education, teaching courses on federal higher education policy.
Spencer received a bachelor's degree from Williams College, master's degrees from Harvard and the University of Oxford, and a J.D. from Yale Law School. From 1993 to 1997, she was chief education counsel for the U.S. Senate Committee on Labor and Human Resources, staffing U.S. Sen. Edward M. Kennedy on education issues. Earlier in her career, she was an associate with the law firm Ropes and Gray and an assistant U.S. attorney in Boston.
Under Spencer's leadership, Bates has launched initiatives in a number of areas, including creating a new program in digital and computational studies; strengthening programming in campus diversity and inclusion; transforming the college's approach to preparing students for work and career; and significantly increasing fundraising.
Spencer lives in Lewiston, Maine, and has two children.