A portrait of Orlando Patterson, the John Cowles Professor of Sociology at Harvard, is now among the University-wide collection.
To date, 17 portraits (including Patterson's) have been commissioned and hung throughout the Harvard as part of the Harvard Foundation for Intercultural and Race Relations' Portraiture Project, which ensures recognition of the diversity of individuals who serve the University with distinction. They can include — but are not limited to — persons of African-American, Asian American, Latino American, Native American, and European-American backgrounds.
The unveiling was held in the Leverett House junior common room on Wednesday.
"When I left Jamaica for Harvard 47 years ago, arriving in January in the middle of a typical New England winter, my first reaction was to count the days before I could decently board a plane back home," Patterson said during the ceremony.
"Fortunately, several older colleagues and mentors urged me to think of Harvard as a glorious intellectual response to the challenges of its environment. The warmer the climate of one's upbringing, they mused, the greater would be the response. That was quite persuasive and I remembered it each time I slipped on the ice, which I took some time to learn how to walk on."
Harvard Foundation Director S. Allen Counter noted that Patterson has not only served Harvard as a professor, but has also been the Allston Burr Senior Tutor in Leverett House.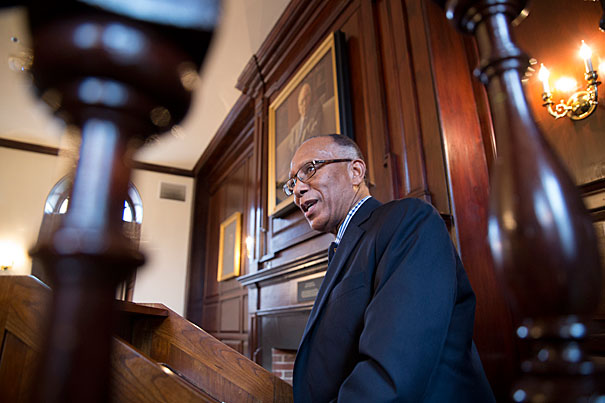 Patterson thanked Counter, the Harvard Foundation, and Faculty Deans Howard and Ann Georgi "for their very gracious agreement to have my portrait" there.
"Imagine … my absolute delight in being informed that my portrait would be hung in the junior common room of Leverett, the House that trusted me to head the tutoring of Harvard's largest student body at a critical moment in history, that taught me the social and cultural underpinnings of our great University, the House where I came to know and admire the life of our extraordinary students outside the classroom," said Patterson.
In thanking artist Stephen Coit '71, Patterson noted that Coit captured an "image of me that is at once unusually flattering yet passably truthful. Only someone of great patience and artistry could have pulled it off."
Mandela Patrick '18 paid tribute to Patterson as he helped unveil the portrait.
"Dr. Patterson is one of few tenured faculty from the Caribbean, so he's really an inspiration to us students here from the Caribbean," Patrick said. "On a personal note, it's really easy for me as a black Caribbean student to sometimes feel that I don't belong here, that I don't deserve a place here at Harvard. However, seeing the success Dr. Patterson has had here, the impact he's had on campus, back home in the Caribbean, and even on the global scale, it's hard not to feel inspirited and motivated.
"Dr. Patterson, your success has given me confidence and belief that I, too, as someone from the Caribbean, can make my mark on this world."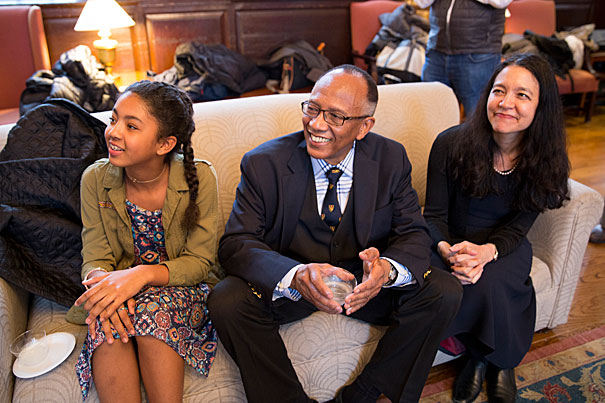 A historical and cultural sociologist, Patterson's academic interests include the culture and practices of freedom, the comparative study of slavery and ethno-racial relations, and the cultural sociology of poverty and underdevelopment. He has also written about the cultural sociology of sports, especially cricket, according to his bio.
In addition to Harvard, Patterson has held academic appointments at his alma mater, the University of the West Indies and the London School of Economics, where he earned his Ph.D. He also served as special adviser for social policy and development to Prime Minister Michael Manley of Jamaica.
Among Patterson's numerous honors are the 1991 National Book Award for nonfiction and the Ralph Bunche Award for the best book on pluralism from the American Political Science Association; his next book is a treatise on the cultural aspects of poverty among disadvantaged African-American youth. He has also received honorary degrees from several schools, including the University of Chicago, Northeastern University, and the New School.
The Harvard Foundation's Portraiture Project has included portraits of Chester Pierce, an emeritus professor of education and psychiatry at Harvard Medical School; Rulan Pian, professor emerita of East Asian languages and civilizations and of music at Harvard; and Fred Jewett, dean of Harvard College.