On April 28, Harvard President Drew Faust will take part in "A Celebration of Harvard Artists," marking the 25th anniversary of the University's annual Arts First festival and Harvard's ongoing commitment to supporting the study and practice of the arts across campus.
The celebration, scheduled for 8:30 p.m. at Sanders Theatre, will feature poetry, spoken word, music, dance, and the visual arts. The event will welcome an eclectic ensemble of Harvard alumni including Courtney B. Vance '82, Nick Britell '03, Liz Leimkuhler '15, and Damian Woetzel, M.P.A. '07, along with members of both the Silk Road Ensemble and the Harvard Dance Project and other undergraduate performers. Additional information is available through the Office For the Arts.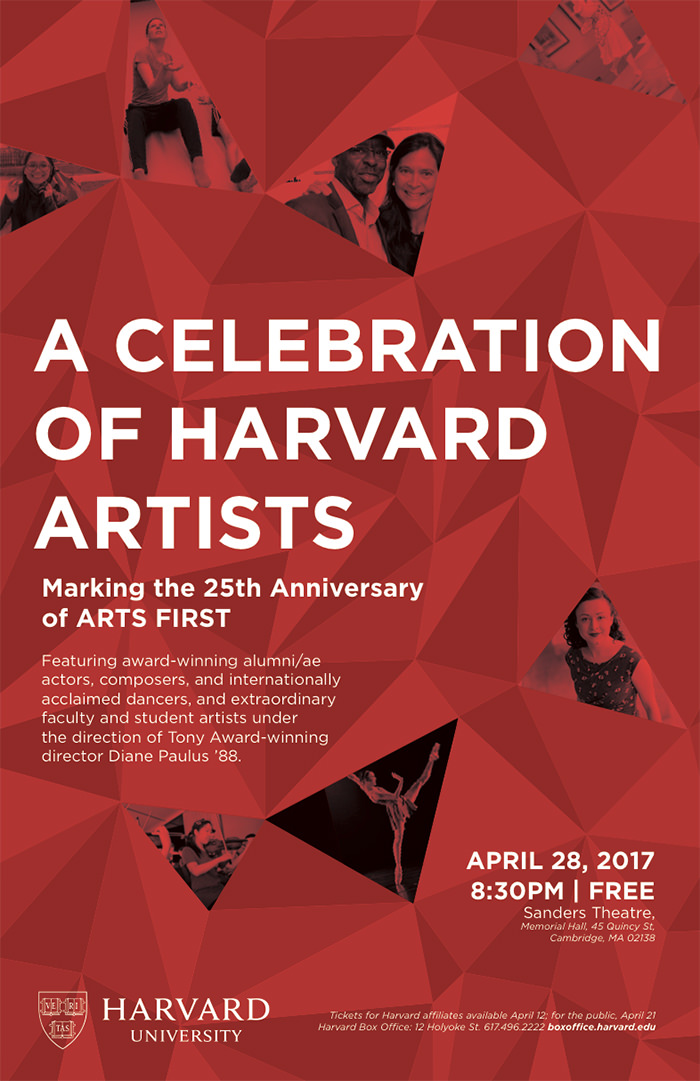 "The arts nurture curiosity and openness, challenge us to deepen our understanding of ourselves and of others, and to experience the world in new and different ways," said Faust. "As we celebrate the enduring contributions of art and artists at Harvard, we rededicate ourselves to ensure that arts practice and performance play an essential role in the Harvard experience for all in our community."
Admission to the event is free but tickets are required. Tickets for Harvard affiliates will be available beginning Wednesday at the Harvard Box Office at Farkas Hall, 10 Holyoke St. Tickets to the general public will be available on April 21.
At the helm of the production is American Repertory Theater (A.R.T.) Artistic Director Diane Paulus '88. While the campus has changed since Paulus was an undergraduate, the artistic drive she remembers from her College days is still going strong and is now enhanced by the Theater, Dance & Media concentration established in 2015, she said.
"Prior to these developments you did it all in your extracurricular life, and that was rich and thrilling and messy and learning by doing without a lot of guidance," said Paulus.
"To be able to channel that creative energy pedagogically is I think the biggest change," she added, "and I think it signals that Harvard University can be a leader in the arts in America."
For decades, Harvard students have gone on to excel in film, drama, dance, music, and literature. Notables include Natalie Portman, Jack Lemmon, John Lithgow, Bonnie Raitt, Matt Damon, Yo-Yo Ma, Mira Nair, Leonard Bernstein, Margaret Atwood, Joshua Redman, Justin Hurwitz, Britell, Damien Chazelle, Peter Sellers, W.E.B. Du Bois, T.S. Eliot, and John Updike.
Two recent examples of Harvard-bred talent were included in Monday's Pulitzer Prize announcements. Author Colson Whitehead '91 was honored in fiction for his novel "The Underground Railroad," and composer and performance artist Du Yun, a Harvard Ph.D. in music composition, won in music for her opera "Angel's Bone."
For the past quarter-century much of the creative energy on campus has been inspired and informed by Arts First. This year's festival will run from April 27 through 30 and will kick off with the awarding of the Harvard Arts Medal by Faust to the festival's creator, John Lithgow '67, Ar.D. '05, at 4 p.m. April 27 at the Loeb Drama Center.
Faust's commitment to the arts on campus has been unwavering. In 2007 she created a Presidential Arts Task Force that supported an enhanced arts presence in the curriculum and backed the new concentration Theater, Dance & Media, which blends historical and theoretical study with arts practice. Students explore the history of theater and critical and scholarly approaches to its genres, and delve into several aspects of making art, including directing, acting, design, and dance.
For Vance, who dropped track in favor of the stage as a sophomore, such a concentration would have made a difference.
"I was looking for something like that," said the veteran actor, whose accolades include a Tony Award and a recent Emmy win for his portrayal of defense attorney Johnnie Cochran in the FX production "The People v. O.J. Simpson: American Crime Story."
Vance signed up for one Harvard production after another and also worked with the A.R.T., but in the absence of an arts concentration he had to look elsewhere for the serious training and study he wanted. During the school year he trained and performed across the Charles River with the Boston Shakespeare Company. In the summers, he headed west to Shakespeare & Company's home in the Berkshires.
But while Vance had no choice but to supplement his acting training outside of Harvard's gates, he used his history concentration to expand his mind, he said, and to inform his craft.
"Acting is all about research and different time periods, different characters, and so history was perfect for me."
The actor said the new concentration finally puts Harvard in direct competition with other top schools offering performing arts degrees.
"It's part of being able to compete with Yale and the other schools undergraduate-wise. If students know they want to dance or [perform in the arts] and Yale and other Ivies have a program like that, they are potentially going to go there, and [Harvard is] going to lose those students."
During her four years on campus, Leimkuhler took advantage of Harvard's robust network of student-run performing arts organizations and support from the Office For the Arts. The work ethic she developed has come in handy in New York, her new home, where talented artists arrive daily looking for their first big break in show business. Leimkuhler credits her time at Harvard with preparing her for the constant grind of acting and auditioning.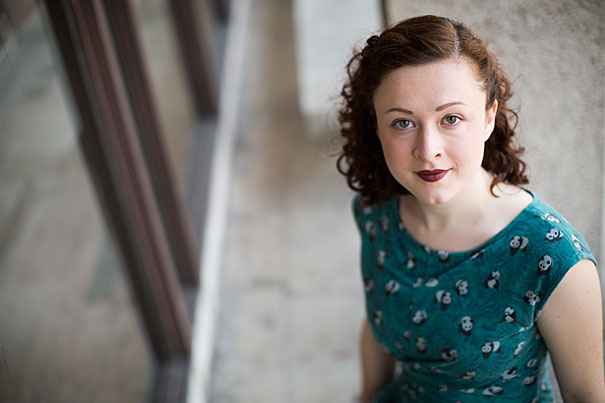 Now a member of The Bats, the resident acting company of the off-Broadway Flea Theater, Leimkuhler said that as a working performer, "If you have something you want to do then you have to just make it. You can't sit around and wait for someone else to give you an opportunity. You have to be the one making the decisions and doing things for yourself. That's another thing I learned that was very useful while at Harvard."
For Leimkuhler, Harvard's diverse network of alumni working in the arts has been a boon. She regularly checks in with alumni directing shows in New York and keeps up with Los Angeles-based graduates to discuss possible projects.
Dance will feature prominently in the April 28 celebration. Jill Johnson, dance director and senior lecturer in Theater, Dance & Media, will lead students from the Harvard Dance Project in an excerpt from their recent production "Five Pieces." The students will perform "Echad Mi Yodea," choreographed by Ohad Naharin. The piece for 17 dancers is set to a contemporary version of the Hebrew Passover song by the same name.
For Johnson, mixing seasoned performers with student artists enables an important creative exchange.
"The ways in which students now conceive of art can also inform artists who are currently practicing. There's a motion to all of it, and that's the hope of such interaction."