Spring-like temperatures welcomed parents of the Class of 2018 to campus for the official celebration known as Harvard's Junior Parents Weekend. Small groups dotted the campus, juniors with smiling, proud parents sporting "P '18" hats and "Harvard Parent 2018" buttons, anxious to see how much things had changed after almost three years of hard work (on both sides).
Since only freshmen and juniors have official parents weekends at Harvard, many of the guests had not visited Cambridge outside of the standard August move-in and May move-out since November 2014.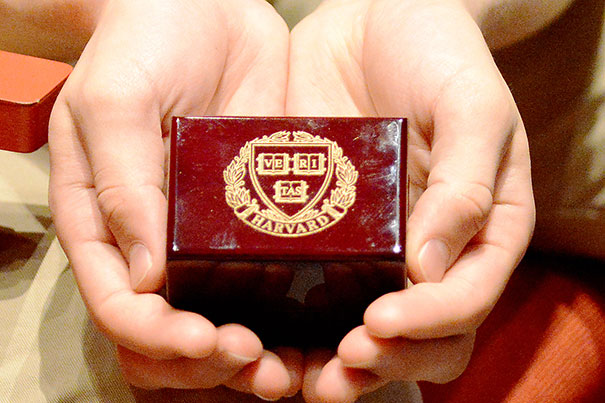 As the sun was setting on Friday, my mother texted that she and my father were checking into their hotel. They came to my suite and attended the Quincy House reception, where they met Faculty Deans Lee and Deborah Gehrke as well as other House staff, classmates, and parents, and enjoyed the beautiful view from the roof deck. Afterward, they took me and a few of my friends to dinner. It was enjoyable to have my parents spend time with the friends they had heard so much about, but had not had a chance to meet. Discussions ranged from memories to fields of study, research, and travel. The conversations were much more adult than those of Freshman Parents Weekend.
At the weekend's start, my parents were given the same "Parent 2018" buttons they had received on Move-In Day in 2014. It looked different on my father's sweater now, and I am fairly sure my parents felt much the same way. My parents can see my growth and development in my rising knowledge, strengthened friendships, and the remarkable opportunities unfolding for my future.
Saturday's "one ring" ceremony was a rare chance to see a representation of my time at Harvard. As though on cue, the skies opened up at 2:20 p.m., catching unsuspecting parents sauntering in just in time for the 2:30 p.m. ceremony at the Science Center. I went early to cover the event, and arrived just before the deluge. As expected, my watch read 2:29 p.m. when my drenched parents — sans umbrella — stomped into the entryway. In addition to learning that I should have saved seats, I now know what no Harvard class taught: Rain is definitely not good for suede pants.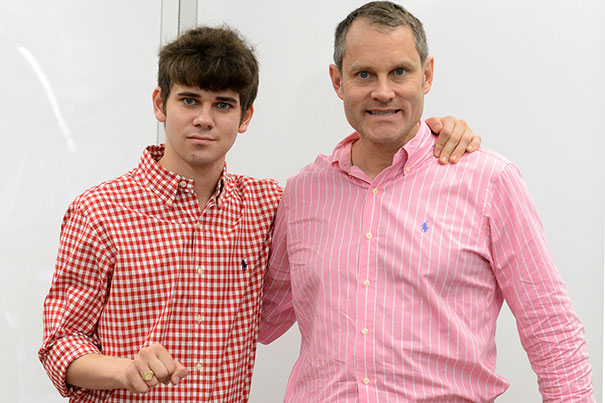 We took seats toward the front, and I sat between my parents with my own white box and scroll tied with crimson ribbon in hand, I listened carefully to directions not to open anything until instructed. We thoroughly enjoyed the speakers and a performance from the acapella group the Lowkeys. Robert Doyle, associate dean of the Faculty of Arts and Sciences, shared some of the Class of '18's lighter experiences, like one student's shock misinterpreting "Primal Scream" for "Prime Ice Cream." He explained the ring's significance, and how it was a physical manifestation of time's passage and the years we spent at Harvard.
Once we were instructed to open the boxes, I first took in the embossed gold Harvard crest that adorns the polished wooden box. Opening it and seeing my ring for the first time was more meaningful than I had anticipated. For the first time, I started to reflect on the fact that my remaining time at Harvard is limited, with graduation in just one year.
My mom, noticing how quiet I was, reached for my hand to get a better look at my ring. She surveyed both sides, the customization reflecting each student's unique journey. Mine showed my House crest on one side and The Harvard Crimson on the other. I shared how the House side brought back memories of Housing Day, when my delegation stormed the room of my blocking group in Canaday, welcoming us to their community. I also explained how each aspect of The Crimson side was significant, from the guard number (or board number) to the logo. While it was challenging to select only two aspects of my undergraduate experience, I did my best to focus on what helped make me who I am as a junior.
However, the most significant part is the Harvard crest on the top of the ring, which represents the culmination of my work. On my hand I now wear a reminder of just how fortunate I am to be living my dream. Taking nothing for granted, I vow to be conscious of time's passage over next 15 months. While there will always be more goals, and plenty to work hard for, the goal I am currently living has more than fulfilled every hope I ever had.
Matthew DeShaw '18 writes an occasional column about Harvard College experiences.