Faculty from each of Harvard's 12 graduate Schools addressed a full house at the seventh annual Lectures That Last event, held at Harvard Business School's Burden Auditorium on Feb. 23.
As part of the One Harvard Initiative, the discussion was sponsored by the Harvard Graduate Council with support from the Provost's Office. Krishna Rajendran and Öykü Akkaya, both M.B.A. students at Harvard Business School (HBS), hosted the event and introduced the panel.
Keynote speaker Mark Elliott, vice provost for international affairs, talked about the executive orders behind the One Harvard Initiative and the impact that has had on the Harvard community.
"These orders are just one manifestation of a broader trend that many of us have seen in recent months," he said. Elliott emphasized that inclusivity is among the core values of the University. He reminded the campus community that approximately 33 percent of Harvard faculty and 22 percent of Harvard students were born outside the United States, and said that international students and faculty are essential to Harvard's identity. "We all speak with an accent, but all those accents are One Harvard accent," he said.
The event's theme, "What key life lessons/personal values would you teach your students if you knew this was your last lecture at Harvard?" prompted Ted Talk-style presentations from faculty.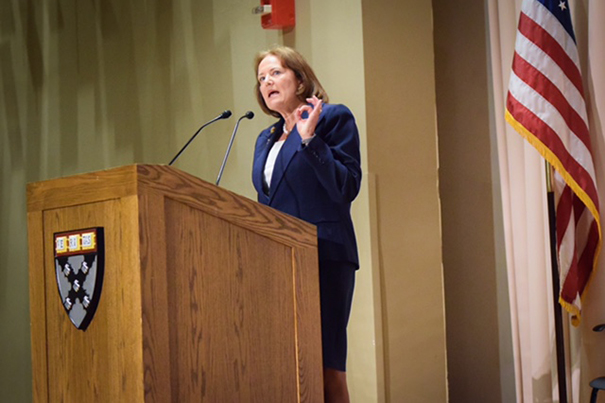 HBS Professor Karen Mills shared her experience as administrator of the U.S. Small Business Administration during President Barack Obama's administration. In her lecture, "Leading in Uncertain Times," Mills spoke about public entrepreneurship and using new ways of thinking to address problems and promote social good. She urged students to utilize their power and intelligence to make a difference. "You are Harvard graduate students, trained at an extraordinary University, with the power, the intelligence, and the responsibility to make a difference" she said. "Find your values and find your balance, because it is up to each of you in your own way to be leaders in this demanding world."
In a captivating and moving speech, world-renowned Professor Steve Jarding from the Harvard Kennedy School reminded students to lead life with a purpose, "which means leaving the world better than you found it."
Jarding addressed the multitude of problems now facing humanity, such as overpopulation, global warming, income inequality, refugees, and the degradation of the environment. "You are the brightest and best and it is your responsibility to change the world," he said, citing government as the only entity that can address these issues. He encouraged students to face challenges head-on, and live with a purpose.
Ned Gandevani, a professor from Harvard Extension School, advised students to be artists and risk-takers, and make decisions based on tradeoffs using insight. He explained that every moment in life requires decision-making. "You are creating your own destiny" every time a decision is made, he said.
Harvard Medical School Professor Anthony D'Amico noted that life is not a race but a journey. He said that with a contemplative view and a wider perspective, and every detour can lead to wisdom. His advice to students was to keep a journal and write down the difficulties they face, and come back to it six months later to learn from the situation.
Brian Jeffrey Swann, Harvard School of Dental Medicine, stressed the importance of taking advantage of every opportunity and said that passion is the key to success. He advised students to remove fear from their vocabulary because fear limits opportunity.
Rajendran, who was also the program curator, emphasized Harvard's diversity and said events such as Lectures That Last give people from different backgrounds a chance to share their experiences.
"This event brings us together as a single community and reminds us that we are One Harvard and that we are One Harvard in one world," said Elliott.
Jia Roy, a student at Harvard Extension School, contributed to this story.