"Fortune favors the prepared mind."
It's a saying that is commonly attributed to Louis Pasteur, but it's actually a simplified translation of what the famed scientist originally said in an 1854 lecture.
Nevertheless, the adage held true for the more than 150 Harvard Medical School (HMS) students who learned on Match Day 2017 where they will spend the next three to seven years of their training.
The students have been preparing for Match Day for four years — or longer, for those who took extra time to do a research year, obtain another graduate degree or add other pursuits to their M.D. training.
Over the years they have studied, acquired skills, worked with patients, rotated through specialties and prepared their residency applications.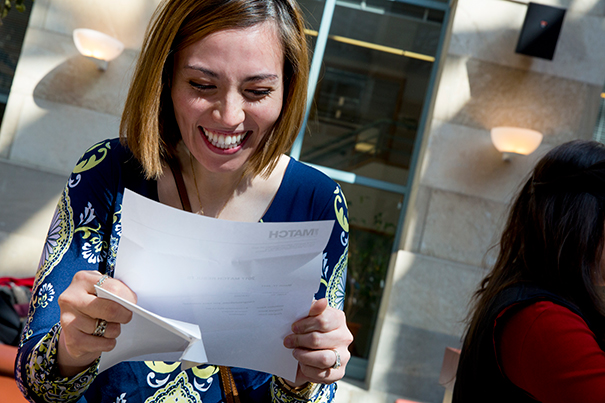 "For me, Match Day is the culmination of all these four years. We've done so much work, had so many struggles, so many exciting times," said Andrew Taliaferro, a William Bosworth Castle Society student, as he waited to pick up his Match envelope. "Finally we get to find out where we are going."
Taliaferro participated in what is called a "couples match," which allows students to request to be matched together. He applied for the couples match with Francis Weld Peabody Society student Amy Le, who said that the pair was open to going anywhere and that no matter where they end up they are just "happy that we will be together."
For some students, the anticipation was almost too much.
"About 15 minutes ago, when I was still at home, I almost passed out," said Castle Society student Grace Chao. "I hope someone will catch me," she said, anticipating what she would feel like when she opened her envelope.
Constructing careers
"Congratulations to everyone," said Fidencio Saldaña, HMS dean for students.  "As soon as Carla rings the bell, everyone go to your societies to get your matches," he said. Traditionally, all medical students across the U.S. learn of their matches at the same moment — when the clock strikes noon.
When Carla Fujimoto, assistant director of student affairs, rang the bell, the Tosteson Medical Education Center (TMEC) atrium erupted in cheers of joy.
"We can't wait to see what lies ahead for her," said Maybell Campbell, a parent who attended the TMEC celebration with her husband, Ewen, to see where their daughter, Castle Society student Kirsti Campbell, matched.
Campbell matched at Brigham and Women's Hospital in internal medicine.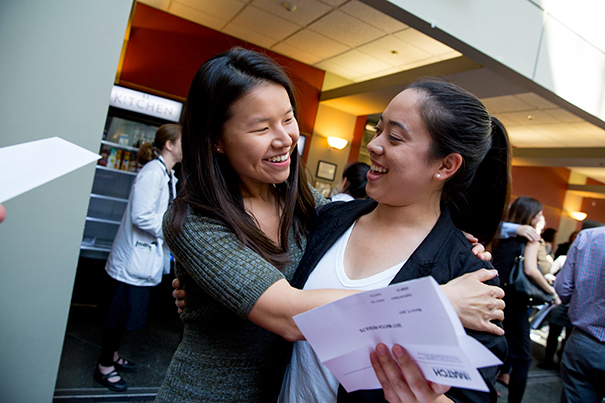 "We are just very, very proud of her," Campbell's parents said.
Of the HMS Class of 2017, 161 matched to training programs: five in family medicine, 43 in internal medicine, 13 in pediatrics, and eight in obstetrics/gynecology. Five students will pursue nonclinical training.
While it is difficult to predict which students will eventually go into primary care versus specialty care, it is possible to extrapolate from the training categories that approximately 39 percent of the students applied in specialties related to primary care.
To read the full story, visit the HMS website.