The Crimson had to come from behind twice last Friday night, including scoring three goals in the final period, to defeat a determined Yale squad by a score of 6-4 at Bright-Landry Hockey Center.
Harvard went on to beat Yale again Saturday night, 4-3. With Saturday's victory, Harvard advances to the ECAC semifinals at Lake Placid, N.Y., where they play Quinnipiac this Friday.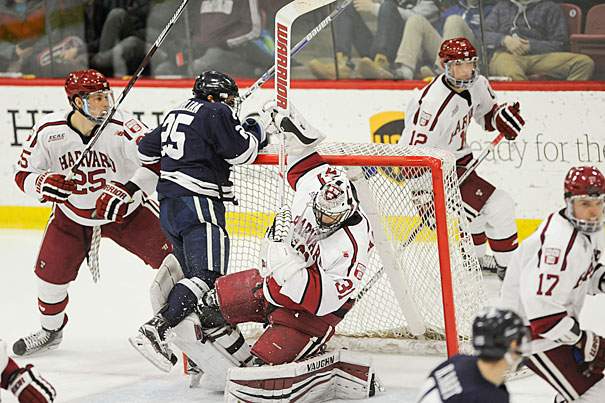 In last Friday's game, the all-senior line of Sean Malone, Tyler Moy, and Luke Esposito combined for nine points, with Esposito scoring twice and Malone registering a goal and three assists. Moy tied the game in the third period, with Alexander Kerfoot '17 potting the game-winner midway through the period. This was a best-of-three series, which the Crimson concluded the next night with Saturday's 4-3 score.
Though ranked No. 1 in the ECAC, the Crimson (24-5-2) will have to be at their best on Friday, having split regular season games with Quinnipiac. If the high-flying team, currently No. 2 in the country, can win at Lake Placid, they will automatically advance to the Division I Men's Hockey Championship. Short of winning, Harvard can still advance if they are among the 10 teams chosen by a committee vote, in addition to the six conference winners.
Freshman defenseman Adam Fox was named a finalist for the ECAC Hockey Rookie of the Year award, the conference office announced Friday.
For more information about Harvard men's ice hockey, visit the Harvard Athletics website.
Harvard photographer Jon Chase contributed to this story.