Even decades after the Vietnam War, the United States and Vietnam are still surveying the conflict's aftermath, seeking understanding and healing of wounds physical and spiritual, individual and widespread, Harvard President Drew Faust said today during a visit to the Southeast Asian nation.
Faust, a historian of the American Civil War, spoke at Ho Chi Minh City University of Social Sciences and Humanities, offering her audience an at-times personal view of the conflict and how it affected her and others of her generation. She also suggested lessons that could be applied from the U.S. Civil War, and shared her sense that historians are critical to the two nations' journey through the aftereffects.
"What you know as the War of National Salvation against the Americans — what we call 'Vietnam' — indelibly shaped those of us coming of age in the United States in the 1960s and 1970s," Faust said. "Even though I never came within 8,000 miles of your country during those years, its names and places have reverberated in my mind for decades: Khe Sanh, Pleiku, Ap Bac, Dien Bien Phu, Gulf of Tonkin, Da Nang, Hue, Saigon, Hanoi."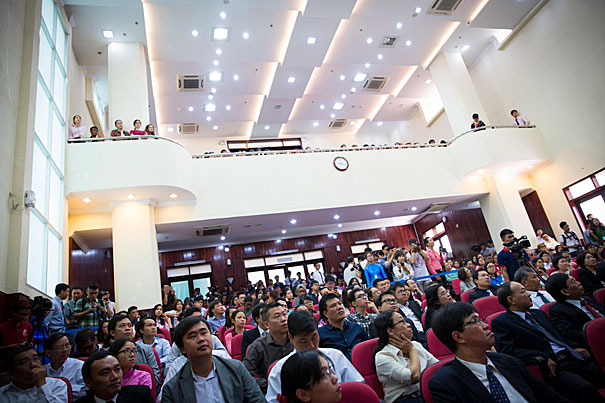 Faust is on a tour of the region that took her through other parts of Vietnam, including a visit to a rural school in Tan Phu, and to Singapore, where she met with academic officials and Harvard alumni.
During her university speech, Faust spoke about how the Vietnam War not only familiarized her with a place she'd never seen, but also sparked an interest in war's impact on society that would lead to her becoming a scholar of the U.S. Civil War.
"I was shaped by the war in ways I am still not sure I fully understand. But one influence I can clearly identify has been upon my work as a historian," she said. "Coming of age in the 1960s produced in me an enduring fascination with war, with the way its terrible demands can define individuals and societies, with war's inevitable refraction of ideas and ideals, with the extremity of its pressures. War often proves to be the quintessential 'moment of truth' for both individuals and their societies."
That impact is reflected broadly among Americans of her generation, she said, a fact reflected in plans for a special remembrance being organized by members of the Class of 1967 for the upcoming Harvard Commencement.
"Members of the Class of 1967, both men and women, will devote a segment of their time together to remembering the way the war defined their College years, and to discussing how what they call 'Vietnam' has affected them for over half a century," Faust said. "As one class member who served in the Marines writes, 'Many in my … generation made choices about Vietnam that … have haunted us, in dreams and awake, for the rest of our lives.'"
As heavy as the war's toll was on the United States, with 58,220 killed, Faust acknowledged it was dramatically greater on Vietnam, which had an estimated 3 million dead. A difficult part of war's aftermath, she said, is mourning and accounting for the deceased, a task made much more difficult when a loved one's fate is uncertain. The American Civil War's enormous death toll and lack of an organized system of identification left an estimated 300,000 missing at its end, a number similar to that in Vietnam.
In the United States, the uncertainty about the missing prompted changes like the routine use of military dog tags and ongoing efforts to find and identify the remains of those still unaccounted from past conflicts.
"Both of our societies live with ghosts, with memories, and with legacies. And with the aftermath," Faust said.
During her visit, Faust also traveled to Fulbright University Vietnam to discuss Harvard's role in developing academic collaborations. The university grew out of the Fulbright Economics Teaching Program, a public policy master's program established in 1994 by Harvard Kennedy School's Vietnam Program in collaboration with the University of Economics, Ho Chi Minh City. The private, nonprofit university was established less than a year ago on land donated by the city government with the help of U.S. government funding.
Faust visited the battlefield of Ap Bac, where the Viet Cong won a major battle in 1963. The site today is a military cemetery and memorial.
She also traveled south of Ho Chi Minh City to the village of Tan Phu in Tien Giang Province to talk with ninth-graders about education's importance and its ability to serve as a vehicle that "brings us to places we cannot yet imagine."
"I have wanted to make Vietnam into a place in my mind, not the name of a conflict that overtook my generation of young Americans, but a society and nation with all its complexity, its beauty, its history, its vibrancy, and its promise," Faust said in her remarks.
Faust's overseas trip began Sunday in Singapore, where she met with academic leaders, including Tan Chorh Chuan, the president of the National University of Singapore, and joined approximately 400 alumni at a Your Harvard Singapore event.
That evening featured a faculty conversation about the importance of creativity in generating breakthrough ideas on the complex issues facing the world today, including human migration, environmental degradation, and age-related diseases. The conversation was moderated by Geraldine Acuna-Sunshine '92, M.P.P. '96. The event also featured University faculty members Sunil Amrith, the Mehra Family Professor of South Asian Studies, and Tobias Walther, professor of genetics and complex diseases at the Harvard School of Public Health and of cell biology at Harvard Medical School.
Ho Chi Minh City University of Social Sciences and Humanity is a branch of one of Vietnam's largest universities, Vietnam National University, and an important center for historical study. Faust closed her remarks there by emphasizing the important role that historians can play in helping individuals and society negotiate a war's aftermath.
"We write and we talk and we remember because we struggle to understand how war has made us," Faust said. "History is indispensable in that effort. It helps us confront the ghosts and the demons that the tragedies of the past leave as their legacy to the present. It illuminates the blindness and cruelties that enable war. It equips us to imagine and to strive for peace."