When artist David Buckley Borden arrived at the modest shack that serves as his Harvard Forest workshop, he found a shelf still loaded with old gear and field equipment — holdovers from the building's previous life as a storage shed.
His first thought was to clean house, but as he went through the objects, he understood that each said something about the forest and the people who work there. Left-behind stuff turned out to be exactly what he needed.
"I thought, what's this junk?" Borden said. "Then I realized: This is where I need to start the project, with the material culture of the place."
In the months since his September arrival, Borden, who creates 3-D installations with environmental themes, has been gathering more material. He's been rooting around the forest, shadowing workers, talking to scientists and picking up their discards, which to him are pieces of a visual puzzle he's slowly assembling during his yearlong stint as a Charles Bullard Fellow.
"With 4,000 acres, there's no shortage of places to go," Borden said. "I love walks with scientists because they all have a different perspective, they all have their own disciplinary focus. … That's incredibly rich in inspiration, because the scientists are the content drivers."
Borden's past work has sometimes offered pointed commentary: a slot-topped, tree-ready wooden box marked "Shade $1"; a white-painted woodshed holding logs from trees killed by invasive pests labeled in large green letters "Pestilence Fire Wood."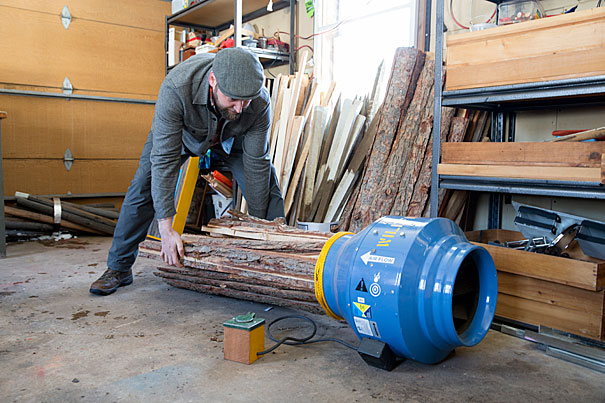 "David's work is confrontational, shocking. It represents things in new ways, so you think about them," said Harvard Forest Director David Foster.
And to Foster, getting people to think about nature and the environment is more important than ever.
"So much of our population is not aware of or dismissive of science," said Foster. "We have an obligation to push back on [that]. I think David's work is lending itself to supporting that activity."
Borden is one of seven Bullard Fellows this year. The others are conducting research on more traditional scientific topics, from temperate forest ecology to the effects of climate change on tree cycles. Though Borden is the lone artist in the group, the fellowship has supported writing and art in the past. Prior fellows include illustrator Debby Kaspari and Seattle Times reporter Lynda Mapes, whose resulting book, "Witness Tree," will be published next month.
Borden is creating a series of installations to be displayed at the forest's Fisher Museum and in the forest itself during fall foliage season. The installations are being designed to raise awareness of conservation and ecological issues, focusing on what New England might look like in 2060. The work is a collaboration with the New England Landscape Futures project, a long-term ecological research study led by Foster and backed by the National Science Foundation.
"My acid test is: Will my 10-year-old niece and 70-year-old mom get it?" Borden said. "You shouldn't need to have a lot of background to 'get' the work."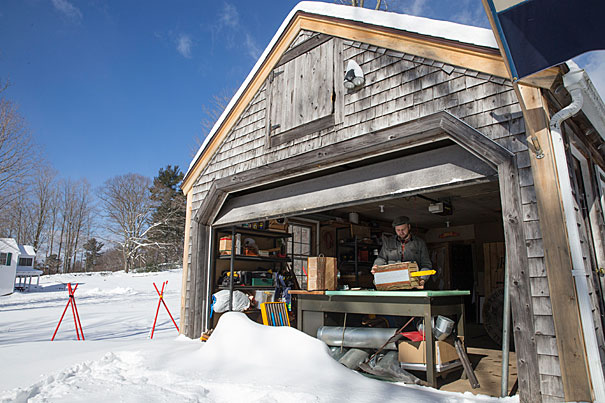 Borden took a roundabout way to his work as an independent artist. After graduating from Northeastern University in 1998 with a degree in marketing and entrepreneurship, he worked as a market research analyst for two years.
"It was a good job, but I was bored to tears," he said.
Borden spent eight years working with his brother on Studio Kaiju, which created and performed "Kaiju Big Battel," a project Borden described as a humorous cross between American professional wrestling and Japanese giant monster movies.
The project was successful, Borden said, and he enjoyed the creativity of the work, but he was not a fan of either wrestling or monster movies. He eventually left to explore an interest in the environment he'd had since childhood. He attended the Harvard Graduate School of Design, earning his M.L.A. in 2011, and worked for three years as a landscape architect before branching out as an artist.
Borden sees his broader mission as a multifaceted effort to communicate science to the public, and counts among his allies both science communicators and scientists themselves. He said he's gratified that Harvard Forest takes the communications challenge seriously.
"I think one of the biggest environmental challenges isn't ecological, it's cultural," Borden said. "People don't want to be poor stewards, they just don't know any better. So if we build awareness, people will be better empowered [for] ecological decision-making."
Borden will host an open studio at Harvard Forest on April 29. Click here for more information.