Layered over a cloaked woman on a sandy background, dozens of brightly colored flowers twist and blossom, filling every available space from corner to corner. The woman is seen from behind, almost a shadow, her neutral color helping to accentuate the Technicolor brilliance of the flora surrounding her. It is, as the piece's title suggests, a literal interpretation of "Arab Spring."
"Initially [there was] the hope and optimism," says artist Helen Zughaib, "which is why I used that motif of the flower … that carried on through even as the situation deteriorated."
It is a subject matter close to her heart. Born in Beirut to naturalized Americans, Zughaib was evacuated with her family to Europe in late 1975 as Lebanon descended into civil war. After earning a bachelor's degree in fine arts from the College of Visual and Performing Arts at Syracuse University, she relocated to Washington, D.C., to work on art full time. In 2002, she came to national attention when she donated "Prayer Rug for America" to the Library of Congress. A response to 9/11, the piece combines American flags and colors with traditional motifs related to Islamic worship and architecture.
After 35 years away, Zughaib returned to Lebanon just as the Arab Spring — the explosion of revolutions from 2010 to 2013 — was sweeping the Middle East. Soon she started on portraits of Abaya, named for the traditional black cloak worn by many Middle Eastern women.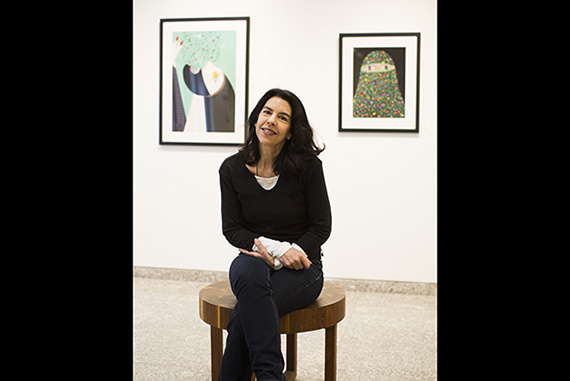 In some pieces Abaya is staring at her audience, but in most she is seen from behind, standing in fields of flowers, Arabic script, and newspaper clippings. As the dates on the title cards climb from 2011 to 2015, the flowers go from raining down on her to constricting her, until she is nothing but a bouquet of baby's breath. By the end of the series, Abaya, rendered in the style of the Madonna from Picasso's "Guernica," is vomiting the flowers into the sky.
Abaya is the star of Zughaib's exhibition "Arab Spring/Unfinished Journeys," a reflection on the optimism and despair of that time. Nearly every work has a dominant figure, usually Abaya, but children are also present, or in the case of one piece, conspicuously absent.
"Unfinished Journeys," whose debut coincided with international outrage over the 2015 drowning of 3-year-old refugee Alan Kurdî, depicts a pair of small, kaleidoscopic children's shoes abandoned on the corner of a dark prayer rug. The piece, a silk-screen commissioned during Zughaib's residency at George Mason University, was the culmination of an installation of painted children's shoes.
"I kept thinking of the Dr. Seuss book 'Oh, the Places You'll Go!' — the sad irony of that," said Zughaib. She would ultimately name the installation after the book.
Viewed together, the two title works tell the bittersweet story of the unrest that engulfed the Middle East at the beginning of the decade. One moment, hope for democracy is everywhere the eye can see; the next, that hope has been swept aside by violence and displacement.
"Despite the fact that people think my work is political, it's really on a human level," Zughaib said. "Because who is paying the price? It's the women and children. You're looking at this one individual person or you're looking at the little shoe so you can start to relate on a very small, micro level this problem that is worldwide."
One great strength of Zughaib's work lies in the conflict between her distinctive style and tragic subject matter, a dynamic heightened through her use of gouache, a sumptuous watercolor, to depict fraught moments. Perhaps the best example of the effect is in "Generations Lost," in which women wearing extravagantly patterned, multicolored abayat wave sheets of paper with the faint hints of men's silhouettes, photos of lost loved ones.
The sole triptych of "Arab Spring/Unfinished Journeys," titled "di/as/pora," presents an interesting experiment in cultural perceptions. A gathering of women, each wearing a striped abayat, crowds the right panel but sparsely fills the left. As the title suggests, the piece deals with the mass exodus of war, focusing not on those who flee but those who remain to pick up the pieces.
"When I exhibited it to a primarily Arab-American community, they read from right to left … so as the troubles got worse, the exodus began to increase." A Westerner, however, might read the progression from left to right, as though the figures were gathering protesters, such as in Cairo's Tahrir Square.
It is this very split within herself that Zughaib considers her greatest asset. As an observer of Arab and American cultures, at home in both and neither, she aims to create art that can speak to both sides. And at a time when distrust darkens relations between the U.S. and many Middle Eastern countries, her art insists that there is still much we can learn from each other.
A selection from "Arab Spring/Unfinished Journeys," presented by the Center for Middle Eastern Studies' Middle East Forum, will be on view in the CGIS South Concourse through March 3.
John Michael Baglione is a writer and author residing in Boston. His work can be found at johnmichaeltxt.com.