Harvard women's basketball continued its impressive run Friday by overcoming a feisty Cornell squad in the final minutes 62-59, bringing in its 15th consecutive win of the season. Guard Sydney Skinner '19 scored a career high 23 points, while teammate Taylor Rooks '18 tallied 13 points, six rebounds, and two steals. Forward Jeannie Boehm '20 pulled down 13 rebounds, while both she and Madeline Raster '19 led the team in assists with four apiece. With solid contributions from multiple players, the victory was a complete team effort.
To augment the win, honorary coaches Harvard President Drew Faust, Danoff Dean of Harvard College Rakesh Khurana and his wife, Stephanie Khurana, the Faculty Deans for Cabot House, got bench seats for a close-up view.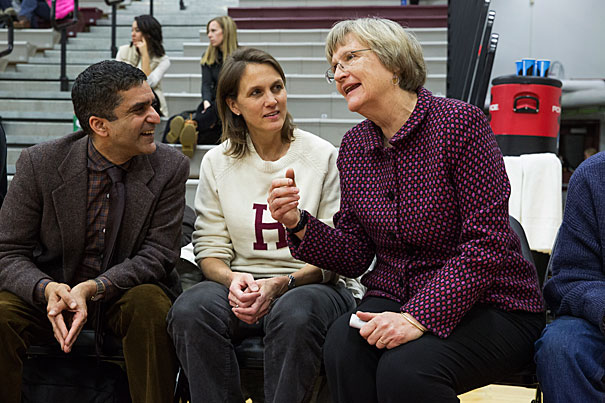 Women continue winning streak next night
The following night the team won another nail-biter against Columbia, with Raster sinking the game-winning shot with 4.9 seconds to go for a 70-68 final score. Boehm and Katie Benzan '20 led the scoring with 20 apiece, while Destiny Nunley '17 led in rebounds with nine. This was the team's 16th consecutive win, tying the program record, and gives them an early, 4-0 lead atop the Ivy League. Next up are back-to-back away games at Penn and Princeton next weekend, putting the spectacular start to a good test.
Save
Save
Save
Save