It is a one-of-a-kind experience to live and study in the heart of a place that doubles as a major sightseeing spot and commercial center.
Fighting through busloads of camera-ready tourists past bustling storefronts on the way to class or a meeting, it's easy to feel world-wearied and annoyed, somehow unnecessarily burdened by this extra level of chaos in our already overly chaotic lives.
This is especially true given that the average Harvard student is almost always running to class or a meeting, fulfilling the myriad and incessant obligations that populate our Google calendars.
But when a blank slot opens between commitments — on weekends especially — and our tourist friends are absent, deterred by dwindling daylight or inclement weather, Harvard Square becomes a playground, a space for diversion and release, however temporary.
With its cornucopia of offerings, Harvard Square — or, colloquially, just "The Square" — and the establishments therein have different and varying degrees of importance for every member of the Harvard community. Thus what follows is a student's guide to Harvard Square hideaways, but by no means does it purport to be the student's guide to Harvard Square hideaways.
The places below are cherished by many but might go unnoticed by the average tourist, or even by many who live here. Yet for those who do frequent them, there is some quality in each establishment that keeps them returning.
The Brattle Theatre
For Spencer Glesby '19, a large part of the appeal of the Brattle Theatre is its history. Originally a venue for dramatic, musical, and other performances, in 1953 the building that now houses the movie theater was purchased by Bryant Haliday and Cyrus Harvey Jr., former Harvard students and members of the Brattle Theatre Company who shared a passion for French cinema. They transformed the Brattle into the premier art house it is today and, a few years later, established Janus Films, one of the most important film distribution companies in the world.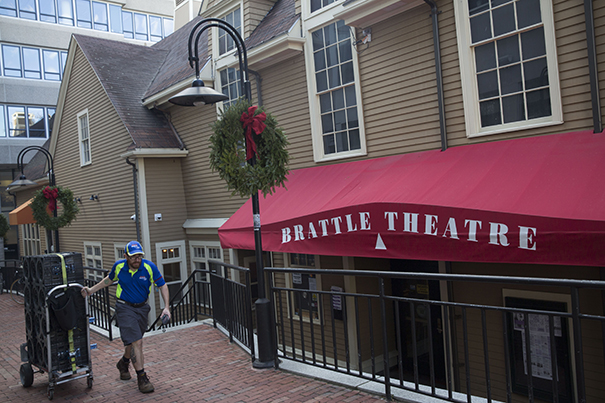 But Glesby also thinks of the theater in relation to another hub for film-lovers in the area: the Harvard Film Archive.
"It's a great foil to the archive, because it showcases so many new releases that otherwise wouldn't be shown in the area," he said. But he also appreciates that the Brattle has "wonderful screenings of old classics, with a specific interest in the cult." One of his fondest memories so far is viewing one of those films on the big screen. Although it was on the coldest night of his freshman year — 20 degrees below with windchill — "seeing one of my favorite films, Dario Argento's 'Suspiria,' as a midnight feature in 33 mm was a highlight of my life!" Glesby said.
The Sinclair
With the panoply of artistic performances put on by Harvard students every weekend, it seems almost superfluous to have a major concert venue nearby — or at least it makes it more difficult to take advantage of such a fine resource. Yet for a notable portion of students, typically those with a penchant for lesser-known artists ranging in genre from indie rock to rap, the Sinclair plays an essential role in their Harvard experience.
Chris Chow '20 thinks back to when he saw the band Porches at his first concert at the Sinclair. "I stood on the open floor, right in front of the main stage!" Chow speaks to the intimacy of the hall, its relatively small capacity (525 people), large general admission space, and wraparound balcony that make any show a pleasure, both visually and sonically. But just as important is the venue's proximity, just steps from Harvard dorms. "I'm grateful that the Sinclair is so close to campus because it makes seeing … musicians perform really accessible," Chow said.
The Million-Year Picnic
Apoorva Rangan '19 describes the Million-Year Picnic as "one of the easiest places in the Square to get lost in something." The sheer mass of comics and graphic novels that line the store's shelves and walls prove her point. Although you might meander through the Square dozens of times and never know the Million-Year Picnic existed — it's hidden on the downstairs floor of a building that also contains a nail salon and camera outlet — the demographic to which it caters know it well. But it also is welcoming to those who have never picked up a comic book before.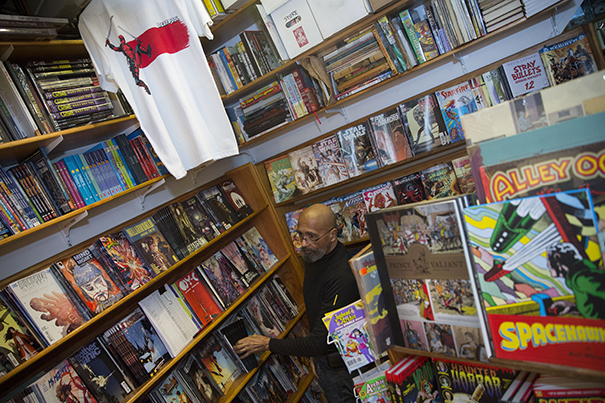 Devotees will find whatever they are hunting down, but a casual visitor also can find satisfaction flipping through the pages of a classic "Batman" comic or discovering something new. Rangan's first visit to the Million-Year Picnic fell into the latter camp. She fondly recalls picking up "The Arab of the Future," an autobiographical graphic novel by Franco-Syrian cartoonist Riad Sattouf, formerly of Charlie Hebdo magazine, in which he vividly and beautifully depicts his unusual childhood. Rangan cannot imagine stumbling upon such a book anywhere else.
Christ Church Thrift Shop
Luca Istodor '19 says the Christ Church Thrift Shop is "probably as quiet as Harvard Square can get." Nestled next to the Harvard Graduate School of Education and behind the church whose preservation fund benefits from its proceeds, the thrift store is far from the noise and flurry of the Square. It seems to operate on its own clock. "It seems like no one ever hurries inside. People make conversation," said Istodor. "They take their time to wrap your purchases, which, although frustrating at first, is a good occasion to stop and breathe between classes, meetings, and essays."
The items for sale in the shop — from beautiful old dresses to stunning antique glass and silverware — seem to occupy a similar temporal space. They are clearly used but not worn; they seem carefully chosen by the volunteers who run the shop for their homeliness and warmth. Whether welcoming a hipster looking for a new outfit or a student looking for some dorm essentials, the thrift shop has something memorable to offer. Indeed, Istodor remembered, "It's the place where I bought my first wine glass, which was as classy and old as the shop itself."
Save
Save
Save
Save