A year ago, Harvard President Drew Faust posed some fundamental questions about public service: "What is your responsibility to others? What values guide your work?"
This past summer, 11 students from across the University were given the chance to answer her as recipients of Harvard's Presidential Public Service Fellowship. The six-year-old program lets undergraduate and graduate students spend a summer working for the public service organization of their choice, whether governmental agency, nonprofit, or community group. The awards are given to students who demonstrate leadership and interest in, and commitment to, public service, and typically cover travel and living costs for the duration of the project.
For Michael Huggins, a candidate for a master's degree in public policy at the Harvard Kennedy School and a J.D. candidate at the University of Washington, the award meant a chance to help build a more just society. Huggins worked as a legal intern at the Leadership Conference Education Fund in Washington, D.C., focusing on projects that included advocating for paid sick leave for women and families, the intersection between technology and the Fourth Amendment in predictive policing, and reviewing potential appeals before the U.S. Supreme Court for cases in which the Leadership Conference might wish to file an amicus brief.
Huggins said the biggest takeaways from the summer were what he learned about the power of advocacy — "When you're on the front lines of Civil Rights work, you have to be a very fierce advocate for those positions, and I think that is really going to help me in the future" — and a job opportunity after he graduates in May. Huggins was offered the George N. Lindsay Fellowship at the Lawyers' Committee for Civil Rights Under Law.
"I wouldn't have had the connections and the job opportunity without the Leadership Conference and I wouldn't have had the experience at the Leadership Conference without the fellowship from Harvard," Huggins said.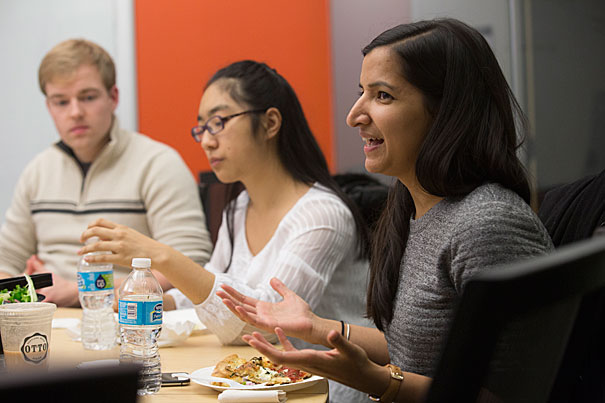 Omar Khoshafa '17, a Mather House resident who concentrates in government, spent his summer pursuing his interest in grassroots politics, education, and youth work.
In 2015, Khoshafa co-founded Mass Muslims, an organization dedicated to encouraging political and civic advocacy, engagement, and leadership in young Muslim and minority communities. He used his fellowship to serve as a community organizer and development fellow under Cambridge City Councilor Nadeem Mazen and others at Jetpac Resource Center, where his work included writing grant applications, planning voter registration efforts through faith-based organizations, fundraising, and networking with stakeholders.
"Working with young South Asian, Somali, and Arab men and women was a rewarding endeavor, especially for one who seeks to learn from the challenges that our young people face in the education system and beyond," Khoshafa said.
Chelsea Banks, an M.B.A. candidate at the Harvard Business School, spent her fellowship working for the Boston Public Schools' Office of Innovation, with a focus on labor negotiations and transportation budgeting.
Banks said that while she was unsure initially unsure whether she would enjoy that environment, "It felt effective on a big enough scale that it was very persuasive to me that this is work that needs to be done well. The bureaucracy exists because of the size of what you're doing, but brilliant people are working to make things happen for kids everyday inside of it."
She also found that the fellowship gave her more than exposure to the public school system. "I think that there is a huge benefit to having both the funding and an application that requires defining one's role for the summer," Banks said. "It gave me an opportunity to ask deeper questions and have stronger conversations to get approval of my proposal."
Huggins offered two pieces of advice for students interested in applying for next year's fellowship: Aim high, and be passionate.
"The fellowship is a fantastic opportunity to go for the big dream, and it's really important we not limit ourselves on what we can achieve and accomplish," he said. "This is not the time to sit on the sidelines."
The application deadline for the Summer 2017 Presidential Public Service Fellowship is Feb. 1, 2017.
Save
Save
Save
Save
Save
Save
Save
Save
Save