When businesswoman Lisa von Sturmer gave a sales pitch, she wore a bow in her hair on purpose. "They'd think I was fluffy, that they could probably push me around — and it would surprise them when they discovered who I really am. And it worked!"
Von Sturmer, CEO of Growing City, was the keynote speaker for Women's Entrepreneurship Day (WED) 2016 at Harvard late last month. She was joined by female entrepreneurs from around the world who came to share their expertise on business, success, and navigating the corporate world.
The event was divided into two parts: speakers and panels. Myra White, lecturer in the Department of Psychiatry at Harvard Medical School and professor in the management program at Harvard Extension School, served as moderator. Among the other speakers and panelists were Priya Korrapati, CEO of eMedEvents; Robyn Johnson, ecommerce consultant and coach and founder of Best from The Nest; Avisha Patel, founder of Friendsline; Dr. Isaura Gonzalez, clinical psychologist and founder of Latina Mastermind; and Maria Mariano, president of Centre de Distribution les Diamants Inc.
Von Sturmer said that she believes femininity has its place in the business world. She also pointed out that "girly features" are not necessarily a bad thing, using her experience on the TV show "Dragons' Den" as an example. ("Dragons' Den" is a CBC reality program featuring entrepreneurs pitching their business ideas to secure investment finance from a panel of venture capitalists.) In 2013, von Sturmer appeared on the show and asked for $100,000 for Growing City, North America's first office composting service. Although she didn't walk away with the money, just appearing on the show helped her client base grow at a rapid pace.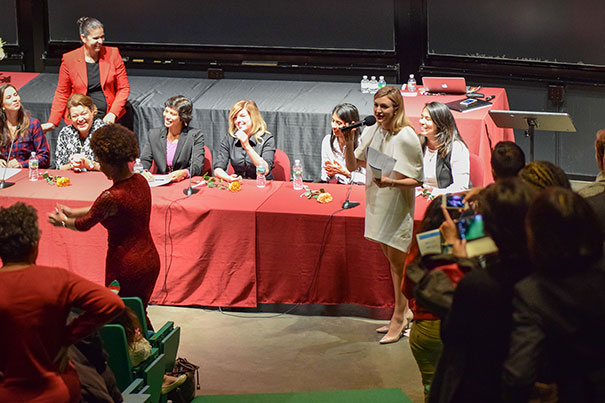 Von Sturmer also pointed to research by MIT's Associate Dean for Innovation Fiona Murray, who recently studied the "pecking order" of venture capitalists. She found that those who generally receive the most recognition are attractive men, followed by unattractive men, unattractive women, and lastly attractive women.
"So if you're a woman, as soon as you walk in the door you're already at the bottom of the pile," von Sturmer said. "You're going to have to work harder to overcome their expectations, but you can also use these assumptions to your advantage."
The other messages covered a wide range of topics. Mariano delivered a powerful message about consistency and the importance of family. Harvard Extension Entrepreneurship and Real Estate Association (HEEREA) founder Dolly Amaya suggested forming an intimate relation with money in order to build a sustainable business. "Financial literacy enables people to understand what is needed to increase profitability," she said. Entrepreneur, investor, and mentor Tai Lopez compared a bad mentor to a bad date and stressed the importance of finding "someone who motivates and inspires us to be a better version of ourselves."
The women's messages evoked a palpable feeling of inspiration and motivation in the audience. "I didn't think talking about business could be such an entertainment," said Ashley Fournier, faculty assistant at Harvard Law School.
While the audience mingled and socialized during a brief intermission, the speakers and panelists networked. The highly successful women in the crowd included Emmy-nominated TV news producer Nneka Nwosu Faison.
WED was co-organized by the Harvard Graduate Council and HEEREA. North America Ambassador for WED Aksinia Stavskaya was the lead organizer; Peter J. Dyrud, president of the Harvard Graduate Council was co-curator of the event.
     — Jia Roy of HEEREA also contributed to this article
Save