Women have come a long way at Harvard and in society since a University president questioned whether they had the "originality and pioneering spirit" needed to be leaders.
Speaking Friday at the formal kickoff of the inaugural Harvard Women's Weekend, Harvard President Drew Faust cited the succession of milestones that have marked the growth of opportunities for women at Harvard — down to the right to sit at a table at the Widener Library — and the trailblazing students and faculty who helped achieve them.
"Here you are, and here I am, because of the women and men who stood up for a woman's right to sit down — people who made themselves into an answer, no matter who questioned a woman's brainpower, or doubted a woman's stamina, or denied a woman's capacity to lead," Faust told the mostly female audience at Harvard Business School.
Yet Faust cautioned that the advancement of women remains unfinished, citing the continued struggle for "equal work for equal pay, an end to sexual violence, and education for girls and women around the globe."
"We keep reimagining the promise that those once excluded by an accident of birth will be able to claim their rightful place, to emerge from a room of their own into a boardroom, or a family room, or a situation room — to be a part, in the words of the Broadway musical 'Hamilton,' of 'the room where it happens,' wherever that may be," Faust said.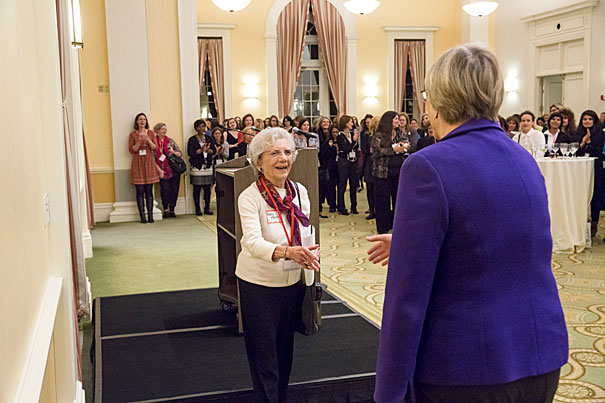 About 500 alumnae and students took part in three days of talks and discussions on topics ranging from balancing work and family to expanding global education of girls, women's health and entrepreneurship, and challenges facing women of color.
The aim of the weekend, which also included such varied activities as a wine tasting and a Global Women's Empowerment Expo, was to energize the alumnae community and broaden discussion at Harvard and beyond of issues important to women.
"We want to keep the dynamics that were initiated this weekend ongoing, including potentially through similar weekends," said advisory board member Acey Welch '53. In 2013, Welch co-founded the Alumnae-i Network for Harvard Women as a shared interest group. The idea for the weekend grew out of discussions she had then with Philip W. Lovejoy, executive director of the Alumni Association.
"We felt it would benefit Harvard to have its alumnae feel more connected to the University and with one another, and that having a Harvard Women's Weekend would help achieve this," she said.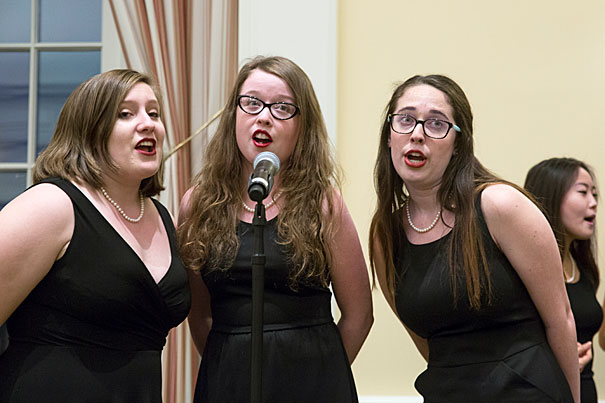 Faust recalled that more than a century ago, Harvard's leaders considered women's education, "as the University treasurer put it, a 'risky experiment,' because in the words of my predecessor, President Charles William Eliot … 'We know nothing of the mental capacities of the female sex.'" Eliot was Harvard's president from 1869 to 1909.
"At a Radcliffe Commencement, President Eliot questioned whether, as he put it, 'women have the originality and pioneering spirit which will fit them to be leaders,'" Faust said. At a later inauguration of a Wellesley College president, "He chose to wonder aloud about whether the higher education of women … was as profitable to society as the higher education of men. …
"Your presence here tonight — this uplifting force of nearly 150,000 Harvard and Radcliffe alumnae across the globe — was once just unimaginable," Faust told the participants.
She said it is hard for today's students to believe that when she was in college, "I was not allowed to wear pants to class. I would not have been able to apply to Princeton or Yale, or get a credit card without a male co-signer … It was a world where no one here would have been allowed into Lamont Library, an all-male space until 1967."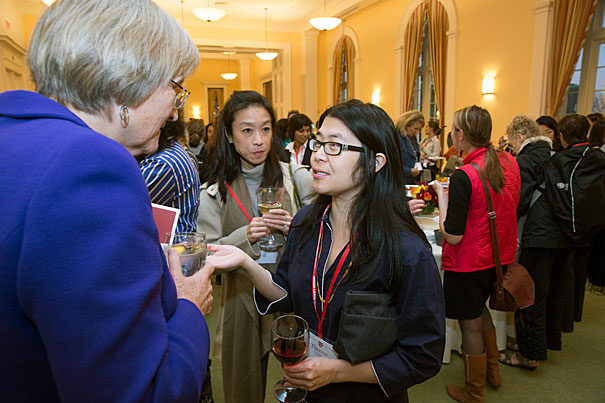 Faust said pioneers who helped pave the way for women to become full participants on campus and in society included Radcliffe graduates Helen Keller and Pulitzer Prize-winning historian Barbara Tuchman, as well as Helen Maud Cam, who became Harvard's first female full professor.
She also recalled the "three women fresh from the business certificate program in the Radcliffe basement, who crossed the bridge in 1959 to become the first female students here at Harvard Business School."
"Looking out through this room tonight, I see a lot to tell President Eliot. Even he admitted, after nearly 40 years as president, that his fears about educating women had been without merit. Women today, across all racial groups, receive a higher percentage of bachelor's degrees than men in the United States," Faust said.
Faust noted that across the University, Harvard's percentage of female faculty is at an all-time high.
"But we have a distance to go," she said. "And as I look at this room tonight, I know that your time here together will be an energizing force for the University as we take on the future and take on the work that still remains."
Harvard's inaugural Women's Weekend was developed in close partnership with HAA Shared Interest Groups (SIGs).
Save
Save
Save
Save
Save
Save
Save
Save
Save