Growing up in the Cape Cod town of Mashpee in a tight-knit family that observed the traditions, culture, and lifestyle of the Wampanoag people, Sherry Pocknett discovered her love of cooking.
When Pocknett was a child, she received an Easy-Bake Oven, and with that she found her passion. She roasted "whatever she could find in the refrigerator" — eels, slices of bear meat, fiddleheads.
"I loved cooking for my brothers," said Pocknett, a member of the Mashpee Wampanoag tribe and a chef at the Mashantucket Pequot Museum and Research Center, in Mashantucket, Conn. "I love sharing the food I grew up with, and my culture with others."
And share she did.
On a recent night, Pocknett came to Harvard's Pforzheimer House with pots and pans filled with traditional Wampanoag dishes, as part of her mission to show that Native American food is much more than fry bread. Faculty Deans Anne Harrington and John Durant invited students to the House for a "Native American food tasting" catered by Pocknett, as a response to students' interest in learning about Native American culture.
The Wampanoags were the tribe who dined with the Pilgrims at the first Thanksgiving, and their farming and hunting techniques helped the Europeans survive their first harsh winter in Plymouth. It's a bittersweet memory. Years later, relations turned sour, leading to war, many deaths, and great diminishment of the Wampanoag tribe.
"The history of Native Americans is tragic and poignant," said Harrington, the Franklin L. Ford Professor of the Department of the History of Science and director of Undergraduate Studies. "And we'd like our students to learn more about the history, the culture, and the contemporary issues that Native Americans face, but we also wanted to celebrate their culture."
At the museum where Pocknett works, she serves venison skewers, bison burger, fried frog legs, and turtle soup. But she brought a more subdued menu to Pforzheimer, one which featured corn, cranberries, and squash, the Wampanoags' main staples.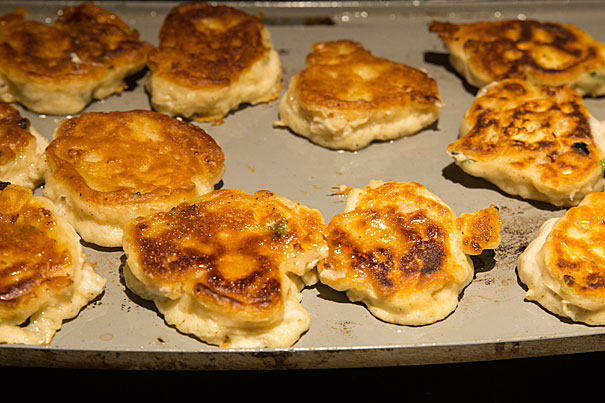 Corncakes made with corn meal, cranberries, and green onions were a hit. So were quahog cakes, made with the large, hard-shell clams also used for chowders. Pocknett brought the dough and fried the cakes in her portable grill, the smell wafting throughout the kitchen and the dining room.
As side dishes, Pocknett brought "three sisters" rice (made with corn, squash, and beans) and butternut squash fry bread. The drink of the night was an aromatic tea made of sassafras roots, which tasted like root beer. Dessert was blueberry slump, made with blueberries simmered with dumplings and sweetened with maple syrup.
"Everything was delicious," said Itzel Vasquez-Rodriguez '17, who comes from New Mexico. "I loved the corncakes. I had way too many. I loved learning about Native Americans — who still have such rich history, culture, and food. That's worth celebrating."
That's the kind of praise Pocknett craves. Cooking her people's food makes her a cultural ambassador for her tribe and for Native American culture. Pocknett cooks for museums, college events, and powwows, and as she serves her beloved dishes, she explains the ancient roots of her culture, its respect and love for nature, and its spiritual beliefs and practices.
"We have more than one Thanksgiving," Pocknett told students who packed the dining room. "Our New Year starts in March or April, and it's a Thanksgiving celebration for everything that is coming back. We also have a Strawberry Moon Thanksgiving, and a Thanksgiving for every season because every season brings a different food."
Pocknett talked about the Wampanoag people's history on the Cape Cod peninsula, and their tradition of living in harmony with nature, eating foods according to the seasons, and searching for sustenance by harvesting, hunting, and fishing. Pocknett's father hunted bears, muskrats, and squirrels; her mother cooked recipes passed on for generations that called for herring, venison, and frog; and the children helped catch fish and harvest herbs, and in doing so learned about plants, seasons, and nature.
An amiable woman with twinkling eyes, Pocknett took pleasure in sharing stories about her childhood. She talked about her Thanksgiving dinners, which occasionally featured raccoon or roasted deer haunch instead of turkey. She told students how her parents taught her and her siblings what to eat and what not to eat when they foraged, to place leftover foods in the garden as compost before that word was mainstream, and to put turtles, frogs, or eels back in the water if they were small.
A student asked, "How did you catch eels?"
"With a long spear," she said, to oohs and ahhs.
Ella Duncan '17 was grateful for the chance to learn about Native American culture outside the classroom. Coming from Littleton, the home of the Nashoba Praying Indians, Duncan was familiar with the history of dispossession and colonization of Native Americans, but she appreciated learning more.
"I love learning about the many Thanksgivings Native Americans have, how connected they are to the land, and how much respect they have for nature," Duncan said. "Being thankful is embedded in the fabric of their culture."
Carlos Snaider '17 and Angela Wu '17 also appreciated the chance to learn more about the Wampanoags' deep connection with nature, and how they "eat the foods the seasons bring," said Wu.
Snaider, who spent some time volunteering in the Ecuadorean rainforest and became familiar with indigenous communities there, relished the opportunity to learn about similar communities in the United States. With 3 million people, Native Americans represent 1 percent of the U.S. population, and they can seem invisible.
"When I was in Ecuador, I learned about the way locals lived, but I was the outsider there," he said. "Here I'm learning about how Native Americans live, thanks to Sherry, who shares the wisdom of her culture with us. It's a privilege."
---
CORN CAKE RECIPE
Ingredients
2 cups of corn meal
1 cup of flour
2 teaspoons of baking powder
1 teaspoon of baking soda
1 tablespoon of salt
1 tablespoon of cracked black pepper
1 bunch of scallion greens chopped
1 cup of sundried cranberries
1 cup of corn (fresh cut off the cob or frozen)
1 cup of sunflower oil
1 to 2 cups of hot water
Preparation
Combine all ingredients with the exception of the water and mix well. Add water 1 cup at a time so that the mixture has the consistency of a thick hot cereal. Ladle the mix onto a hot griddle covered with sunflower oil and cook the cakes until golden brown on both sides.
As appears in Chef Sherry Pocknett's Facebook Page.
Save
Save
Save