In the early 1900s, much of the compact and highly developed Longwood Medical and Academic area was a pasture where cows grazed and provided milk to patients at Boston Children's Hospital.
For an enterprising group of volunteers, students, faculty, and staff representing 10 Harvard institutions, today that memory is proving inspirational.
What began as a simple discussion centered around improving handicapped access between Harvard Medical School's campus and the Harvard T.H. Chan School of Public Health grew into the Re(Design) Innovation Challenge, which led to plans for an innovative space that fosters health and sustainability for the Longwood community at the same time that it generates knowledge.
The centerpiece of this creative challenge is the Countway Community Garden — a 140-by-50-foot sunken patio and garden space behind the Francis A. Countway Library of Medicine. The space is on top of the roof of the Center for the History of Medicine's rare book stacks, which essentially makes it a street-level rooftop garden, according to Julia Bald, community garden manager and Countway Library of Medicine Library assistant.
This "hidden gem" gave staff, faculty, students, and hospital affiliates an opportunity to collaborate and interact outside of normal school and work structures, Bald said. Thanks to the innovation challenge, it soon will be revitalized green space intended to unite a community focused on urban sustainability.
"This has been very much a grass-roots effort because of the positive changes on campus, the conversations and engagement of volunteers who spoke in helping to shape and support the development of this garden space," said Adam Meier, Longwood sustainability manager. "This challenge was supported by so many different players who represent a process that is fairly new in how the University can think about decision-making for the campus by engaging students."
The challenge brought together students from various disciplines to work on a design proposal for an optimal space addressing several factors, including bicycle storage, garden space, access to water, pest control, weather and noise considerations, the use of sustainable materials, and how the space can support University education and research while involving the Longwood community.
The crowd-sourced venture included contributions from the Medical School, the Harvard Chan School, EcoOpportunity, the Harvard Chan Student Association, the Harvard University Office for Sustainability, the Countway Community Garden, and the Built Environment and Health Student Consortium. The effort raised nearly $9,000.
"I think students were inspired and empowered by the ability to make real change on their campus. Being part of the design process allows us to integrate all that we have learned into a space," said Erika Eitland, a doctoral student in the Department of Environmental Health at the Harvard Chan School who is the Countway Community Garden student organizer. "The magic of this competition is in the interdisciplinary approach. It's an opportunity to give back to a community that has given us so much."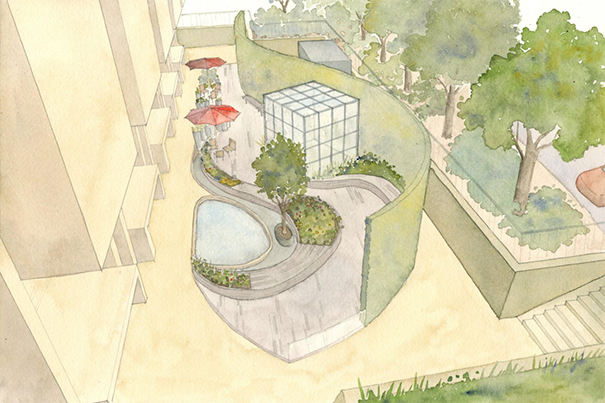 Teams from the Harvard institutions formed, and after five weeks of planning, five of them submitted their redesign proposals. Three finalists were selected after a public voting period. The top three teams gave 10-minute presentations to six guest judges on Nov.10 at the Countway Library, and the winner was selected.
The Green Dream Team — whose members included students from the Harvard Chan School, Harvard Graduate School of Design (GSD), Harvard Law School, Harvard Business School, and Harvard College — was awarded first place and a $2,000 prize. Its proposal, called "The Countway CoLab," is focused on sustainability, usability, and community.
The plan utilizes innovative growing concepts, including vertical plantings and aquaponics, along with solar umbrellas, rain capturing, and a green roof. Usability is enhanced by sound barriers, a shade canopy, and even a mobile classroom for integration with Harvard programs. A hybrid ramp and open seating improves accessibility, and murals add visual enhancement.
Team Longstain garnered second place and $1,000 for its "Crystal Skywalk Garden," a two-level design incorporating a street-level glass walkway with shutter shading that overlooks a sunken garden.
The Indestructibles, third-place winners receiving $500, focused on simplicity, serenity, and sustainability. Their design showcases a peaceful green retreat where gardening and relaxation in a natural setting is the primary focus.
The Harvard Medical School Operations Department donated the prize money to treat students as design consultants, according to Meier, in tandem with the University's missions of research and teaching.
"I loved being on a team with students representing four other Schools across Harvard and creating a concept together. I also love that this competition was grounded in reality," said Alyssa Curran, a GSD student on the Green Dream Team. "We were continuously motivated and inspired at the prospect that our design proposal, or at least parts of it, could actually be implemented. And today we continue to push forward on the project to bring it to fruition."
One representative from the Green Dream Team will be part of a panel discussion focusing on urban design and sustainability as part of the Harvard Chan School lecture series on Dec. 5.
The next step is construction of that handicap-accessible ramp in early 2017, while discussion continues about how to move forward with a redesign of the Community Garden that utilizes ideas from all the teams, Meier said.
The winning team identified a $50,000 grant from the Graduate School of Design's Department of Landscape Architecture, and the Community Garden project received $500 from an innovation fund within the Office of Sustainability, specifically for living lab endeavors that use the campus as a test bed for research into action, he said.
"We look forward to incorporating student voices and their innovative ideas into future design changes of this space," said Michael McGowan, interim dean of campus planning and facilities at HMS. "Furthermore, we hope that this model can be replicated in future campus space-planning decisions."
Save
Save
Save