Jasper Johnston may sound like a character in an F. Scott Fitzgerald novel, but he's a real-life Harvard College freshman with a modern eye for the beauty of the University's campus. Armed with no more than his iPhone and its native photo editing app, Johnston has been documenting his first semester as a Harvard student on his Instagram account aptly titled "100 Days of Harvard."
"It came from the idea of the first 100 days in political office or a job being really crucial and important. I had never actually had an Instagram account, and originally I kept my photos to myself. I didn't tell anyone except my family because I wanted the work to speak for itself … At about the halfway mark, I started posting to Facebook because I realized I'd put more work into it than I'd intended."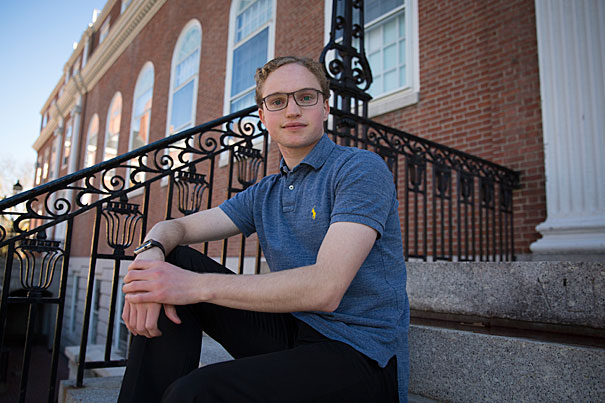 It was those first few shares that prompted the University's official Instagram account to begin following Johnston's account and sharing his photos. Even though he uses only his iPhone, it's clear that photography is more than a casual hobby for the social sciences concentrator. Just a cursory look through "100 Days of Harvard" reveals a deep passion for nature and architecture.
"Originally I was looking at documenting my journey and my classes. When I got here I was just so inspired by the buildings and surroundings. Usually I love soft shapes, like clouds and sunsets and trees. But here, [architecture] is what has been incorporated more into the photos because it's what's in the environment."
For Johnston, the project is not simply about discovering his new home, but also about learning about his birthplace. Though he grew up outside of Victoria, British Columbia, Jasper was born in Cambridge and moved northwest as a young child. Now in a city twice as old, six times as populated, and on the opposite coast of his hometown, there is much for him to find and share with his followers, many just as curious as he is.
"I love days where I can find a nice photo that's not at all linear or geometric. But I've really appreciated — due to the square format of Instagram — the uniqueness of trying to cut the image exactly in half with the building so you get this nice contrast with the brick and the glass and then the trees on the other side of it."
As he garners a larger audience, Johnston has taken to polling his friends about which picture to use as each day's photo. "Sometimes I only take one or two photos. Some days if I'm more inspired it'll be more like 20 or 30," though that usually makes it harder to choose the right photo. "The one rule I've set up for myself is that I have to post a photo that was taken that day."
At his current pace, Johnston will post his 100th photo just in time for finals. As for what happens on day 101, Johnston is still struggling to find a good answer. He briefly toyed with the idea of turning the project into 365 Days of Harvard, but scratched it because he can't be here year-round.
"If it's not cheating, I might restart when we get back in January. We've gone from this transition where we've had these leaves in the summer to fall and now no leaves. I'd like to see the reverse effect happen in the spring. 'Another 100 Days of Harvard,' just because."
With the attention of both Harvard and CBC Quebec, which has published the photographs, the incentive to tack on another 100 days — or perhaps 700 — is certainly there. "If not, I'll just continue to take photos."
John Michael Baglione is a writer and author residing in Boston. His work can be found at johnmichaeltxt.com.