Draping fabric across a raging river in Colorado, installing thousands of blue and yellow umbrellas in Japan and California simultaneously, and erecting a monument of 410,000 oil barrels in the desert near Abu Dhabi — each complex undertaking took years of planning and millions of dollars to complete, only to be displayed and then dismantled in mere weeks, never to be seen again.
"All of our projects are absolutely irrational with no justification to exist. Nobody needs a running fence or surrounded islands," said Christo Vladimirov Javacheff, 81, the Bulgarian-born artist known as Christo.
Perhaps the world's best known and most prolific creator of major public art, Christo discussed the evolution of three recent works during a talk at the Harvard Graduate School of Design (GSD) Thursday evening. "They are created because Jeanne-Claude and I have this unstoppable urge to create. They are made for us first, not the public," he said in crediting his wife and lifelong creative partner, Jeanne-Claude, who died in 2009.
"The reason we don't like the projects to stay is no one can charge for tickets, no one can buy this project. It is freedom. Freedom is the enemy of possession and possession is permanence," said Christo, later adding, "People like to go to see something they'll never see again."
His most recent project is "The Floating Piers," a two-mile-long, 50-foot-wide pedestrian "street" of yellow fabric stretched across Lake Iseo, a deep glacial pool in the foothills of the Alps in northern Italy. It was open to the public from June 18 to July 3. About 80,000 people visited each day to experience what many described as walking on water.
The creation showed the complexity of such projects. The piers were constructed with 220,000 small, custom-made cubes, some filled with water, others not, that were eventually connected. To keep the structure in place, 195 anchors weighing 5½ tons were floated onto the site in airbags and then installed underwater by deep-water divers. To get permission from the Italian government, the project's engineering first had to be checked to make sure it was sound, which required months of secret tests on a lake in Bulgaria.
Tying together all of the projects by Christo and Jeanne-Claude is a "borrowing" of public spaces in their natural condition to create "a gentle disturbance" for a brief period that people must visit to experience. The creations are not contemplative like museum pieces, but physical and sensorial.
"Jeanne-Claude used to say, 'Everyone can have a good idea. The most important thing is to do it.'"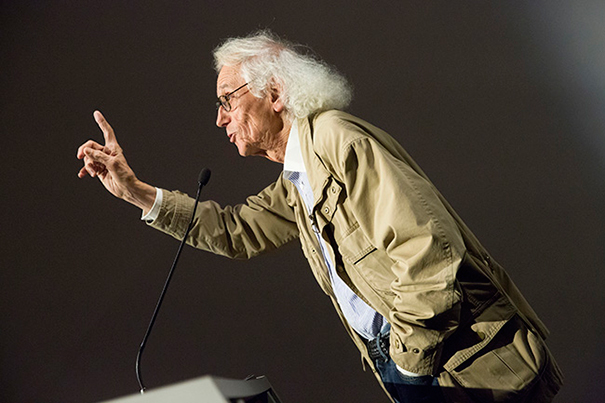 Though generally known as a sculptor, Christo has long been an important figure for professionals working in architecture, landscaping, urbanism, public art, and engineering, noted Krzysztof Wodiczko, professor in residence of art, design, and the public domain at GSD.
"I believe that there is something utopian about their work," Wodiczko said. He said that while some people dismiss the idea of utopia as fantasy, Christo's work reflects a "concrete utopia" that "reaches forward toward real, possible future. It carries educated hope and is surrounded by militant optimism."
The work is also rooted in the sublime, in a kind of "aesthetic euphoria" when a visitor's emotions are suspended and the mind is so consumed by the subject at hand that it can't entertain anything else, and where the experience of the work supersedes its form, Wodiczko added.
The often deceptively simple premises of Christo's creations — extending a ribbon of fabric across hilly farmland in Northern California ("Running Fence," 1974) or swaddling the German Parliament building in silver polypropylene ("Wrapped Reichstag," 1995) — belie the long, stunningly intricate processes of design, production, and permitting required to bring them to fruition.
"Running Fence," for example, a 24½-mile-long, 16-foot-high fabric fence, took 42 months of preparation, 166,000 meters of white nylon fabric, more than 13,000 steel posts, and 19 miles of steel cables. Christo appeared at hearings 72 times to explain the project to state and court officials, who turned him down three times before relenting. He had to individually contract with 59 farmer-landowners who feared damage to their property and crops, provide a 265-page environmental impact report to the state, hire 360 people to install and display the work and monitor traffic during its brief exhibition, and form a company to sell his artwork in order to raise the $3 million needed to self-finance the project.
"Wrapped Reichstag," in the planning stage since 1971, was rejected three times during the late 1970s and '80s before Germany's Parliament approved it over the objections of then-Chancellor Helmut Kohl.
Asked what most excites him about starting a project, Christo was quick to clear up a common misconception.
"The color of the fabric or the object is not the work of art. One umbrella is not the work of art. One gate is not the work of art," he said, referencing past projects "The Umbrellas" (1991) and "The Gates" (2005). He said that "7,503 gates in Central Park … in the winter day with the leafless branches of the trees, with the snow, with the sun, with the wind, with the skyline: All this is the work of art."
Each project has two phases, a "software period" and a "hardware period," he said of his brainstorming and conceptual and then testing, fabrication, and installation phases.
"That software period really is the force of the project, the energy, the power" of the works. "This is why we never do the same things again. Each project is a total and new life experience," a journey to take once and then move on.
Christo touched on the complications he has faced to complete two works still underway, "The Mastaba," the massive sculpture in Abu Dhabi that's been in the works since the 1970s, and "Over the River," a project he and Jeanne-Claude began planning in 1996 that involves running miles of fabric across the Arkansas River, a popular rafting site in Colorado, at eight locations across 40 miles.
The Herculean challenges that must be overcome for each project are rarely discouraging. "Because I'm a very optimistic person, I think everything will work out," said Christo. "I know we live in difficult times, but if I'm not an optimist, I would never do this work."
Save
Save
Save
Save