The new school year is in full swing and the brisker nights of fall are starting, yet the Harvard Ed Portal still has summer on its mind as it shares the success stories from another new program.
As part of the first-ever Summer Explorations at the Ed Portal, students of all ages were able to experience programs that enriched learning, stimulated curiosity, and slowed summer learning loss, which many experts say is a key step in closing the achievement gap.
On any given day last summer you might have found a 7-year-old getting a better understanding of literature by making art, a 10-year-old learning how to troubleshoot bicycle problems and ride safely on busy urban streets, a third-grader learning to code, a seventh-grader building robots, or a 10th-grader learning about biotechnology and genetics. Some groups even took field trips to Harvard's Physics Lab to design 3-D printed creations, or to the Harvard Art Museums to examine centuries-old artifacts.
While the Ed Portal has offered various one-off summer programs in the past, this year it offered a series of highly coordinated options that touched on a variety of subjects for students of all ages. The programs were free to students living in Allston-Brighton.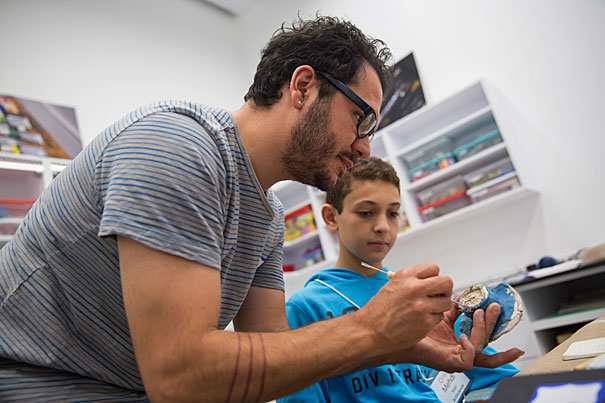 Some of the older students took an art-science course that explored the wonders, challenges, opportunities, and potential of 3-D printing. Working under the direction of Robert Hart, director of the Harvard Physics Teaching Laboratory, they designed and built their own creations.
"Three-D printers can be used to replicate things in everyday life, such as organs for transplants. It is an efficient and more precise way to do something you'd struggle to do by hand," said 14-year-old Mehdi Kayi of Allston-Brighton. "It's pretty mind-blowing how technology has evolved and developed over the years and how easy it is to replicate things that everyone can use to make life easier."
The Ed Portal also partnered with the Amgen Foundation, a biotech company in Cambridge, to introduce students to what's new in the field of biotechnology and genetics. Alia Qatarneh, the program coordinator, showed students how to isolate their own DNA and test whether they are part of a small population subset that can't experience bitter tastes.
"Learning what comes from our mom and what comes from our dad is really cool. It was transformative for me," said 13-year-old Rayhan Amhed of Allston.
Amhed added that the skills he learned during this camp only strengthened his desire to become either a neurosurgeon or anesthesiologist.
Students in grades six through eight tried their hands at building robots.
"Our goal for this workshop was to ensure that kids left here with a basic understanding of soft robotics," said Colette Abah, a facilitator from Harvard's Mechanical Engineering Department. "They all came up with their own designs and were creative with what they wanted to make. The entire workshop was very hands-on — and they got some experience with engineering, as well as the concept of soft robotics."
Some of the younger students had the chance to learn how to creatively code using Scratch programming. They designed projects ranging from ice skating-themed programming to animations of themselves riding majestic unicorns to ghouls trying to take over the city of Boston.
Even the youngest students seemed excited. Eighteen students in first through third grade were able to get a better understanding of literature through art-making.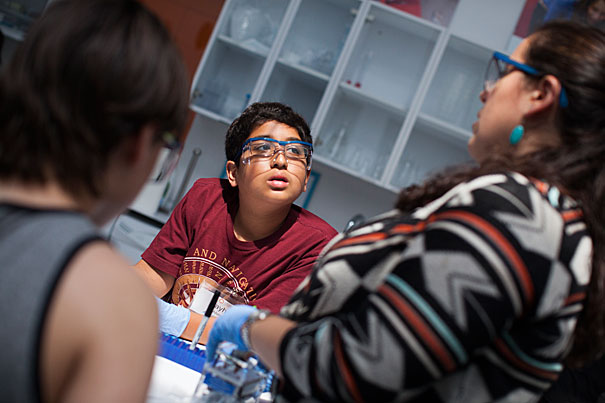 Students were tasked with bringing in a new adjective to talk about. Sarah Kohl, 8, of Brighton, brought in "vociferous." Asked to explain what it meant, she giggled. "When you speak it means you really say what's on your mind, and that you're very chatty — like me!"
Next came using those adjectives to describe something — or someone — in the room. Eight-year-old Addison Rich of Brighton used "enchanting" to describe Ed Portal intern Patrick Mulroney because he is "very, very handsome."
"I have seen how Pre-Texts have really transformed kids," said facilitator Trecia Reavis. "I am really passionate about what Pre-Texts does. It allows kids to use art to make something and understand it more deeply. … I love the civic component of it, and how it builds community and leads to innovation, and you can't have innovation without critical thinking."
The series was rounded out with a Scratch Day coding workshop that provided students young and old with a chance to learn how to code, improve their coding skills, or simply see what coding is all about. The projects students made throughout the month were displayed at the Ed Portal's very own Crossings Gallery for all to see.
Save
Save
Save