Entering his third year as Danoff Dean of Harvard College, Rakesh Khurana recently outlined his vision for the coming months in a question-and-answer exchange, addressing the implementation of Harvard's single-gender social organization policy and ongoing efforts to strengthen inclusion across campus, along with investments in inclusive social spaces. Khurana, who is also Marvin Bower Professor of Leadership Development at Harvard Business School, professor of sociology in the Faculty of Arts and Sciences, and faculty dean of Cabot House along with his wife, Stephanie, also discussed how his varied Harvard roles, and even his early rejection from the College, helped prepare him to lead Harvard's undergraduate program.
GAZETTE: Has the role of dean lived up to your expectations? What has most surprised you about the position?
KHURANA: The job has exceeded my expectations. I feel so privileged every day to be part of this institution alongside the most amazing students, faculty, and staff I've ever had the opportunity to work with in my professional life. One of the things that continues to inspire me is the powerful idea of Harvard and what it stands for: the commitment to the ongoing project of seeking truth and advancing knowledge, and the fact that this project continues from generation to generation. The chance to be part of this mission, especially with our undergraduates, is amazing.
GAZETTE: How did your role as faculty dean of Cabot House help prepare you for your current job?
KHURANA: One of the great opportunities of being a faculty dean is that I live with the students. As a result, over time a kind of familial and familiar culture emerges. I eat my meals with students. I stay up late with them talking or playing Bananagrams. Students often talk to me about the experiences that are impacting them in a deep and personal way that they typically do not share with a faculty member. From spending this time with them, I've learned how hard it is to balance the intellectual journey with the constraints they feel and those parts of the Harvard College experience that are empowering and those aspects that we need to improve.
Because I have the chance to interact informally with students in Cabot, I also get the chance to see their social dynamics — how they spend their time, with whom they are spending it — and I hear them talk in nuanced ways about what fosters a sense of inclusion and belonging and what works against it. One metaphor might be that as a faculty or staff member you see the everyday life of our students from the audience, but when you live with the students, you also see the backstage. Backstage is where the mask comes off and you see the complexity and messiness of figuring out who you are, how you negotiate relationships with others, and how you find your voice. At Cabot, we have the chance to be with students not as authority or evaluative figures, but as more experienced people they can count on to lend a sympathetic ear or ask questions with no easy answers. I guess it comes to trying to turn a house into a home.
GAZETTE: You have said Harvard didn't accept you when you were applying to college. What did that experience teach you? And what piece of advice would you give to a Harvard student facing rejection either at Harvard or in the future?
KHURANA: I didn't get accepted to a lot of colleges!
First I would say that acceptance is way more fun. And in the moment rejection feels more difficult. It makes you question your worth, your competence. But over the years what you learn is that going to a selective school, or having money, or those surface markers of success should not define you. These things are confetti and transient. Now when I get a paper rejected, I no longer think they are rejecting me as a person, but just the idea in the paper. I have to remind myself that from rejection comes learning, revision, and trying again. Sometimes to make myself feel better, I like to think the idea is so far ahead of its time that others don't yet grasp it, so I need to go back and simplify it to communicate the idea more effectively. But you also gain perspective about things that matter: the well-being of those you love, being part of something bigger than yourself, basically those things that make your life meaningful.
GAZETTE: What has it been like to have your wife, Stephanie, by your side as a faculty dean, and now that you're dean of the College?
KHURANA: We are partners. I cannot imagine fulfilling all the roles that I fill at the College without Stephanie. She loves this institution; she went to graduate school here. She is brilliant and has served on several committees for the University and the College. We are life partners and also best friends, and I have a deep respect for her judgment, compassion, and her capacity to kind of clear the brush and remind me what the focal points are in addition to bringing in her own ideas. Stephanie also keeps me grounded. Her own career in social enterprise investing helps me keep up on the new and innovative things happening in education. One of the things that we talk a lot about is the danger of standing still, the idea that organizations can become complacent. They play not to lose rather than to win. They become satisfied with "good enough." I think if I ever find myself in this job saying "no" more than I say "yes," it'll be time to leave.
GAZETTE: What are your goals for the year ahead? And where do you hope to see the College at the end of the academic year?
KHURANA: My goals are informed by the College's mission of educating citizens and citizen-leaders for our society, and doing that through the powerful transformative process of a liberal arts and sciences education: intellectual transformation, social transformation, and personal transformation. In the area of intellectual transformation, we are transitioning to a new General Education program. We are doing a substantial amount of work preparing for that transition. Our goal is to jump-start that program and do it well, including developing new courses for it. The new Gen Ed program also called for developing a required quantitative reasoning course based on the premise that the ability to engage critically and in an informed way with numerical analysis and reasoning is as important as the ability to communicate through critical writing and analyzing texts. I am really excited about the work being done in General Education that advances the core ideas of the liberal arts and sciences into the 21st century.
The second area that we will continue to build upon is how we teach our students to do work in a way that is consistent with the honor code — the connection between academic norms and how that ties to the social contract of being in College, how you present work, how you credit work. This is especially important as we adopt new pedagogies and collaborative projects become more common across the curriculum. We also have a record number of freshman seminars this year taught by faculty from each School in the University. I am also very excited about the Mindich Program and engaged scholarship. This program gives our students opportunities to work in public service while conducting academic research.
Socially, we are working to continue to strengthen inclusion and minimize those areas where students are not fully able to take advantage of the Harvard College experience. Inclusion is critical to the mission of being able to advance research and to transmit knowledge. This is really critical in our diverse student body and in our larger, diverse society. We are doing that through the new single-gender social organizations policy, expanding the number of social choices and outlets for our students, and additional funding for student-driven programming and events at the College in the Office of Student Life. Our students are collaborating with us in the same way we are collaborating with them to strengthen our commitment to create a fun and inclusive campus environment.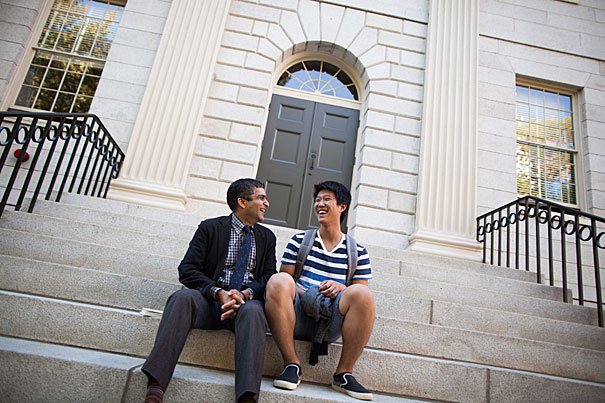 GAZETTE: What would you say to those students who feel like their voices aren't being heard or those who don't feel included in the Harvard community?
KHURANA: First I would ask: What is it that is creating that feeling? What messages are we sending or what structures have we have put in place that are making you feel that you aren't included? Because that's the root cause we have to address. If we don't address the root causes, and instead only focus on addressing the symptoms, we won't be successful in long-term change. We want to know why people who have been historically underrepresented at Harvard feel this way. If we don't address that, then there is no way that all of our students can realize their full potential — academically and socially — at Harvard. We as educators have a responsibility to minimize the tangible problems that are impacting our students — the messages, the structures, the administrative procedures — and preventing them from reaching their full potential.
GAZETTE: Can you briefly recap the College's recommendations involving single-gender organizations that you outlined in a letter to President Drew Faust in May?
KHURANA: So, citing the harmful impact created by gender discrimination affecting students at Harvard College, we announced last spring that beginning in the fall of 2017, new students who join unrecognized single-gender social organizations will not be permitted to hold leadership positions in recognized student organizations and athletic teams. The new policy, which does not apply to current undergraduate students or those expecting to matriculate this fall, also prohibits members of unrecognized social organizations from receiving the dean's endorsement for prestigious scholarship opportunities.
At that time, we also announced that we will continue to increase funding for alternative campus social opportunities, which has grown already by 73 percent over the past two years. Those recommendations included the creation of a committee for the policy on membership in single-gender social organizations that will be chaired by Doug Melton and Kay Shelemay.
GAZETTE: Why did you select them to lead the committee?
KHURANA: Professor Melton and Professor Shelemay both have strong ties to undergraduates at the College, both as faculty and residential community members, and care deeply about the College's transformative mission. And they understand and recognize the importance of addressing student social experiences at Harvard. They recognize that supporting greater inclusion, promoting gender equality in everything we do, both in the classroom and in social spaces, advances our society and the College. I am thrilled to have them lead this important work and believe their guidance will be invaluable as the committee meets during the 2016–17 academic year.
GAZETTE: What is the mission and charge of the committee, and what types of questions will it address?
KHURANA: The implementation committee will consult with undergraduate students, staff, and faculty at the College to examine and recommend ways to define the contours and implementation of the new policy. The committee will decide the best way to engage our community, and my understanding is that this includes town halls and meetings with various community stakeholders. Specifically, the committee's work will aid the College in advancing its commitment to promoting an inclusive social environment aligned with the mission of the College.
We are asking the committee to address the following questions: What leadership roles and endorsements are affected by the policy? How can organizations transition to fulfill the expectations of inclusive membership practices? How should the College handle transgressions of the policy? We are also asking the committee to recommend some best practices to communicate the implementation of the policy to the College community. Finally, the committee will recommend ways to provide support to student organizations to foster an inclusive social environment. The committee will present its recommendations to me this spring.
GAZETTE: Do you envision the committee having ongoing conversations with students?
KHURANA: Absolutely. Together, the students, faculty, and staff who constitute the committee will embody the cooperative, diverse, and inclusive intergenerational community that sets Harvard College apart from other institutions. We know that social and cultural change is difficult and that a wide diversity of opinion exists on how to tackle that challenge. As expressed by Professor Melton and Professor Shelemay, the committee will seek to listen to and work with faculty, students, and the broader College community to improve the social environment on campus. While there may be no perfect solution, I think the committee will seek to champion a rigorous and informed discussion about how to implement the policy and chart the best path forward.
GAZETTE: How do you respond to students who say they were victims of sexual assault on campus and that the University didn't do enough to support them?
KHURANA: It breaks my heart to hear that. I want to hear concretely about the areas where we can and must do better. I want to share that we are strengthening our partnership with the Office of Sexual Assault Prevention and Response, the Office for Sexual and Gender-Based Dispute Resolution, and the Title IX Office in the College to see how we can do better. What I wish we could do is take away the pain of what happened. What we must do is prevent this from happening, create a culture at Harvard where sexual assault and harassment don't occur, but that if and when it does, that our students know where the resources exist to help them and know that this institution is there to support them.
GAZETTE: In your letter to President Faust, you also said the College would continue to invest in "social alternatives." What are some of those College-supported alternatives?
KHURANA: We have heard through the Senior Survey and other feedback that Harvard College can do more to support student-driven social events and make investments in inclusive social spaces on campus for recognized student organizations. Thanks to the generous support of President Faust and alumni, the College is finding ways to partner with students and support their innovative ideas. For example, we have announced a handful of social alternative events on campus this fall — the [Blank] Party (Sept. 23), the Fall Festival (Oct. 8), the Haunted Hall (Oct. 29), and two events around this year's Harvard-Yale tailgate and game (Nov. 19).
GAZETTE: Can you speak about the liberal arts and sciences discussions, the community conversations, and other initiatives you have been involved in that, in addition to the curriculum, help prepare undergraduates to become global citizens?
KHURANA: The approach that we take to Opening Days, to welcoming freshmen and our students, is really exciting. We are working to ensure that we make pre-orientation programming available to all our students. We've created conversations on the importance of a liberal arts and sciences education. We have our faculty drive that conversation. It's incredible to talk about the importance of this education, what it means to find your passion and your voice, to develop an independent mind. What are the values that you hold that you would be willing to sacrifice for? Then we bring students into Sanders Theatre to hear from our diverse faculty about their own academic journeys, their perspectives on their careers, and how they got to where they are today. The students see themselves "there" someday — see themselves in the journeys the faculty have taken.
Community Conversations is designed to help incoming students begin to develop the capacities to learn how to communicate and interact with their fellow peers in open and authentic ways to discuss difference in values, perspectives, and backgrounds. How do we break down barriers? How do we see past the visible into what might be underneath? How do we learn to hear and learn from each other, our stories, our struggles, and how we are working together to be a member of our society? How do we learn to see through someone else's eyes?
GAZETTE: The College has also spearheaded faculty dinners with students to help those relationships?
KHURANA: Yes. The Classroom to Table program will return for this academic year. Hundreds of students participated in hundreds of gatherings last year, and we are looking forward to another successful year. The program seeks to foster conversations and academic connections among undergraduate students and College faculty who gather in small groups for a meal arranged and paid for by the College. A faculty member may invite between three and five students, or a group of three to five students may invite a faculty member, and the College will pay up to $25 per person in the party. I have heard from faculty members and students alike about how wonderful this program is and the difference it is making in fostering closer relationships between faculty and students. 
This interview was edited for clarity and length.
Save
Save
Save
Save
Save