Harvard President Drew Faust welcomed the College's new crop of undergraduates during Freshman Convocation on Tuesday, urging them to embrace Veritas, with an eye toward inclusion and diversity, a goal of discovery, an openness to change, and a readiness to question assumptions and take chances.
Fast becoming a beloved Harvard tradition with energy to rival the annual Commencement ceremony, the eight-year-old event took place in Tercentenary Theater under sunny, late-summer skies. Friends, classmates, faculty, and family cheered the students on as they processed through the Yard.
"Harvard's motto is Veritas — truth. This is what we pursue unrelentingly, but we are never so complacent as to believe we have unerringly attained it," said Faust. "Veritas is an aspiration and an inspiration. We assume there is always more to know and more to discover, so we open ourselves to challenge and change."
Faust reminded the members of the class of 2020 that they enter college following a summer marred by violence in the United States and abroad. She encouraged her listeners to strive for a better world by rejecting ethnic, religious, and racial hatred and embracing inclusion.
"Everyone in this community has the right to be heard, to be listened to, to be treated with dignity and respect. Our life together, our success as a university, and our aspirations towards Veritas depend upon it. We need to feel safe enough, included enough, understood enough to dare to disagree."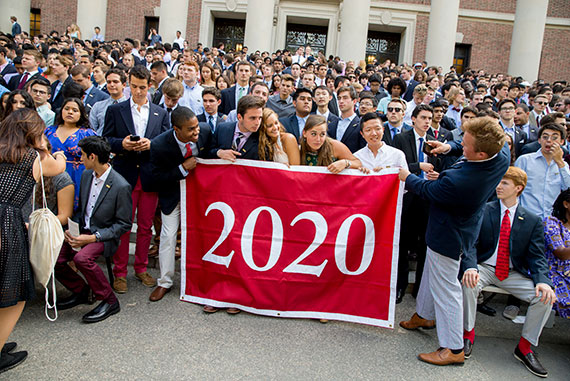 Other speakers also encouraged students to welcome diversity, to disagree and to connect with classmates, and to use their four years at Harvard to push themselves past their comfort zones, and to challenge their assumptions and beliefs. They also urged students to make new friends and to maintain a healthy skepticism.
"I want to urge you to be skeptical. Yes, that is what we do in college," said Rakesh Khurana, Danoff Dean of Harvard College. "That is what we do as educators. Ask questions, look for evidence, consider other points of view. But at the same time, I want you to remain idealists, to be skeptical idealists rather than cynics. Raise difficult questions, but also try to answer them.
"This diverse community and how we shape it will have ripple effects as you take your Harvard experiences into society," he added. "We have an opportunity to model another way of being, to be a community where we are hard on the problem but easy on each other, a community where we are respectful of views of others rather than dismissive, a community where we listen instead of shout, a community of turning out and toward, instead of turning in and away."
In her remarks, senior Emma Woo described an uncomfortable conversation with her roommate around religion. Disagreeing so profoundly "with a really good friend" was difficult, but the discussion deepened their relationship, said Woo, and helped her begin to re-evaluate her own worldview. She encouraged the freshmen to be open to such debate and self-reflection.
"I am learning that it is important to feel unsettled, to be challenged uncomfortably, to engage with difference in my communities in a way that is self-critical, creative, and analytical."
Michael D. Smith, the Edgerley Family Dean of the Faculty of Arts and Sciences, acknowledged that some insecurity is natural for students in a new setting with fresh expectations, but he cautioned them not to judge themselves against their classmates. Instead, he suggested, "Don't compare, connect."
"Harvard, I hope, will shape you as you learn here. But equally important, you and who you are will shape Harvard and those around you. But you can only do this important work if you connect with the people here. Is it sometimes intimidating? Sure, even to me. But you and I are as much a part of the Harvard community as any other person here. You belong here. Take advantage of what Harvard has and its incredible community."
Music was a key part of the festivities. The Harvard University Band opened the ceremony with "Fanfare for the Class of 2020," a piece composed and conducted by Elena Sokoloski '18. The Kuumba Singers, the Harvard Glee Club, the Radcliffe Choral Society, and the Harvard-Radcliffe Collegium Musicum also performed.
As she made her way to the steps of Widener Library for the official class picture, freshman and Straus Hall resident Madison Trice of Houston said the day's speakers inspired her.
"I think all of the speeches were really, really powerful — talking about the differences between being skeptical and being open to different types of ideas and thought … and the idea of hope.
"I just felt so much hope coming in as a member of this class, and it made me really excited."
Save
Save
Save
Save