Tiny bits of chocolate were scattered across classroom tables at the Harvard Ed Portal in Allston, though some clung to the fingers and faces of eight children busily conducting a scientific experiment.
The local youngsters were participants in the "Science and Cooking for Kids" program, coordinated by the Harvard John A. Paulson School of Engineering and Applied Sciences (SEAS) and Harvard's Public School Partnerships team. Together they were learning that chemistry plays an important role in the properties that make chocolate bars so appealing.
For example, heating chocolate to a very precise temperature creates the "snap" you hear when you bite into a bar, explained Frank Mooney, a recent graduate of Stonehill College, who runs the program with Kathryn Hollar, director of educational programs at SEAS.
To see the effects of this chemical process, called crystallization, the children heated chocolate to two different temperatures and then compared the properties of the candy after it had a chance to cool. Chocolate that had been heated to a scorching 150 degrees was much softer than a typical candy bar.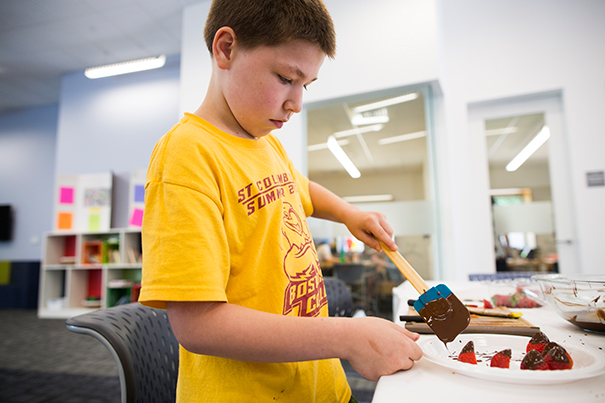 Emily Nacimento, 9, soon to be a fifth-grader at Allston's Gardner Pilot Academy, peeled a piece of the cooled chocolate off a paper plate. She was surprised by how bendable it had become.
"I love chocolate, but I didn't know that science was involved in making it," she said, before devouring the results of her experiment.
As Nacimento and her peers waited for their chocolate to cool, they couldn't resist snacking on the excess. Luis Aguilon's face lit up as he bit into a white chocolate-coated strawberry.
Aguilon, 10, a rising fourth-grader at Gardner Pilot Academy, said he had little experience in the kitchen, but was excited to use the skills he learned this summer to cook for his mom.
During the second half of the lesson, he and his fellow scientist-chefs blended fresh fruit, yogurt, and ice to create smoothies. The goal of this lesson was twofold, Mooney explained — show the kids how to make a healthy snack and to teach them about the different densities of smoothie ingredients.
Joseph Doherty, 11, who will be a sixth-grader at Jackson Mann School in Allston, took a thoughtful sip of his smoothie and declared that it needed a few more strawberries to even out the taste.
"I have enjoyed trying all the different flavors of the foods we've made this summer," he said. "I might try to make this at home."
At the beginning of the program, students received a "starter kit" with a blender, bowls, and other tools to make recipes at home. They departed each lesson with a bag of ingredients and a recipe to try on their own.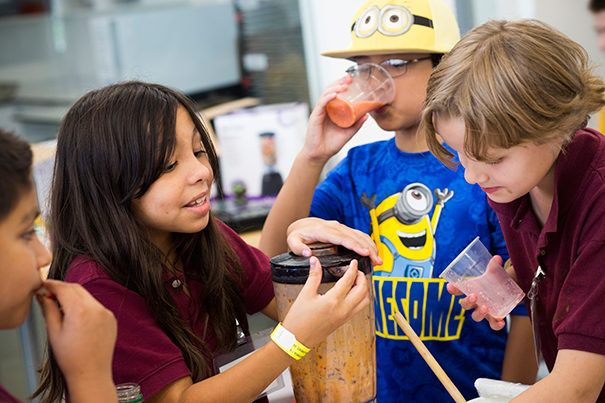 Not only do the lessons teach kids practical skills they can use in the kitchen, but they also introduce them to scientific concepts in a fun, hands-on way, said Mooney.
"Cooking is a really good way to bridge science with something these kids are already very interested in — food," he said. "I want them to see that there is science behind the food they eat, and that science plays a role everywhere in the world around them."
Now in its third year, the "Science and Cooking for Kids" program has continued to expand, reaching students at the Ed Portal, the Margaret Fuller House, and, beginning this summer, the Cambridge Community Center.
The goal of expanding the free program is to give kids in under-resourced communities a chance to participate in a science-themed camp, Mooney explained.
"Our kids loved the program. It was really great seeing them get excited about preparing healthy foods from scratch," said Janelle St. Charles, co-director of the Cowemoki Summer Enrichment Program at the Cambridge Community Center. "They also got the opportunity to prepare food for our group leaders, which the kids and staff both loved. The program gave the kids skills that they could share with others."
Save
Save
Save
Save
Save