There's "no crying in baseball," actor Tom Hanks famously quipped in the 1992 film "A League of Their Own," but some fencers have been known to shed a tear. Just ask Eli Dershwitz.
The Harvard undergraduate admits he has "teared up" while watching Team USA during the last three Olympic opening ceremonies. There's a good chance he'll be emotional again when the games kick off in Brazil next month, but this time he'll be in the procession.
Tears of joy could flow for the youngest member of the U.S. Olympic men's fencing team during the competition as well. As the top-ranked saber fencer in the United States and current tie for 11th in the world, Dershwitz, 20, will begin his quest for a medal on Aug. 10 at the Carioca Arena 3 in Rio de Janeiro.
"A lot of things have fallen into place; a lot people have helped me along the way, and I am really happy to be able to represent my country and my school this summer," said Dershwitz, a rising sophomore who fenced for the Crimson as a freshman before taking a year off to train in his sport full-time. "I am just looking forward to putting all the hard work and dedication, all the hours of blood, sweat, and tears over the years … into one great tournament."
For many participants, those years of training culminate in a tournament that ends in a flash. Fencing matches last a maximum of three minutes, but their lightning-fast pace means bouts are often decided in 60 seconds, sometimes fewer.
"You prepare yourself for four, eight, 12 years to get this one shot at the Olympic Games … and in a lot of cases you end up fencing that one match and you're out," said Harvard's head fencing coach, Peter Brand, who recruited Dershwitz. The single-elimination Olympic saber competition will begin with 32 competitors and end with just two thrusting and slashing along the piste, or fencing strip, in pursuit of the gold.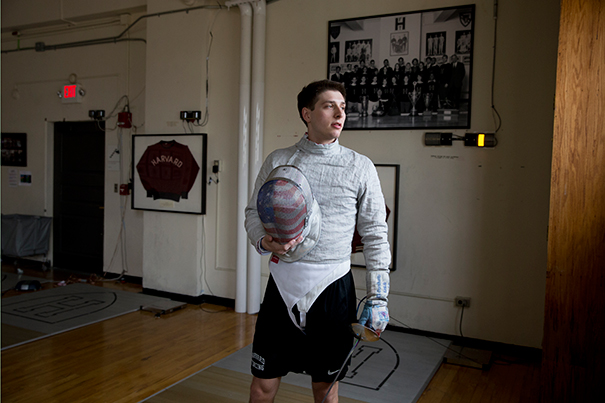 Brand calls Dershwitz the kind of fencer you see "once maybe every 100 years," and predicts he has a good shot at the podium.
"Eli is an absolute phenom. I've never seen anything like it before."
Experts agree it's unusual for such a young fencer to succeed in the senior ranks; most who excel at the sport typically peak in their late 20s. Dedication, talent, and hard work have all fueled Dershwitz's swift success, said Brand, but it's his mental toughness that sets him apart.
"That's something you can't teach, and he's just wired that way," said Brand. "He does not get rattled."
Dershwitz's composure was key during the Crimson's 2014-15 season, when he helped the men's team lift the Ivy League title. He performed as both a fencer and coach, competing and leading footwork sessions during practice for his fellow fencers.
Related
"He had an immediate impact on the program right from Day One," said Brand, who is in his 16th year with the Harvard program and who has coached three other Harvard Olympic fencers, including Emily Cross '09, a silver medalist with the U.S. women's foil fencing team at the 2008 Summer Games in Beijing. Not only was Dershwitz "an excellent individual fencer," said Brand, "but he was an excellent team person, which is sometimes very difficult to find in an individual sport like fencing."
Dershwitz honed his drive and devotion after taking up the sport at age 9, eager to emulate his older brother, Philip, whose regular routs and hard hits brought him to tears but strengthened his resolve. "[Philip] really pushed me to be better; he was a great role model," said Dershwitz. "He also made me want to push myself even harder."
As Dershwitz excelled with his sword, other sports fell away. In high school he committed himself exclusively to fencing, traveling to competitions and working with his coach to "to compete at a higher level." The commitment paid off. In 2015 he won gold at the Junior World Championship in the saber, as well as gold at the Pan American Championships. He sealed his spot on the Olympic team with another gold medal finish at the Grand Prix in Seoul in March, one of a series of fencing's senior world cup events.
Competitive fencing includes the foil, the épée, and the saber. Each comes with its own style and rules. Saber fencing involves the smallest of the three blades. Unlike épée or foil fencers, saber fencers can use the edge as well as the tip of their weapons to score points or "touches" against their opponents. The target area for the saber is the body above the waist, excluding the hands. The winner of a match is the fencer who scores 15 points or who has the most points when the three-minute match expires. Saber fencing is considered the most aggressive of the three weapon styles, with quick cutting and slashing motions and explosive movements that are key to victory.
"It's a lot faster-paced — fast reactions, fast touches, a lot of sprints," said Dershwitz, who loves the saber's mix of speed and complexity. "That always got to me, the amount of physical and mental ability it took at the same time, to be able to be explosive but also to be able to react quickly to what your opponent was doing."
These days a typical Olympic workout for Dershwitz includes a morning routine of weights, endurance training, and sprints, one-on-one training with his coach in the afternoon, and 2½ hours of fencing at night. When he wants to relax, the Sherborn, Mass., native often heads back to Cambridge to train or just kick back with friends. "Living so close to Harvard and being so close to all my friends and roommates from last year, it's definitely been a big support."
Many of Dershwitz's Crimson teammates will travel to Rio to watch him compete, including Duncan O'Brien '16, who trained at the same fencing club where he watched Dershwitz blossom into "an unbelievable talent." He would arrive early to jog, stretch, and practice his footwork, and he "wanted to fence until the coach turned the lights off … he inspired everyone," recalled O'Brien, who encouraged Dershwitz to apply to Harvard.
Between schoolwork and fencing for Harvard and in international competitions, freshman year was "very hectic," said Dershwitz. He credits his family and friends with helping him through and supporting his Olympic dream. The final step is to just do his best in Brazil.
"I want to look back and say I gave it everything I had … and hopefully," he said, "I come back with a medal."
The Olympic men's saber competition will be lived streamed at nbcolympics.com.