A recent day found two dozen high school students on Harvard's campus making ice cream out of berries, heavy cream, and a healthy dose of liquid nitrogen. The class instructors mixed and stirred as a fog poured out of a bowl that contained the experiment, while the students looked on in fascination.
The group from Allston's Horace Mann School for the Deaf and Hard of Hearing was invited to campus by Mandy Houghton and Brandt Marceaux, students from Gallaudet University who are at Harvard as part of the National Science Foundation Science Technology Center for Integrated Quantum Materials (CIQM) Summer Internship program. CIQM summer interns participate in the annual Research Experience for Undergraduates — or REU — program at Harvard's John A. Paulson School of Engineering and Applied Sciences (SEAS).
Like Horace Mann, Gallaudet University is geared toward deaf and hard of hearing students, and offers the world's only bachelor's, master's, and Ph.D. programs in interpretation in an American Sign Language-immersive environment.
The REU program allows dozens of undergrads from throughout the United States and across the world to perform cutting-edge research in some of the world's most advanced labs. The students' backgrounds are as diverse as their interests, which range from chemistry to physics to engineering. In addition to their research projects, students routinely get involved in campus activities.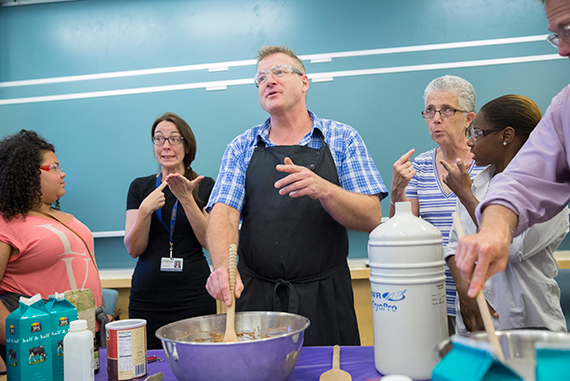 The Horace Mann students signed questions to their teachers as well as to Houghton and Marceaux. Some took turns churning the ice cream; all were sure to grab a sample.
"Science is everywhere — in everything they see and do," signed Jennifer Greenfield, middle and high school coordinator at the Horace Mann School. "There is science behind everything. My goal was to show them that learning isn't only in the classroom. I want them to be more curious about the world and I want them to be able to explore their own interests.
"I was really impressed with the two [CIQM] students," Greenfield continued. "They have a natural connection and communication flowed easily. They were really able to serve as role models. It was great to show our students people like themselves — people who are in college and studying science — who are also deaf."
The class was taught by Daniel Rosenberg and Daniel Davis, experts in chemistry and physics who are also veterans of the highly popular "Science and Cooking" and "Science and Cooking for Kids" programs. The scientists discussed concepts that underlie everyday cooking, and how to apply principles of physics, engineering, and chemistry to the art.
"I remember in middle school making ice cream out of a packet, but making it with liquid nitrogen wasn't something that I had ever seen before. It was really cool to see that. It gave me a new appreciation for science," signed Sendy Velasquez, one of the students visiting from the Horace Mann School.
As the Horace Mann group headed out to catch their bus back to Allston, Greenfield signed to Houghton, Marceaux, and the rest of the team at SEAS: "Thank you. It was a perfect day."
Save
Save
Save
Save
Save
Save
Save
Save