Yeilanise Noriega, a sixth-grader at Jackson/Mann K-8 School, recently experienced a course that changed her world perspective exponentially — so much so that she is now convinced life exists on other planets.
"I didn't think so before, but I do now believe there is life elsewhere," she said. "There are billions and billions of planets and stars out there, and we can't be the only planet that has life."
Noriega's change of heart is a result of a pioneer program between Harvard and Boston Public Schools through the WorldWide Telescope Ambassadors Program (WWTA), a team of astronomers and educators at Harvard University. Noriega said that the program changed her perspective on science, which she used to think was "boring" — but not anymore.
"Now, each day, I just want to learn more," she said. "We need to have more people studying science. The more people are interested in science, the better our chances of learning more and making more discoveries."
Noriega was just one of 40 sixth- and seventh-grade students who participated in the pilot program at Jackson/Mann. The program, which is funded by the John Templeton Foundation, helped students explore the WorldWide Telescope, a free, open-source "universe information system" that provides 3-D data and views of the universe from thousands of different sources.
Using the telescope, the students created their own "tours" of the universe, exploring questions they generated themselves. They met at the Harvard Ed Portal in the last week of June to share their final projects, meet Harvard faculty members in the Astronomy Department, and receive certificates.
Alyssa Goodman, Robert Wheeler Willson Professor of Applied Astronomy at Harvard University and research associate at the Smithsonian Institution, is the principal investigator for the WWTA program. Now in its sixth year, she said the program brings Harvard experts in astronomy and physics into a variety of educational settings.
"We wanted to incorporate WWTA into a program where middle-school kids could think about the odds of life elsewhere in the universe," Goodman said. "The astronomy part of that is only a piece: It has to do with how human biology and life science works, too."
Mary Fran McAuliffe, who teaches sixth grade at Jackson/Mann, said the experience was "an awesome opportunity" for local students.
"It was something completely different," she said. "Even students that I didn't think would necessarily get into it were really interested. The fact that the students not only enjoyed it, but they learned something — that they came away with some big questions and good ideas — was just great."
Pat Udomprasert, project director of WWTA, said the pilot program came from wanting to do something that isn't part of the usual science curriculum.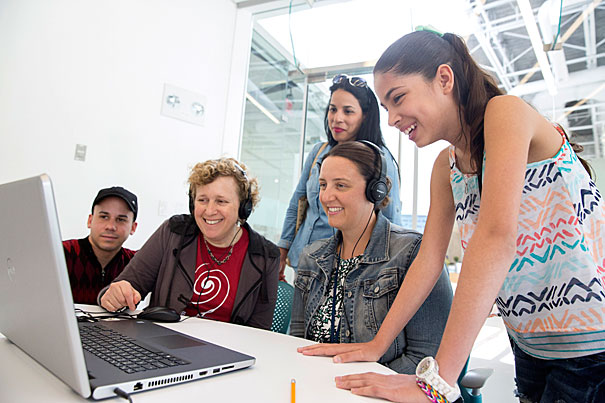 "In many science classes, students have to memorize a lot of facts or recreate known experiments, and they can lose sight of the big picture in science," she said. "They often don't have a good understanding of what science is about — that scientists don't know the answers to the questions that they are trying to ask. Part of the process of doing good science is learning to ask good questions, and learning how to design something that will get you those answers."
Erin Johnson, WWTA Program Facilitator, said the program challenged students to think far beyond their own experience.
"As a middle schooler, your view of the world is the world you experience on a daily basis," Johnson said. "This was a chance to do something different as part of the school's extended-learning time. We wanted to make space for the excitement, enthusiasm, and wonder about our place in the universe and about the possibilities we have."
The benefit of such eye-opening programs, Goodman said, is that "it brings really cutting-edge science into the classroom. At the start of the project, some of the kids weren't aware that planets existed outside of the solar system. Learning about our place in the universe — where our solar system is, where our galaxy is, and so on — can really open up some big questions."
Save
Save
Save
Save
Save
Save