Changing minds is more important than changing systems. To facilitate growth, it may not be the technology that needs to evolve, but rather the entire corporate culture. That was the message Bryson Koehler delivered in his keynote presentation at the sixth annual Harvard IT Summit.
Koehler, a vice president at IBM and chief information and technology officer of the Weather Company, addressed the daylong gathering of IT professionals in Sanders Theatre on Thursday, giving a detailed example of just how such growth can be achieved.
In 2012, when Koehler first came to the Weather Company – then the Weather Channel — the forecasting business was decidedly old-school. Data came in from 13 weather centers and was used for forecasts that were updated every six hours.
But although many of us may think of weather forecasting as trivial — a question of when to don a jacket or carry an umbrella — what happens in the atmosphere is vital.
"The intersection of weather and your own life is tremendous," said Koehler. As he illustrated, weather touches every aspect of our lives, from safety and travel to construction, farming, and myriad other activities, which he estimated affect about one-third of GDP. All of which meant that the model he inherited was simply not good enough.
Koehler also saw that just adding dedicated weather centers or processing the data more efficiently would not solve the company's biggest problems, which included both a lack of accuracy and a lack of flexibility. His solution began with changing the way the organization saw itself. The Weather Company had to be reconceived not as a weather forecaster, he said, but as a processor of big data.
"We had to realize we were not building a weather platform," he said. "We're building a data platform."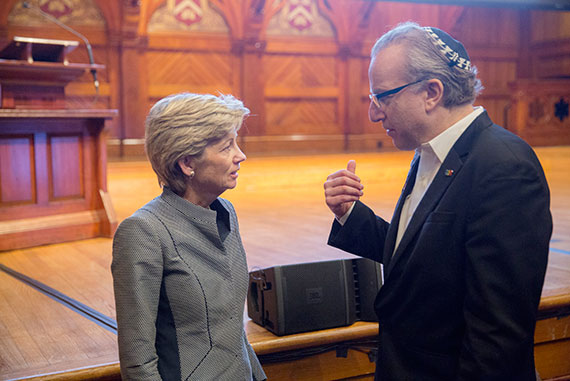 That is where the cultural shift came in. To improve accuracy, the company needed to gather all the data available, which meant shifting from its own weather centers to an open-source cloud model. By making the company "vendor agnostic" — not linked to any specific software — it could access information from many more sources, a move that would position the company to expand in line with new technologies.
In the four years since Koehler took the helm, the number of data sources has exploded. Instead of crunching just the numbers from its own data-gathering centers, for example, the company now incorporates barometric pressure readings from smart phones that have the Weather Company's app installed. It takes in turbulence reports from pilots in the air, and live input from users and weather centers around the world — including more than 500 million personal weather stations.
To make this shift possible, Koehler and his staff had to re-examine the way everything at the company was done, including how responsibility was assigned. Ultimately, he said, the company had to learn the value of taking calculated risks, with everybody focused less on their personal turf than on the ultimate result.
"It wasn't necessarily about the technology," he explained. "It was the cultural shift. For a long time, we were trained to do the wrong thing."
The results speak for themselves. The company now aggregates more than 170 weather models to create forecasts on demand for 2.2 billion precise locations that are updated every 15 minutes
"All of this helps us have a better understanding of the Earth's atmosphere," he said. Advising the IT professionals who had gathered to hear him speak, Koehler suggested they think like a band, in which the members learn to improvise and play off each other on stage. He urged his audience "to act and work and think together, to take risks and have courage."