Some of the material in a new Harvard Art Museums show is "a little strange," admits curator Edouard Kopp. But illuminating the beauty in the bizarre is key to many of the 40 evocative works that trace the evolution of the mysterious cultural phenomenon known as symbolism.
"Flowers of Evil: Symbolist Drawings, 1870–1910," made up almost entirely of material from the museums' permanent collections, borrows its name from the French poet Charles Baudelaire's 1857 masterwork, by turns decadent and erotic. The exhibit, running through Aug. 14, captures the essence of an artistic movement that sought to render the invisible visible through color, form, and composition.
At its peak, near the end of the 19th century, symbolism represented both an important bridge between impressionism and modernism, and a strong reaction to the Industrial Revolution. Many artists, said Kopp, bristled at the consumerism and advanced pace of modern life ushered in by new technologies and sprawling urban centers, and were eager to express their growing angst through their work.
The symbolists weren't united by a style or technique, Kopp pointed out, but instead by their common desire to express "what is ineffable" through their creations. Artists aimed to capture alternative mental states, fantasies, visions of love, and fantastic interpretations of religious themes, even the occult.
"Symbolism is a kind of very spirited and spiritual reaction to a world that has become full of tensions and incredibly complex and really puts the modern psyche under a great deal of strain," said Kopp, Maida and George Abrams Associate Curator of Drawings. "As a result of that, [artists] create the beautiful, the strange, and occasionally the horrific."
Sometimes the beautiful and the horrific appear within the same work, such as "Head of a Young Woman," an image done in pastels on gray-prepared paper by the French symbolist painter and printmaker Odilon Redon. The artist's choice of medium lends his piece an ethereal, almost dream-like quality. Yet along its left edge a serpent appears to slither toward the work's unsuspecting sitter.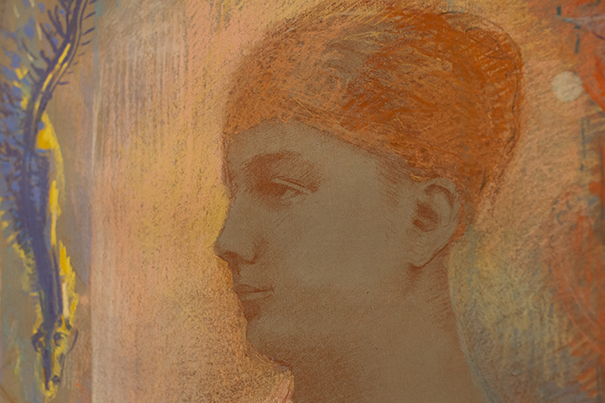 "It's a beautiful image and then evil sort of creeps in — or does it?" said Kopp. "Ambiguity is something symbolists really liked."
They also favored the spiritual.
A selection of drawings in the show holds examples of a pantheistic view of the world, the notion that the divine resides within everything: plants, animals, and man. Many symbolist portraits and landscapes were "really about connecting with God or a higher power," said Kopp.
Works by precursors to the movement, as well as drawings by those artists active at its end, are central to the show, including pieces by Frenchman Paul Gauguin, American James McNeill Whistler, and the Dutch painters Piet Mondrian and Vincent Van Gogh.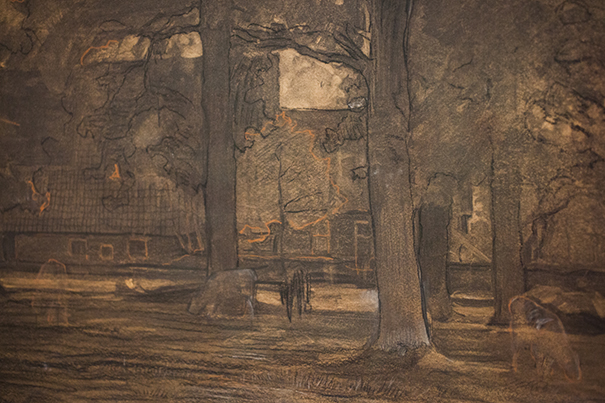 The bold lines and blocks of red, blue, and yellow that define Mondrian's famous abstract paintings are nowhere to be found in "Flowers of Evil," which is installed in the third-floor gallery. In their place hangs his 1906-1907 landscape "Farmstead," a dark, moody vision of a farmhouse surrounded by a field and trees. The drawing, the largest in the exhibit, done with charcoal and black, red, and white chalk on tan paper, points to Mondrian's connection to symbolism and his interest in the late-19th-century philosophical movement theosophy.
"Mondrian came to view art as an expression of both the external appearance and the spiritual essence of beings and objects," reads the drawing's accompanying text.
Kopp will lead a series of related gallery talks in June, July, and August.