This is one in a series of profiles showcasing some of Harvard's stellar graduates.
Until that moment, just about everything in Daniel Cnossen's life had been going as planned.
Born on a 250-acre farm just outside Topeka, Kan., Cnossen, 35, was passionate about athletics and the outdoors during his carefree boyhood, traipsing through the fields and woods surrounding the family's fifth-generation homestead.
He had long set his sights on attending the U.S. Naval Academy, perhaps becoming a Marine. But after getting in, he felt a special affinity for the elite Navy SEALs (Sea, Air, Land) teams, whose special-operations fighters undergo some of the toughest military training in the world. SEALs must maintain superlative fitness and master a host of advanced combat, survival, and escape skills, like swimming while both hands and feet are bound, rappelling out of helicopters, and deep-sea diving under grueling physical and psychological conditions.
After graduating from the academy in 2002 with a bachelor's degree in English literature, Cnossen entered SEALs officer training, rising to the rank of lieutenant commander. On SEAL Team One, he led a platoon of 20 men and completed deployments in Iraq, the Philippines, Southeast Asia, and Afghanistan.
"That was just an amazing job. I can't think of a better job with better people. I would do that job in perpetuity," said Cnossen, now a degree candidate for a mid-career master's of public administration at the Harvard Kennedy School (HKS).
But in September 2009, during a nighttime SEALs operation in Afghanistan, Cnossen stepped on an improvised explosive device (IED). The ensuing explosion destroyed his legs and caused severe damage to his lower body, including a fractured pelvis.
Unconscious for eight days, he woke up to find himself back in the United States at the Bethesda National Naval Medical Center. In unrelenting pain, he learned that his legs had been amputated above the knees.
In all, he spent six months in the Veterans Administration hospital. So far, he has undergone 40 surgeries to repair injuries and internal damage and to stave off infection. The first months after the injury were all about survival and trying to relearn the most basic human skills.
"First, I'm going to drink. Then, I want to eat. Then, I'd like to get out of this bed. Then, I'd like to get in my wheelchair," said Cnossen of his earliest goals. "At one point, it was so liberating to be in a wheelchair. And then I got my prosthetics, and I wanted to get out of the wheelchair and just wear my prosthetics," custom-made aids that required 18 months of physical therapy to adapt to and master.
"And then I wanted to walk all the time and not have a wheelchair. Then, I wanted to run."
True to the SEALs' ethos of humility and quiet professionalism, Cnossen doesn't like to talk about himself or his ordeal. He didn't volunteer that he was awarded a Purple Heart and a Bronze Star with Valor for his combat service, that he was recognized by first lady Michelle Obama at the White House, or that he was the only double amputee on active duty in Navy SEAL history before his medical retirement last year.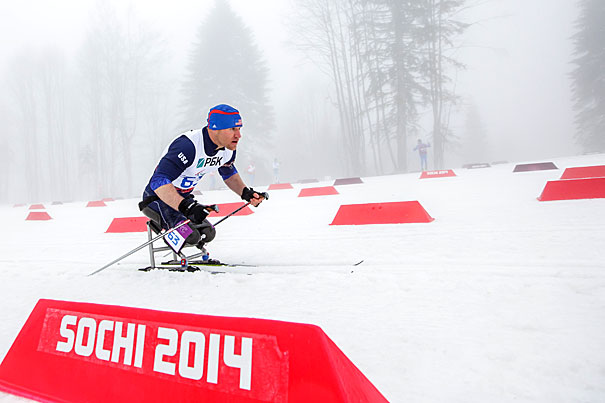 Cnossen had always loved running and wanted to get back to it after his injury, but found it took a long time to master the wide-swinging gait he must use because of his amputations. It's a movement that's quite different from the one employed by "Blade Runner" Oscar Pistorius and other below-the-knee amputees, who often can do far more challenging activities, such as hiking and running uphill, than bilaterals. That confusion can lead to frustrating assumptions and misguided expectations.
"People, sometimes in an optimistic way, to try to be cheerful, can say things that are very misleading," said Cnossen. "There's differences, so sometimes the more able-functioned people get a little more credit or you assume that's the role model, when in reality, you may be more impaired than that, and that's just not an option."
Still, within a year, Cnossen ran a mile on his prosthetic legs without stopping. He went on to run a 5K in less than 18 minutes and in 2011 finished the New York City Marathon in a remarkable 2:38, using a combination of running and hand cycling.
Unsatisfied with those benchmarks, Cnossen then learned cross-country skiing, using a sit ski. Taking up a competitive sport again after his injuries was a natural progression, he said. "My identity was wrapped up around training, physical ability, perseverance, and mental fortitude, so these were the things that I fell back upon after my injury. I would credit being an athlete to living through what I went through."
Cnossen moved to Colorado, where he trained for a spot on the U.S. Paralympic Nordic Ski Team and competed in the 2014 games in Sochi, Russia.
"I really wanted to do the Paralympics — to train as a team, to compete representing the U.S., which is an honor. The sport of cross-country skiing requires a lot of mental discipline, mental toughness. It's a tough sport to train day after day after day for a whole season, and that's why I gravitated to that," said Cnossen, who graduates soon.
He's still exploring career possibilities, but he knows they will involve human rights work done in tandem with religious organizations around the world.
In the fall, he will enter Harvard Divinity School to pursue a master's of theological study degree while juggling a return to training and international competition in order to qualify for the 2018 Winter Paralympics in South Korea. It's a demanding agenda that Cnossen is eager to embrace.
"How could I really stress about this place when six years ago I was dealing with 'Am I ever going to walk; am I going to eat again?' It changes perspective. It did make me probably appreciate life more, so it was a good lesson for me," said Cnossen, who refuses to submit to the mostly self-induced pressures of graduate school and skimp on exercise, eating well, and getting enough sleep.
"If I can be an example for anything, sometimes people take this environment, in my estimation, a little too seriously. It's just school," he said. "The real world has much more serious consequences."