The 2016 winners of the Harvard Deans' Challenges were announced in a ceremony at the Harvard i-lab on May 4. In its fourth year, the startup competition, aimed at finding novel solutions to pressing issues facing society, received more than 90 proposals from ventures representing 12 Harvard schools.
In the Deans' Cultural Entrepreneurship Challenge, the $45,000 grand prize winner was magic, a subscription box focusing on career awareness and positive self-image, developed by women of color for girls of color. Songshark, which allows anyone to compose and record complete musical works with a few clicks, was awarded the $10,000 prize.
The winner of the $30,000 grand prize in the Bertarelli Foundation Deans' Health and Life Sciences Challenge was Herald, which makes health care safer by offering clinicians real-time access to their clinical data. Pykus Therapeutics, which is developing a dissolvable intraocular device to make retinal surgery less painful, won the $25,000 Health and Life Sciences Challenge prize.
In March, the applicant pool for the challenges was narrowed down to 20 teams. Each finalist venture had the opportunity to participate in the i-lab Venture Incubation Program (VIP), with access to experienced business mentors and $5,000 to further develop their ideas. A judging committee composed of Harvard faculty members, industry experts, entrepreneurs, and investors evaluated the finalist teams and named the winners.
Sponsored by three deans and hosted by the Harvard Innovation Labs — which include the i-lab and the Harvard Launch Lab — the competitions, along with the President's Challenge, give Harvard students and fellows a unique opportunity to create and develop solutions that could impact health, the arts, and society for generations.
"Here at the i-lab, it's all about taking your ideas as far as they can go, and the challenges are a perfect manifestation of that mission," said Jodi Goldstein, the Bruce and Bridgitt Evans Managing Director of the Harvard Innovation Labs. "We are challenging Harvard students to create and develop solutions that have meaningful impact for people around the world."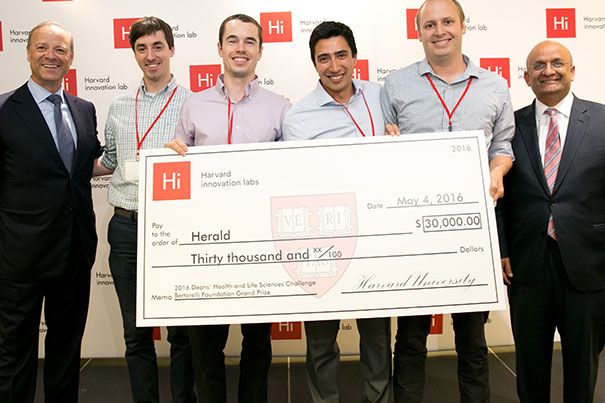 The Deans' Cultural Entrepreneurship Challenge, created to find venture-based solutions in the arts, is co-chaired by Harvard Business School Dean Nitin Nohria, Arts and Humanities Dean Diana Sorensen, and the Silkroad Project, which encourages dialogue among artists and musicians, educators and entrepreneurs.
"The Cultural Entrepreneurship Challenge is a project that came together because so many people came together and decided to do something creative," said Nohria.
The Deans' Health and Life Sciences Challenge, chaired by Nohria and Harvard Medical School Dean Jeffrey Flier, is designed to support students pursuing innovative solutions to improve healthcare and patients' lives.
Chris Viehbacher, the former CEO of Sanofi and a current partner at Gurnet Point Capital, awarded the Bertarelli Foundation Grand Prize. "I think that innovation can come from any source," Viehbacher said prior to handing out the award. "The more we can encourage diversity and give everyone a fair shot to express their ideas will make things better for everyone."