In exploring how humans harness energy to work, Robert A. Lue said the answer lies deep within.
Very deep within.
"When we think about work, we think about our careers, weightlifting, or gardening," said Lue, the faculty director of the Harvard Ed Portal, and of HarvardX, professor of the practice of molecular and cellular biology, and the Richard L. Menschel Faculty Director of the Derek Bok Center for Teaching and Learning. "But our cells also need to prioritize the doing of work.
"There's a lot that goes on inside cells that is truly remarkable, and that has tremendous relevance for us and our own health," the Harvard professor noted during his April 21 talk at the Ed Portal titled "How Do Our Bodies Harness Energy To Do Work?"
Each human being is made up of 5 trillion to 10 trillion cells, Lue said, and each cell is "a small universe" with its own tremendous complexity. In addition, each highly organized cell operates like "a remarkably well-organized factory," where each component has a very specific job.
"At the molecular level," Lue said, "we live in a mechanical world."
Drawing from his upcoming HarvardX course, "Cell Biology: Mitochondria," which launches May 25, Lue drew the audience's attention to that specific part of the human cell, explaining the detailed way in which mitochondria produce the majority of energy in the body.
But the most fascinating question about mitochondria may be: Where did they come from?
Mitochondria, Lue observed, are remarkably similar to bacteria.
Lue suggested that as some bacteria evolved the ability to process oxygen to harness energy — an element that millions of years ago was toxic to most single-cell organisms — a collaboration with profound implications occurred.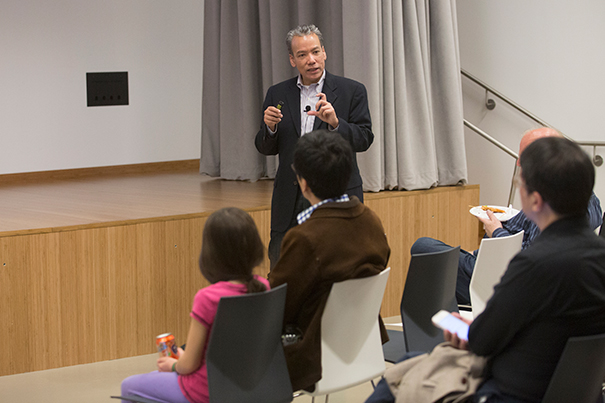 Scientists hypothesize that "one larger cell engulfed one or more of these primitive bacteria," Lue said. "And instead of breaking them down, they held onto them and developed a collaborative relationship with them — an endosymbiotic relationship."
Among other things, this means, he said, that each mitochondrion in our cells has a separate genome from our cells.
"They are not independent from your cells, but a lot of evidence indicates that mitochondria are semi-independent," Lue said. "It may be one of the greatest examples of the evolution of cooperation — not between two species, such as human and dogs, but between two cells that gained mutual advantage from one existing within the other."
When introducing Lue to the Harvard Ed Portal audience, Kevin Casey, associate vice president for public affairs and communications, said Lue was committed to connecting Harvard with the neighborhoods around Allston and Brighton, as well as with lifelong students all around the world.
"[Rob] is passionate about making Harvard more conscious of its responsibilities in the community, and the reality of bringing education to the masses," Casey said, speaking at the Harvard Ed Portal. "This very building, with its top-notch technology, a performance space, an art gallery open to the public — is all the a result of the vision of Rob Lue, and he created it so that people in the community and people at Harvard could learn from one another."
For Monserrat Santiago, a resident of Puerto Rico currently visiting Chelsea, Mass., the talk was an opportunity to dive more deeply into her love of science — and her own health.
"As a chemist, I'm always looking for opportunities to learn more about science, so I was very happy I could come tonight," she said. "I think it's good for people to come to talks like this. I'm a cancer survivor, and I wanted to get a better idea of how cells work. I have more questions, but I feel like I have a better understanding of how the human body works, and what we need to do to ensure better health."
Lue's presentation was just one of many events held at Harvard as part of this year's Cambridge Science Festival (CSF), opened by Massachusetts Gov. Charlie Baker. Another CSF event focusing on the human form — Art, Science, & the Body — opened at the Ed Portal on April 23.