What do you do when you fail?
For Magnetic Interviewing founder and CEO Philip Blackett, the answer is captured in his motto, "Adapt & Flex."
Blackett, an M.B.A. candidate in Harvard Business School's Class of 2016, crossed the river to meet with teens from the Cambridge Housing Authority's Workforce Development Program. In a personal exchange with students on the Harvard campus, he shared an honest account of his journey to the Business School, offering moments of both laughter and silent reflection.
The entrepreneur explained how resiliency and adaptability have been the cornerstones of his success. Blackett underscored the importance of agility in order to persevere despite unexpected obstacles — including, in his case, losing his first job and a failed first business.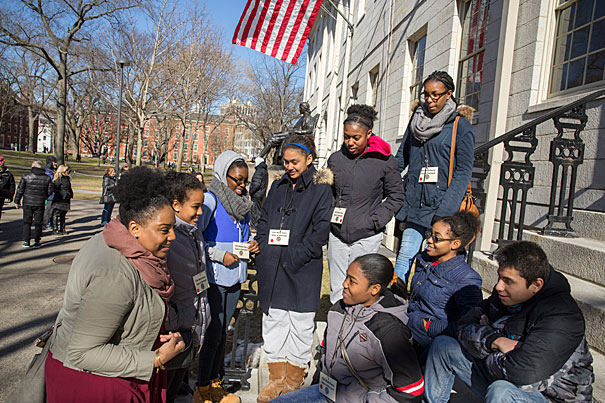 "Failing at something, at some point in life, is inevitable," he said "But often it is on the other side of a 'failure' that we find our greatest victories, be it personally, academically, or professionally." The challenge, he said, is getting to the other side
Blackett's speech served as a catalyst for the Work Force students who participated in a series of programs at Harvard designed to bolster career exploration and college awareness. It was at the close of their February break that the 32 students convened in Annenberg Hall, where some of them had attended Project Teach, an educational program that has been bringing students to Harvard for more than 20 years.
After lunch, students made their way to one of three academic presentations they had chosen. Among the selections were an engineering presentation with Kathryn Hollar, director of educational outreach for Harvard John A. Paulson School of Engineering and Applied Sciences; a look at history with Irvin Ibarguen, a Ph.D. candidate in history in the Graduate School of Arts and Sciences; and an introduction to the Hiphop Archive & Research Institute with Harold Shawn, the archive's program director.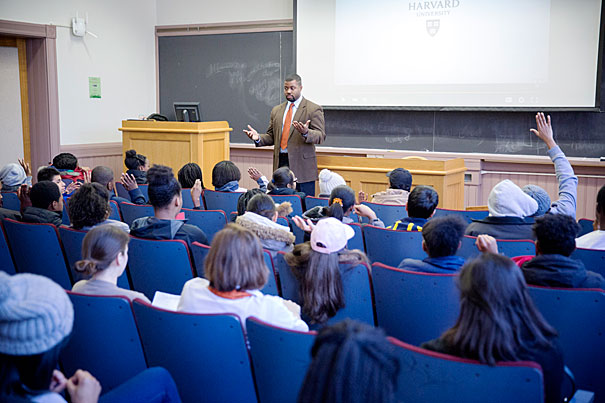 Following the presentations, students filled the lecture hall, quickly finding friends with whom to share their takeaways. A few showed the magic sand from the engineering discussion, while others showed off the graffiti stickers they'd received at the Hiphop Archive.
In reviewing his day, Jeffte Bellevae, a freshman at Cambridge Rindge and Latin School, reflected on Blackett's keynote, which inspired Bellevae to reconsider how he viewed success. "Though there are different roads to success, you still need the same skills of hard work and dedication to get there," he concluded.
A panel discussion, led by Harvard staff and students from Harvard College and the Graduate School of Education, underscored how positivity, resiliency, flexibility, and learning from others have been central themes in helping them shape their academic and professional experiences.
As Blackett had noted at the onset of the day, failure is often unavoidable. But by the end, the students were once again reminded that victories may also be waiting for them on the other side.