Melrose is only about a 30-minute commute from Cambridge, but Sophie Carroll '17 wouldn't have made it to Harvard without help.
"There was absolutely no chance I could have come here without financial aid," said Carroll. "It made the most fundamental difference."
Carroll, a junior now, remembers how she felt coming to Harvard as a freshman. She's the daughter of a single mom who's a third-grade teacher.
"The summer before freshman year, you see all these commercials about move-into-college shopping, and everyone is filling up their carts. It's a fun idea but an enormously expensive one," said Carroll. "It just adds a layer of stress on top of the excitement. Just the simple matter of a habitable dorm room will be a burden on your family."
For about one in five freshmen in the incoming Harvard College Class of 2020, now there will be new help to make that transition: a $2,000 "start-up" grant awarded to every incoming freshman whose annual family income is $65,000 or less. The grant is part of a three-year pilot program providing additional support to eligible incoming freshmen.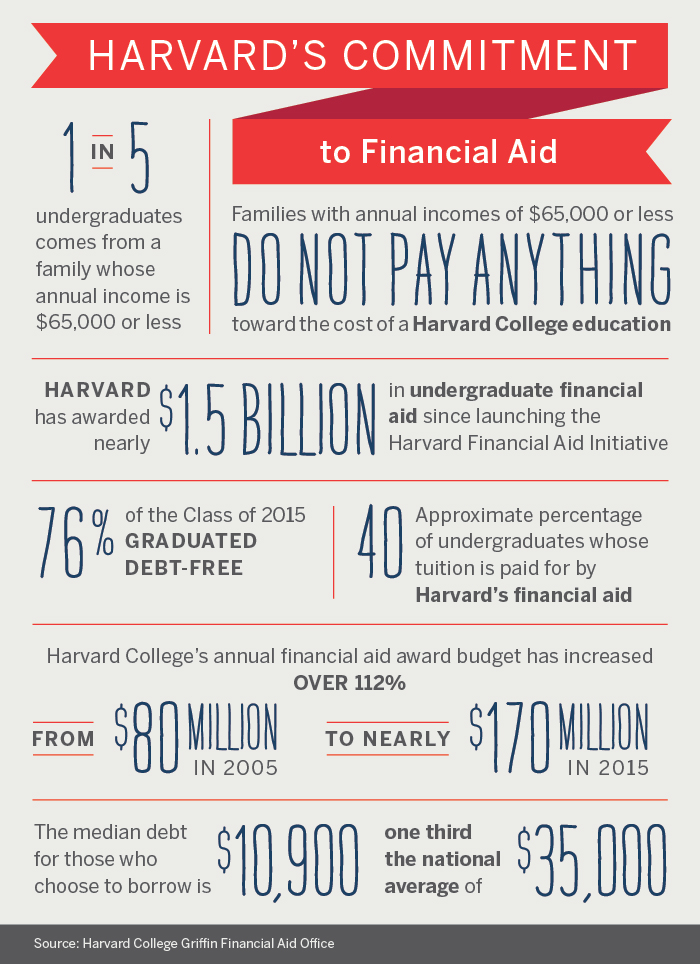 "By investing in financial aid, we want Harvard to be accessible and affordable for the most talented students, no matter their background or financial circumstances," said President Drew Faust. "At the start of what surely will be one of the most transformative experiences of their lives, we want to ensure that all students are able to explore what Harvard has to offer. That is the objective of this new initiative."
Eligible students will receive $1,000 each at the beginning of the fall and spring semesters in addition to other financial aid. For one in five undergraduates whose annual family incomes are $65,000 or less, Harvard already covers the costs associated with tuition, room, board, books, travel, and other expenses.
"The beginning of freshman year is very hard," said Carroll. "With this new initiative, Harvard is helping take off one burden and give these students more space to use the resources Harvard puts in place and use those to get to really understand Harvard."
Harvard's undergraduate financial aid program has benefited from consistent and aggressive investment, of which this pilot program is the latest example. Since launching the Harvard Financial Aid Initiative in 2005, Harvard has awarded almost $1.5 billion in grant aid to undergraduates. Also since 2005, Harvard's annual financial aid award budget has increased more than 250 percent, from $67 million to $170 million in 2015.
"Financial aid is critical to Harvard's mission," said Michael D. Smith, Edgerley Family Dean of the Faculty of Arts and Sciences. "That mission of educating citizens and citizen leaders demands that we bring together students with profoundly different life experiences, from many walks of life, to prepare them to succeed and lead in a diverse world."
For the upcoming 2017 academic year, fees for Harvard College undergraduates will be $63,025, including $43,280 for tuition, approximately a 3.9 percent increase from 2016, maintaining Harvard's ranking as one of the least expensive schools in the Ivy League. For the more than half of Harvard students who receive financial aid, the average net cost to parents is about $11,000 a year.
The majority of undergraduates receiving financial aid pay just 10 percent of annual family income, and for more than 40 percent of undergraduates financial aid completely covers tuition. A Harvard education costs the same or less than a state school for 90 percent of American families, based on their incomes and Harvard's financial aid.
As part of its financial aid program, Harvard spent more than $3.3 million in 2015 to help low-income students pay for health insurance, books, travel costs home, winter coats, fees for events and performances, and other activities to ensure every student can engage in the Harvard experience.
"Month after month, week after week, there are going to be difficulties that come up," said Carroll. "I get to go to five free events a semester through the student event fund. Back home, I would make up an excuse because you don't want to say it's the cost. I don't have to say anything here. With the student event fund, you're able to go and have fun with your friends."
William R. Fitzsimmons, Harvard College dean of admissions and financial aid, explained: "Harvard's commitment to financial aid extends to every student accepted through our need-blind admissions process: We will pay your way if you can't; we will support you with tuition, room, board, books, travel expenses, and more, and we will award grants, and never require you to take out loans to cover the cost of your education. That's our commitment to our students."
The fact Harvard's financial aid is completely grant-based "is a huge asset," said Carroll. "I've seen a lot of people fall prey not only in the college context. Financial assistance that's completely loan-based is an amazing short-term solution but causes a lot of trouble in the long term. Harvard doesn't leave us vulnerable to that."
Of the Class of 2015, 76 percent graduated without any student loan debt. Median debt upon graduation for the 24 percent of Class of 2015 who chose to borrow was $10,900, less than a third the national average of more than $35,000.
"We're working to remove the financial barriers to education," said Sally Donahue, Griffin Director of Financial Aid. "We recruit students of talent and focus our financial aid on students who need it. We want every student to fully experience the life-changing adventure that is a Harvard College education."