There's little in hockey that Harvard coach Ted Donato '91 hasn't done.
His 2016 men's squad is the defending Eastern College Athletic Conference champion (and current Ivy League co-champ) ahead of Friday's semifinal match-up against St. Lawrence at Herb Brooks Arena in Lake Placid, N.Y.
As a Harvard player Donato lifted the NCAA championship trophy in 1989; he has been head coach since 2004. In between, he competed in the 1992 Olympics in France, and spent 13 seasons in the National Hockey League, nine with the Boston Bruins, collecting 150 goals and 197 assists across his career.
But this year, one element has felt new to him: coaching his son, freshman forward — and future Bruin — Ryan Donato. "I'm still learning, to be quite honest," the elder Donato said. "It's still a work in progress."
Quick to the puck
When Ted Donato was growing up, his father, Michael, coached baseball, basketball, and football at now-defunct Roslindale High School. Ted and his three brothers (two older, one younger) went to their dad's games to root for the Rossie Tigers, and played hockey and baseball on their home turf — first Hyde Park, then Dedham. Donato attended high school at Catholic Memorial in West Roxbury. A high-scoring left wing, he led the school to two state championships, catching the attention of the Bruins, who selected him in the fifth round of the 1987 draft.
"I was more excited to get picked in the fifth round by Boston than I would have had I got picked in the third round by anybody else," Donato recalled. "It was a different day and age," with fewer NHL teams, fewer Americans playing for them, and fewer national broadcasts of games. Going pro had long been "a dream of mine," Donato said, "but it wasn't something that I shared a lot with others," because it didn't seem realistic. To get that chance with the Bruins was more than he could have hoped for. "It was really all about playing for the hometown team."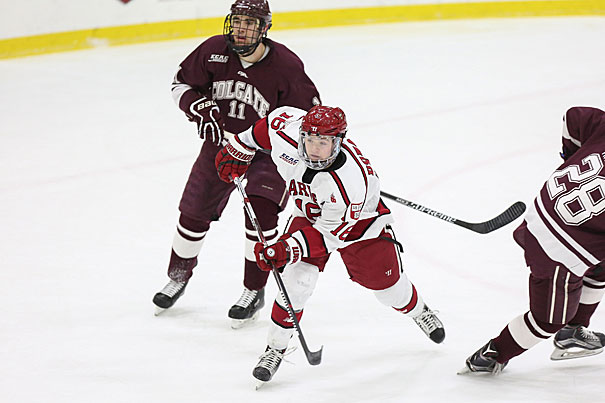 But first, Donato would play college hockey, and help Harvard capture a national title, the school's first in any sport since 1904. He was the Frozen Four MVP that postseason, and went on to become team captain.
"I have great memories of that time at Harvard, both on and off the ice," said Donato. "I still remain close friends with all my roommates, and many classmates." Those relationships, he added, "last longer than just the hockey memories."
The oldest of Donato's four children, Ryan grew up going to his dad's games on Causeway Street, and in "pretty much every building" in the NHL, he recalled. He got to meet Patrice Bergeron and Zdeno Chara, among other Bruins stars, and he once sat on the bench during an All-Star skills competition.
Moreover, Ryan got professional-level pointers from his father on drives home after his youth-league games in Scituate.
"Whether positive or negative," Ryan said, "I take whatever he has as advice, [and] it's worked out so far."
As a junior at Brookline's Dexter School, Ryan notched 37 goals and 41 assists in 30 games, helping lead his team to the finals of its conference tournament. Once again, the Bruins drafted a Donato, picking Ryan in the second round of the 2014 draft. He, too, would go to college first.
Coach-dad, player-son
At Harvard, Ted and Ryan Donato have had to navigate the coach-player relationship for the first time.
"It has its perks, but to be honest, he does have a tendency to make an example of me first," said Ryan. "But that comes with the territory, and I've had a good time so far."
"There's probably some awkward moments that you really can't prepare for," his father said. "I've tried to come down on the side of, any gray areas, going the opposite way and being tougher on him, or holding him to higher standards. But it's never an easy challenge, trying to separate being a coach and a father at the same time. So I think: Just try to be a coach at the rink, and then in the downtime try to connect with him more as his dad."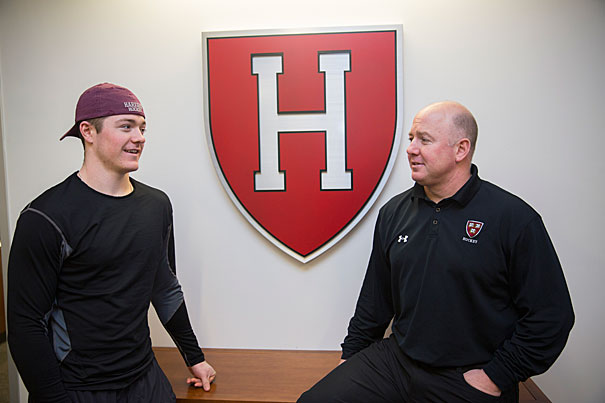 Asked if he inherited any of his father's hockey traits, Ryan said he tries to emulate the "second effort, the grit and hard work" that marked Ted Donato's career.
To the same question, Ted answered, "There are probably some similarities in puck-handling, but I think his skills and his skill set are unique to him."
As far as genes go, Ted said with a laugh, "My wife [Jeannine] went to Villanova and was a soccer player there. She says he gets all his athleticism from her."
He added seriously that Jeannine — and sports wives and mothers in general — don't get enough credit. Thinking back to when he was playing in the NHL while Ryan was playing youth hockey, Ted said that "sometimes when guys play pro sports, the lesser-known secret is that Mom ends up doing a lot of the driving" to and from practices and games, among other duties.
With all this athletic ability and knowledge in his blood and upbringing, it's natural to wonder: Might Ryan Donato go on to be a coach some day?
"Right now, I try to not think about that," Ryan answered. "But you'd always like to give back to the game, so potentially, one day."
"He's been around it enough to know some of the positives and negatives that come with the coaching profession," Ted said. "But I like to think that he's going to choose his own path, whatever that might be."