Harvard University has entered into an exclusive license and research collaboration agreement with Merck (known as MSD outside the United States and Canada) to further the development of small-molecule therapeutics for leukemia and other cancers. The novel compounds, developed in the laboratory of Harvard scientist Matthew Shair, offer an innovative approach to cancer treatment, targeting enzymes that regulate transcription.
Acute myeloid leukemia (AML) is the most common form of acute leukemia, with an estimated 20,800 new cases in the United States in 2015. Moreover, AML accounts for the largest number of leukemia-related deaths, with a five-year overall survival rate of only approximately 26 percent.
Shair, a professor in Harvard's Department of Chemistry and Chemical Biology, has discovered a novel therapeutic strategy for treating AML, namely to inhibit enzymes that regulate the transcription of key genetic programs that are altered in AML and other cancers. With support from Harvard's Blavatnik Biomedical Accelerator, Shair's laboratory has developed highly selective and potent small molecules, with favorable pharmaceutical properties, that are now poised for advancement toward clinical trials.
Merck will take over development of the candidate therapeutics and will engage in a research collaboration with the Shair laboratory to further investigate the biology of transcriptional regulator enzymes.
"Accelerator funding over the course of several years has enabled my laboratory to advance some of our experimental compounds to a relatively late stage of preclinical development," said Shair. "It's gratifying to have discovered a new biological target in the fight against AML, but even more fulfilling to have created a promising weapon against it."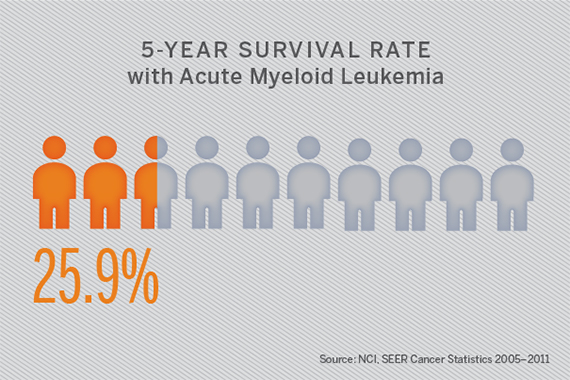 Under the terms of the license agreement, Merck will pay to Harvard an up-front fee of $20 million and will be responsible for development, including clinical development, and for worldwide commercialization of products. The University is also eligible to receive development and commercialization milestone payments, as well as tiered royalties on any resulting products. The compensation, which acknowledges the value Harvard and the Blavatnik Biomedical Accelerator have created, will support future groundbreaking research.
"This recent agreement with the Shair laboratory is rooted in our belief that collaboration is the cornerstone for improving cancer care and driving innovation. It is the partnership among industry and academia that is truly critical to transforming cancer treatment and advancing the care for patients with difficult-to-treat blood cancers, such as acute myeloid leukemia," said Dr. Eric Rubin, vice president and therapeutic area head, oncology early stage development, Merck Research Laboratories.
The Blavatnik Biomedical Accelerator, administered by Harvard's Office of Technology Development, supports the University's innovative, early-stage life science research to promote the development of important biomedical advances that will improve health care and benefit society.
"University researchers bring a great degree of creativity and innovation to the toughest challenges in human medicine," said Isaac T. Kohlberg, Harvard's senior associate provost and chief technology development officer. "Professor Shair's inventive leukemia research, with funding from the Blavatnik Biomedical Accelerator, has reached a stage of development that is unusual in most universities but of great interest to the health care industry and ultimately to patients. His work could change the way clinicians treat a major disease."