This year marks five centuries since the death of Hieronymus Bosch. Harvard Art Museums is paying tribute to the Dutch artist with the exhibit, "Beyond Bosch: The Afterlife of a Renaissance Master in Print."
While the literature dealing with Bosch is vast, his art has inspired an ongoing conflict of interpretations, which the exhibit nods to through its location, the University Research Gallery — a space earmarked for curatorial experimentation that encourages a range of faculty engagement, from generating exhibition concepts to evaluating visitor experience.
"Teaching with objects is a huge part of who we are as an institution, it's one of the things we can do as a university art museum, and that's really nice," said the exhibit's curator, Danielle Carrabino, associate research curator in European art.
Visitors might expect to see Bosch's work lining the walls of the gallery, but instead, more than 30 prints by other artists point to his influence on printmaking from the 16th century to the present.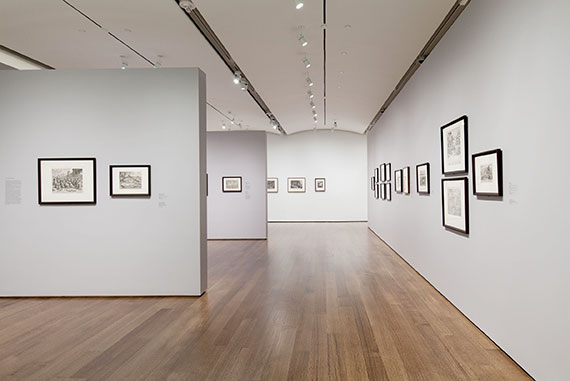 "There's not a single original work by Bosch, but that concept of originality is something that I think the exhibition really tackles," Carrabino said. A Boschian phenomenon began in the 16th century and continued strongly into the 17th century, mostly in printmaking.
"Bosch comes to the fore at the same time as the printmaking medium is being discovered, perfected, disseminated, learned — so it's really the timing that allows for these prints to proliferate," said Carrabino.
Included in the show is work by Alart du Hameel, Pieter Bruegel the Elder, Jacques Callot, and Joannes van Doetecum, a 1935 lithograph by M. C. Escher, and Belgian artist Antoine Roegiers' 2011 animated video, "The Seven Deadly Sins." There are also pieces that appear to be Bosch creations, but aren't — except perhaps in spirit.
"He's a tricky artist, because a lot of the paintings that bear his signature aren't actually by him," said Carrabino, "That's something you'll see through this exhibition, that they're signed Hieronymous Bosch, even 60 years after his death."