Combating pregnancy discrimination. Reducing racial disparities in obesity rates. Working on the front lines of the opiate epidemic. These are a few of the experiences undertaken by Harvard's Presidential Public Service Fellows this past summer.
Launched with the aid of an anonymous gift in 2011, the fellowship program provides funding for undergraduate and graduate students in the middle of their studies to pursue summer work experiences in government and community service, non-governmental organization and nonprofit work, and innovative projects that serve the common good.
"Students across the University are eager to examine the meaning and purpose of their lives as they determine where to direct their talents," said Harvard President Drew Faust. "The Presidential Public Service Fellowships create opportunities to put theory into practice and to connect policy with on-the-ground issues, and it is always so interesting to learn about the causes that matter most to our fellows."
The fellowship funds assure recipients of summer earnings while they pursue their passions. Ola Friday, a doctoral candidate in education leadership at the Harvard Graduate School of Education, was looking for a way to build on her prior policy experience. Having worked in a third-party agency in partnership with private and public early education providers, she thought working at the state executive office would give her new insights on how best to bring about meaningful change in the field. Friday spent the summer working with the Massachusetts Executive Office of Education, identifying ways that the state's early intervention and home-visiting systems could work together to have more impact on families.
"I was surprised that I enjoyed working on the executive level," she said. "I don't consider myself to be a political person, and that office is very political, but it's also very involved with agencies and helping to drive the agenda of early education. The experience challenged my thinking and challenged how I approach analysis of educational systems."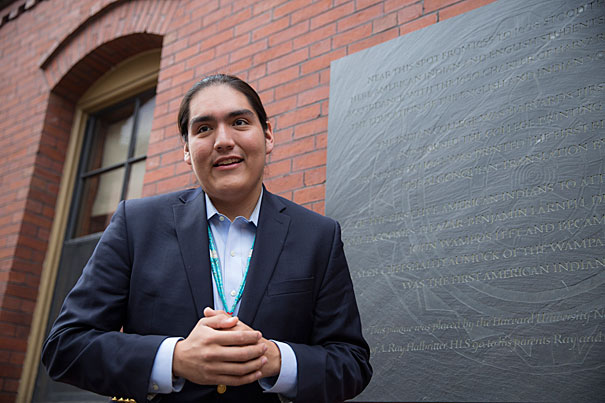 Dahianna Lopez, a doctoral candidate in health policy at the Graduate School of Arts and Sciences, had spent time researching the opioid epidemic, and says the public service fellowship "allowed me to bridge the divide between research and practice."
Lopez spent the summer working with Brockton Hospital and other stakeholders in Plymouth County, Massachusetts, mapping locations of opioid overdoses so that policy makers knew where overdoses are most likely to happen and could take steps to make the antidote to heroin overdoses (Narcan) more readily available.
"As researchers, we tend to theoretically analyze problems, but we don't really get to see the people who are affected," she said. "The experience empowered me to believe that I can make a difference."
For Damon Clark, a Cabot House junior who grew up on a Navajo reservation in New Mexico, the fellowship offered the opportunity to pursue his dream of working for Native American youths. Last summer, he served the White House as an intern in the Office of Intergovernmental Affairs & Public Engagement, working on Generation Indigenous, planning an event that brought together Native youths from around the country.
"For me, it was a way to work on a project that had big impact," he said. "Every day was a great day."
The deadline to apply for the 2016 Presidential Public Service Fellowship is Feb. 8. For more information, visit the fellowship website.