Amy Brenneman '87 and Sabrina Peck '84 began their longtime collaboration when they were undergrads at Harvard and bonded over their love for theater.
Though Brenneman majored in comparative religion and Peck in social studies, the two went on to drama careers at opposite ends of the country. Brenneman became a Hollywood actress, writer, and producer, with credits in TV shows such as "NYPD Blue," "Judging Amy," "Private Practice," and HBO's "The Leftovers." Peck settled in New York City and found her calling as a theater director and choreographer.
Thirty years later they remain close, and their working partnership is a testament to their belief that collaborators are almost as important as best friends or business partners.
That was one of the takeaways of "Performing Our Experience: Tools for Creating Original Theater," which Brenneman and Peck offered last week as part of the January Arts and Media Seminars sponsored by the Office for the Arts at Harvard.
The pair taught students how to create scenes based on personal experiences during the five-hour session, but they also spoke about their longstanding collaboration.
"It's not only about teaching tools and methods," said Peck. "We encouraged them to value their current collaborators on campus, to recognize that these people might become their important artistic allies in the future, as Amy and I have been for each other since college."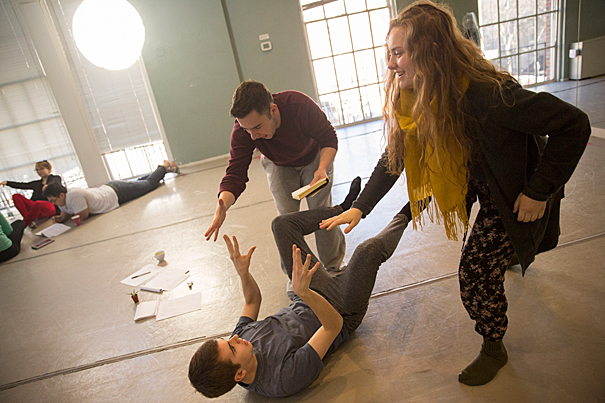 In the mid-1980s, the two co-founded Cornerstone Theater Company, a traveling ensemble that adapts classic plays to local communities. In 2011, they co-created "Mouth Wide Open," a theater piece based on Brenneman's experiences as she searched for spirituality in a place better known for its red carpets.
Drawing from life to make art is one of Peck's signature techniques when creating plays. The workshop offered methods and tools for students to "generate, distill and develop theatrical material that comes from a personal, authentic place," she said.
"These methods are valuable for their own creative self-expression, but they are also invaluable when collaborating with diverse communities," Peck said. "They help elicit and develop the stories that often don't get told, with the people from whom we seldom get to hear."
On a recent afternoon at the director's studio in the Office for the Arts building, eight students sat on the floor listening to Brenneman and Peck. At Peck's prompting, the students wrote brief stories around a personal object. Working in small groups, they chose a story and created a performance, all in 20 minutes. Students giggled and smiled as they worked on their scripts and incorporated the movement exercises they had learned in the morning.
"Storytelling is the fun part," said Peck, sitting on the floor next to Brenneman. "What could be more exciting than a moment of creation?"
After the workshop, Brenneman praised Peck's techniques. As an undergraduate, Peck created CityStep at Harvard University, a popular outreach program now in its 32nd year, whose members teach public schoolchildren in Cambridge dance and theater as a means of self-expression.
"Sabrina has a unique way to generate material from everybody because everybody has a story to tell," Brenneman said.
Most of the students' scripts dealt with the anxiety of being freshmen and the pressure of academic life while trying to find their places in the world.
For the students, the workshop was an opportunity to create something on the spot and experience the thrill of improvisation.
KeeHup Yong '19 said the highlight was learning to turn words into a performance. Garrett Allen '16 learned that "theater is a personal experience." And Hanna Psychas '18 relished the spontaneity.
"I thought there is a need for a plan," Psychas said to her peers at the end of the workshop. "But then I realized the first impulse is the playful impulse."
For students who want to go into show business, Brenneman offered a few words of wisdom.
"Keep writing, creating, and keep at it," she said. "And say yes to everything. It's not a time to decide anything. Just to experience it."
And cultivate collaborators, partners in creation, said Peck.
"Amy and I met when we were students," she said. "We have a rich collaboration that has evolved over time, but every time we're together, ideas fly."