By now, most College seniors are beginning to contemplate their post-undergraduate careers, trying to decide whether to apply for grad school, launch a job search, or both.
Not Rebecca Panovka and Bianca Mulaney.
Both were recently selected to receive Marshall Scholarships, which typically cover two years of tuition, research, and living expenses at a British university. They will be joined in the United Kingdom by Yen Pham '15-'16, who recently received a Rhodes Scholarship in her native Australia.
Rebecca Panovka
The Quincy House resident plans to spend a year at Cambridge studying intellectual history and political thought before moving to the University of Manchester's Granada Centre to pursue a film degree.
Panovka, who is working on a joint thesis in philosophy and English, as well as a documentary she shot in South Africa over the summer on a Harvard Artist Development Fellowship, has plenty of experience dividing her time between scholarly and creative pursuits. For her, the two types of work "feed into each other."
At Harvard, she has served as editor of The Harvard Book Review and The Harvard Advocate's 150th anniversary anthology. She has also interned for The Paris Review, Radio Open Source, and two documentary production companies.
But working as a research assistant for Professor Maria Tatar the summer after her sophomore year, she found herself drawn away from literary studies and toward intellectual history. "I realized I was interested in not just the texts and ideas I was studying, but the context in which they arose," she said.
The Marshall Scholarship left her shocked and thrilled. "I couldn't believe it," she said. "I felt so incredibly lucky."
Even better, she said, was that Mulaney — the other Quincy House finalist, with whom she'd prepared for the interview — was selected as a Marshall Scholar the next week. "What are the odds?" Panovka said.
Bianca Mulaney
The scholarship will give Mulaney the chance to pursue her interests at the intersection of economics and health — she plans to study at the London School of Economics for a year before shifting to the London School of Hygiene & Tropical Medicine.
"Through my experiences as an undergraduate, I have started to explore a few specific relationships: the contribution of health to economic development, and the economics of infectious disease, specifically the problem of antibiotic resistance."
The issue, which the World Health Organization has identified as one of the most urgent health threats of the next generation, involves both the prudent use of antibiotics and a question of economics, Mulaney said.
"There are huge economic disincentives to pharmaceutical companies to develop new antibiotics. Antibiotics are cheap, and in most cases it's inevitable that the drug will become ineffective with the evolution of resistance."
Another economic issue linked to antibiotics is agriculture. The drugs are often administered to livestock to prevent disease and try to accelerate their growth.
"The interesting economic question is, how would the farmers' productivity suffer if they were to stop using antibiotics, given the threat agricultural antibiotic use may pose to human health?" said Mulaney, who switched her primary concentration from molecular and cellular biology to economics so she could write her senior thesis on the topic.
Mulaney first became interested in antibiotic resistance as a research intern in the Kolter Lab at Harvard Medical School. Later, pursuing health policy internships at the U.S. Department of Health and Human Services and at the Wellcome Trust (for the U.K. prime minister's Review on Antimicrobial Resistance), she started to see how economic thinking and health issues overlapped.
Outside the classroom, Mulaney is involved in an array of campus activities, including tap dancing. She is the co-president of the Harvard Undergraduate Global Health Forum and co-chair of the Quincy House Committee.
Mulaney agreed with Panovka that the process of studying together — encouraged by Quincy House fellowships tutor Ruthie Ezra — was invaluable.
"What was really wonderful was how supportive we were of each other," she said. "When Rebecca found out, I was thrilled for her, and she still took the time to sit down with me in the days leading up to my interview and grill me with practice questions. This is a very high-risk, low-reward process … and I think we ended up being more successful because we worked together."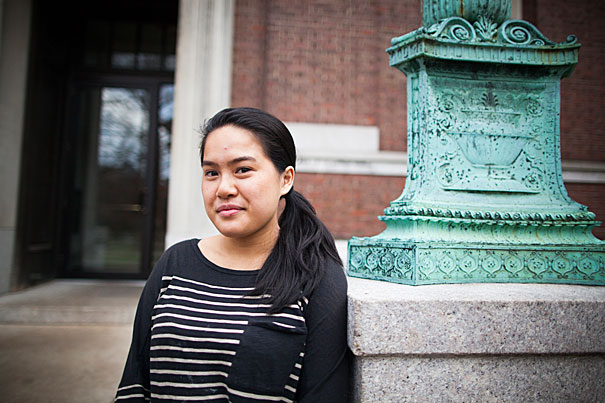 Yen Pham, Rhodes Scholar

When she heads to Oxford next year, Pham plans to pursue two degrees — one in contemporary literature and another in film aesthetics — with the goal of exploring a topic she takes personally: the literature of migration.
"Migration has been a huge force in my life," she said. "My parents were refugees from Vietnam, and I moved from Australia to the United States for college, so that's been a governing cultural dynamic of my life. It's something I've always been thinking about."
The issue gained a literary dimension when she read the Willa Cather classic "My Antonia" as part of a class on the American novel.
"I felt there were surprising resonances between that book and my family history, even though it is about a Bohemian family in 1800s Nebraska," she said. "That got me interested in this topic academically."
Her desire to study film, Pham said, grew from her belief that the medium is arguably the most powerful for modern storytelling.
"I've spent a lot of time studying literature, but I think film is an extremely important means by which we tell stories today," she said. "In some ways, it feels like the more immediate, visceral medium, and it has the potential to reach a broader audience."
Pham said she is eager to join the community of dedicated scholars at Oxford and delve deeper into her studies.
"The reason I applied was because I was excited to join this community of people who are, first of all, very intellectually serious, but who are also interested in using their skills or research to improve the world in some way," she said. "That is something that is very important to me as well."