Driven by the University's ambitious, science-based climate goal, Harvard's facilities and project planning teams have embraced Leadership in Energy and Environmental Design (LEED), the green building certification program that recognizes best-in-class building strategies and practices to reduce energy and create healthier spaces for occupants.
This fall Harvard reached a major milestone in its commitment to sustainability with its 100th LEED certified space — the Platinum-level renovation of Esteves Hall at the Business School. Harvard now has more certified building projects than any other higher education institution in the world, according to the U.S. Green Building Council (USGBC).
To achieve LEED certification (Platinum and Gold are the two highest rankings), projects must meet a set of prerequisites and earn points in areas such as energy, alternative transportation options, indoor environmental quality, and water efficiency.
"The certification of Harvard's 100th LEED building is very impressive and meaningful," said Rick Fedrizzi, CEO and founder of USGBC. "As a pre-eminent leader in higher education, research, and the development of the leaders of tomorrow, Harvard is a proving ground for new ideas. The fact that the institution pursues and embraces LEED demonstrates their commitment to sustainability in all of their endeavors."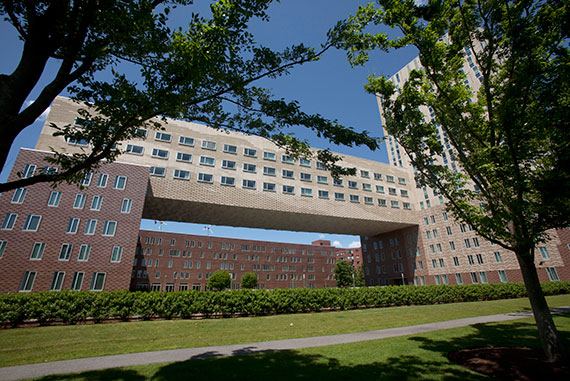 Ninety percent of Harvard's greenhouse gas emissions (scopes 1 and 2) are associated with heating and cooling at more than 700 buildings across its campus. In total, Harvard's LEED projects are estimated to save more than $4.7 million in utility costs and reduce carbon dioxide emissions by 11,000 metric tons each year.
These improvements are allowing Harvard to reach the climate goal it set in 2008: to reduce its greenhouse gas emissions — including growth — by 30 percent by 2016. As a result of its success toward this goal, the University's Sustainability Plan has become the foundation for Harvard's Green Building Standards.
"Creating healthier, green buildings, and spaces for the campus community is a pillar of our sustainability commitment," said Executive Vice President Katie Lapp. "I am proud of the hard work that so many throughout this University contributed to helping us meet this exciting milestone. The challenge moving forward will be to build on this progress by partnering with our faculty and students to actively explore the next generation of high-performance building technology and design."
From the beginning and moving upward
Initiated in the early 2000s, at the nascent stages of the green building movement, an internal Green Building Services team and a Green Building Resource website with case studies of the University's LEED-certified projects became an essential tool for Harvard's decentralized community as it aligned itself around a common set of principles.
In 2009, led by the Office for Sustainability, a cross-functional team of facilities leaders envisioned and launched the Green Building Standards to establish a broad framework and set of requirements for pursuing energy-efficient, sustainable building designs. The standards, which were updated in 2014, now require a minimum LEED v4 Gold rating, which is a more specialized benchmark for high-performance green buildings.
Laboratories are generally the most energy-intensive spaces on campus, primarily because of the equipment used in research and the ventilation rates required for safety. Harvard's standards and the LEED program provided energy-efficiency and water-conservation strategies that reduced the labs' environmental impact, while introducing features such as natural light into new and renovated lab spaces.
A life-cycle cost tool, tailored to Harvard's utility rates and data, is also used for all new projects to vet the cost-effectiveness of environmentally friendly technologies. For example, the LEED Gold-certified Nocera Lab employs a closed-loop glycol cooling system that recirculates cooling fluid for water, a change that significantly reduces water consumption and makes the process equipment more efficient. In addition, several of the renovated spaces, including the Sherman Fairchild Laboratory, have a metering system that can track and respond to energy-use trends in real time, by floor or even by individual office.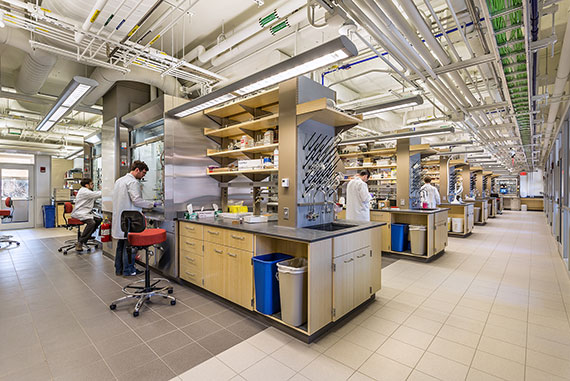 An October 2015 study by researchers at the Harvard T.H. Chan School of Public Health found that green office environments — specifically those that are well-ventilated with below-average levels of indoor pollutants and carbon dioxide — are linked with higher cognitive function.
"We spend 90 percent of our time indoors … yet indoor environmental quality and its impact on health and productivity are often an afterthought," said Joseph Allen, assistant professor of exposure assessment science, director of the Healthy Buildings Program at the Harvard Center for Health and the Global Environment, and lead author of the study.
The Green Building Standards now require that vendors disclose the materials and chemicals used to manufacture building products. To refine this requirement, the Office for Sustainability and Green Building Services team will collaborate with researchers from the Harvard Chan School and Harvard Medical School to use data from the Health Product Declarations to better understand what goes into Harvard's projects, in order to lay the foundation for future decision-making and sourcing of alternatives.
Science and the arts
Harvard's faculty and students are also increasingly using the University's buildings as "living laboratories" to study and pilot their research on the built environment's effects on public health. For example, Harvard Chan School researchers are currently studying the positive health effects of one of Harvard's greenest buildings, 46 Blackstone St., by evaluating the impact of indoor air quality on employee productivity.
LEED-certified spaces also support and strengthen Harvard's arts and cultural programming. The recent renovation of the home of the one of the largest and most comprehensive anthropology collections in the world — the Faculty of Arts and Sciences' Tozzer Anthropology Building — received LEED Gold certification. The project united the Department of Anthropology and reimagined the library's use, transitioning the space away from purely collection storage to a state-of-the-art, collaborative research and study space.
The historic renovation of the Harvard Art Museums also fully integrated sustainable features, earning Gold certification. As is the case with most of Harvard's newly built and renovated space, the project included widespread use of healthier, more efficient LED lighting. The exclusive use of LEDs was notable for a museum space, and required testing and close collaboration between the facilities team and collections staff.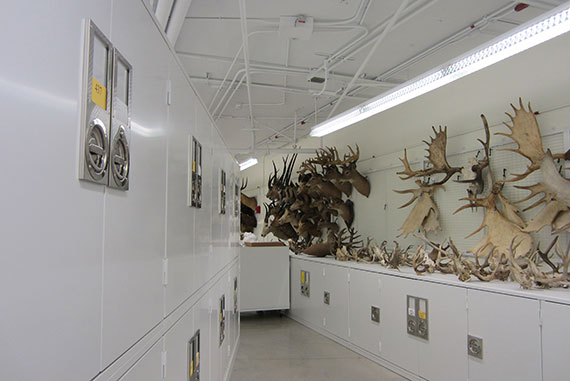 The path to success
The road to 100 certifications also included many firsts that served as mini-milestones themselves, and reflected the fact that Harvard's project managers are constantly looking to innovate in the wide range of building types and spaces:
The building at 46 Blackstone St. was the first in New England to receive two LEED Platinum certifications. Its existing-building certification was the result of the using 20 percent less energy than the original model predicted.
The 1807 Fay House at the Radcliffe Institute for Advanced Study wrapped up its 2009 renovation with a LEED Gold certification, becoming the oldest LEED-certified building in the United States, according to the USGBC.
The 2005 renovation and LEED silver certification of the Mather/Dunster kitchen became the first LEED commercial interiors kitchen in the nation.
The renovated suite of offices in Harvard Law School's Griswold Hall was the first LEED Platinum commercial interior space in New England.
The 2004 renovation of the Harvard T.H. Chan School of Public Health's offices at the Landmark Center was the first commercial interiors project at Harvard to pursue and receive LEED certification.
The first building to be renovated as part of Harvard's historic House renewal initiative, Stone Hall, received LEED Platinum certification.
"It is great to think that our classroom spaces may do more than support the learning experience of future educators, researchers, and policymakers, but might also impact how they think about the integration of sustainability into the classroom and inspire them to push the limits of this ideal in their endeavors," Harvard Graduate School of Education's Director of Operations Jason Carlson said about the 2009 renovation of the Larsen Classroom, which became the first LEED commercial interiors Platinum classroom in the world.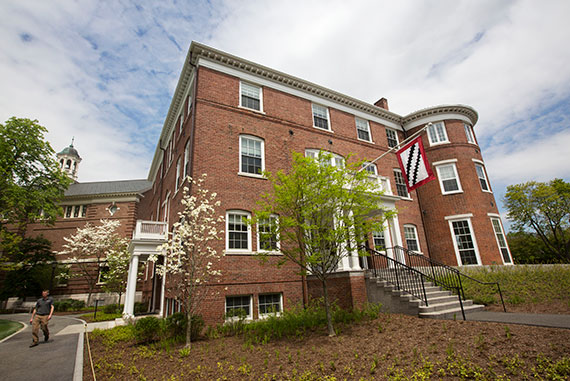 As Harvard looks to expand its campus, its commitment to green building and design is helping define future growth. The new centerpiece of Harvard Law School's teaching, learning, and legal practice program, the Wasserstein Hall, Caspersen Student Center, Clinical Wing building, received LEED Gold certification. And three of the newest projects in Allston at the Harvard Business School — Tata Hall, Esteves Hall, and the home of the i-lab, Batten Hall — are all LEED-certified. Energy-efficient technology and other green measures, including solar panels and a highly efficient, double-skin glass wall installed in the Platinum-certified Tata Hall, are expected to cut energy and water consumption by nearly 50 percent.
The Massachusetts Green High Performance Computing Center, built by Harvard and four other universities in collaboration with the commonwealth of Massachusetts to meet the growing demand for big-data, high-performance computing, has been certified LEED Platinum. It is considered one of the greenest, most efficient higher education data centers in the country.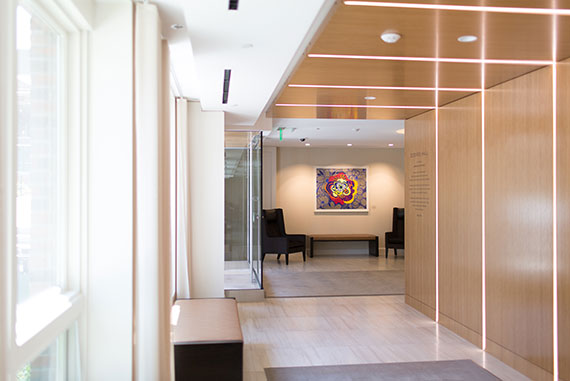 Moving forward, Harvard will set an even stricter standard for construction of its high-performance, energy-efficient buildings. In addition to the minimum requirement of LEED v4 Gold standards, capital projects are currently required to assess the feasibility of including innovative programs, such as the Net Zero Energy Building Certification and Living Building Challenge. These programs provide information for a better understanding of the tools and resources needed to design and construct super energy-efficient buildings. Some of Harvard's projects are already exploring the Well Building Standard, a set of requirements to remove harmful chemicals and materials to enhance the health and well-being of the built environment.
"How we build and operate our buildings is one of the most tangible examples of how Harvard aims to transform our campus into a high-performing, super-efficient system that not only reduces energy and resources, but more importantly enhances the health, well-being, and productivity of our people," said Heather Henriksen, director of Harvard's Office for Sustainability. "Ultimately, we strive to work with faculty, students, and staff in modeling a sustainable campus and help expedite the change that is needed to create healthy, sustainable, communities."
Case studies for Harvard's LEED certified projects are posted on the Green Building Resource website.