In a 2014 speech titled "The Case for College," Harvard University President Drew Faust encouraged high school students in Dallas to consider the long-term benefits of college.
"As early 20th-century Civil Rights leader Nannie Burroughs put it, education is 'democracy's life insurance,' " she said. "College graduates are also more likely to own a home. They are healthier and less likely to smoke. Their children are more likely to go to college. These are powerful reasons for earning a college degree."
To bring that dream of opportunity to Boston, Harvard undergrads, local educators, and parents from Allston, Brighton, and Cambridge gathered at the Harvard Ed Portal on Oct. 29 to explore paths to college. Parents of students as young as the fifth grade attended the event.
In the welcome, Catherine Chiu, director of guidance in Boston Public Schools, said: "I love Boston because of how far your family can go in just one generation. I grew up in Charlesview, in Allston-Brighton, and I attended the Thomas Gardner Elementary School, which has grown into the Gardner Pilot Academy K-8 school. In Boston, any student who wants to pursue academic opportunities can do so."
Families and students explored college and career pathways in workshops facilitated by two local nonprofits: Inversant, which works to empower families to invest in higher education, and Cambridge Housing Authority (CHA). Inversant site managers Stephanie Chery and Rochelly Araniz offered separate workshops for parents in which they discussed covering college tuition and the link between education and career planning. These workshops were adapted from the full curriculum that Inversant has offered to 800 families in cities across Massachusetts.
The founder and executive director of Inversant, Bob Hildreth '72, said that the event helped parents learn about the college process as a family.
"It's a great feeling as a Harvard alum to give back to the community by providing resources and services like this event, empowering families to learn and invest in higher education."
While parents attended the information workshops, students explored how to identify and create goals for college and career planning. Traci McCubbin and Janelle Carson, program coordinators for CHA's This Way Ahead Boston program, facilitated the student workshop, which was adapted from CHA's full curriculum as a part of two initiatives: This Way Ahead Boston and The Work Force. The Work Force program provides teens living in Cambridge public housing with life skills and job-readiness classes over five years, starting in eighth grade. Nearly 95 percent of students who have completed the five-year program have matriculated in college or a technical school.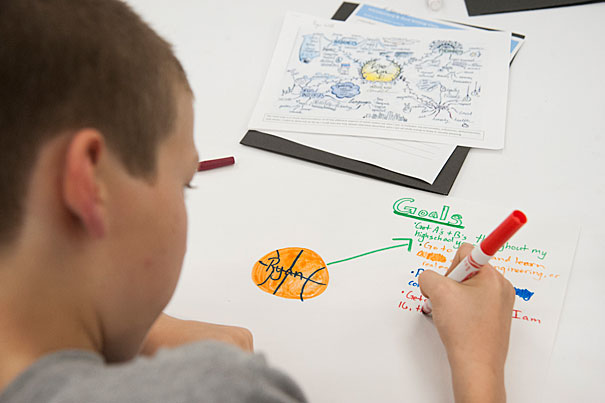 While acknowledging the role of local resources, a panel of experts at the event said few forces are more potent in college planning than parental involvement. Niki Johnson, senior admissions officer and financial aid officer for Harvard, also serves as director of the Harvard First Generation Program, which was established to build awareness and provide support for first-generation college students at the University.
"I'm a first-generation college student," she said. "My dad did not graduate high school, and my mom graduated high school and went no further. However, they always, always talked about me going to college. They inspired me, and it was never a question of whether I was going to go, but how I was going to go to college."
Johnson graduated from Brown University with a bachelor's degree in 2005 and completed her master's degree at Middlebury College in 2014.
Parents should start to save for their children's higher education as soon as possible, she said.
"Start preparing financially for college costs. If you start doing that, you're not only saving money, you're modeling behavior that shows how important college is to you. That's an important message."
Cambridge resident Emma Hernandez brought her daughter, eighth-grader Claritza, to the event. Hernandez has two sons, one about to graduate high school and another who graduated high school last year. Before the event, she had never heard of a "first-generation" college student — although she was one herself.
"I'm a single mom, so I want to motivate my children — get them into college, and get them to finish their degree. They just have to do it. Parents want their kids to go as far they can, and tonight was a great motivator for us."
The panel also included Harvard College students Jesus Moran '16, an intern for the Public School Partnership team at the Harvard Ed Portal, and Lisette Candia Diaz '16, born in Santiago, Chile, but raised in New York. Both are first-generation college students whose parents immigrated to the United States so their children could have better opportunities.
Candia Diaz is the co-director of Act on a Dream, a campus immigration-advocacy group that helps undocumented students achieve their goal of higher education. She and her family were undocumented when they first came to the United States.
"Being undocumented, college seemed very unachievable," she said. "I had the grades to get in, but I thought my life status would be an issue when it came to actually attending college. It was hard to see the light at the end of the tunnel, even though I had been working so hard for so long."
Despite those challenges, she said: "My parents were the ones who pushed me to apply to Harvard. I didn't want to apply — I thought I would never get in. But my parents always encouraged me and pushed me to do my best. Their being so active in my life — that interference was fundamental to me working hard to achieve all my goals."
In a Q&A, the panelists suggested online resources such as the College Board, which provides average SAT, ACT, and GPAs for a variety of colleges, as well as taking the time to schedule school visits. Ultimately, Chiu said, she hopes students would focus on receiving three or four acceptance letters from educational institutions.
"There are so many paths that you can take, and there's no one right path," she said. "It's about choosing to keep growing."