Harvard's Widener Library is an unparalleled setting for academic resources and research. But last month more than 500 staff members from Harvard's Faculty of Arts and Sciences (FAS) and School of Engineering and Applied Sciences (SEAS) visited with a different goal in mind: pie.
The fall celebration for FAS and SEAS staff brought together colleagues from across 150 departments, centers, and units for an afternoon of live music, conversation, and delicious pies.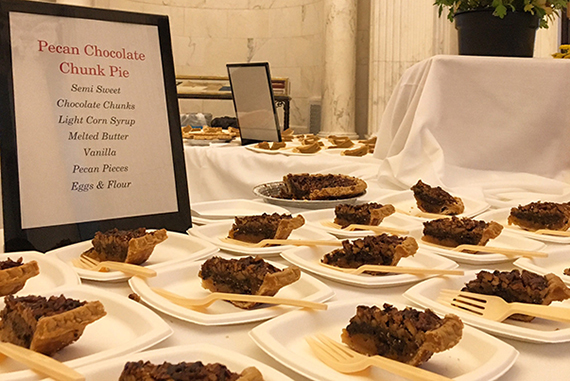 "At the beginning of the academic year, we thought it would be important to take a little time to get together, draw a deep breath, and celebrate our accomplishments," said Leslie A. Kirwan, administration and finance dean for the Faculty of Arts and Sciences, in her opening remarks at the Oct. 14 event. "But how to do that when there are over 2,500 of us?"
The solution? Widener Library. Kirwan gave a special thanks to Sarah Thomas, vice president for the Harvard Library and University Librarian, and the Widener Library team. When approached about hosting the fall celebration, Thomas embraced the idea, saying, "I want to have you in my home."
At the event, staff mingled, enjoyed a live jazz trio, and savored samples of pie including apple, key lime, and chocolate pecan. Scattered throughout, images of pie charts depicted the many ways that staff members fit into FAS. Stephanie Nasson, manager of training and outreach in Financial-FAS, tested the group on their knowledge of baking trivia and raffled off pies and cookbooks to staff members. "I didn't realize 'special duties as assigned' could be so fun," she said
Usually roped off, the Memorial Room in Widener was thrown open, and library staff members were on hand to discuss the Harry Elkins Widener Special Collection, including an up-close look at Harvard's copy of the Gutenberg Bible.
FAS and SEAS staff also had the opportunity to take a tour of the Collections Conservation Lab, where 20 library staff members restore and preserve items in the Harvard Library system — more than 24,000 in the last year alone. From repairing binding to digitizing materials to finding creative storage solutions for items like the "Peruvian Knife Book of Poetry," the Collections Conservation Lab shared a glimpse into their work.
Nyasha Borde, a staff assistant in the philosophy department and a recent addition to FAS, said, "This was actually my first time in Widener Library. I came with my manager and other members in my department. It was great to see so many staff members together, and to realize I knew more people than I thought I did."
Kirwan emphasized how across Schools and divisions, departments and centers, each staff member is valuable to the FAS and SEAS communities. "Invariably, when we're asked what makes Harvard a great place to work, we say, 'It's the people.' It's the quality of the people, the spirit of the community, that make Harvard what it is. … Whether you work with SEAS or the College, FAS or DCE [the Division of Continuing Education] … you are — wait for the pun — an important piece of the pie."