The evocative piano sonatas and etudes of Bach, Beethoven, Brahms, Chopin, and Debussy are legendary, beloved around the world and celebrated in the classical canon. But what is known about the playing of Liu Xue'an, or the compositions of He Luting?
Piano music in China is young by the standards of the West, as an exhibit at Loeb Music Library reveals. On view through Dec. 18, "One Hundred Years of Chinese Piano Music" sheds light on a tradition influenced by native folklore, poems, philosophy, and even a complex social-political movement, as well as Western styles and techniques.
The show traces the century-long history of the publication of piano music in China and was inspired by a 10-volume anthology of Chinese piano works released by the Shanghai Conservatory Press in honor of the centennial. Selected volumes appear in the exhibit alongside signature Chinese compositions, photos, and other items drawn from the Loeb Music Library, Harvard's Fine Arts Library, the Harvard-Yenching Library, and the Shanghai Conservatory.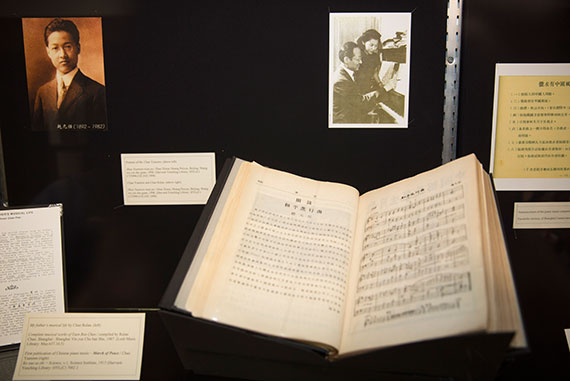 That China's rich classical repertoire is largely a secret beyond its borders is unsurprising, said the exhibit's curator, Harvard library assistant Lingwei Qiu.
"It's a relatively new history," said Qiu, a pianist who donated to the show several items from her own collection. The exhibit, she said, is "a good chance to just introduce something new, something different. This is like an overview. It's not a complete history, but it covers the most important moments in Chinese piano music history. It opens a new window."
Visitors who peer into that window will see examples of music colored by both Western and Chinese traditions. Some pieces use the five-notes-per-octave pentatonic scale, which is common in Chinese music. Other compositions are based on the heptatonic scale, which includes seven pitches per octave and is more standard in Western music. Examples of canons and fugues, reminiscent of Bach and Beethoven, are on view. While they have a distinctly Western feel, many are inspired by Chinese folk songs, even ancient works of art.
The show's oldest published piece has a direct Harvard connection.
China's first published piano work appeared in a journal of the Science Institute in Shanghai almost exactly a century ago and was the product of the well-known linguist and musician Chao Yuen Ren. In 1915, the same year his piece was published, Chao traveled to Harvard to pursue his Ph.D. in philosophy. (His daughter, Chao Rulan, became a longtime professor in Harvard's departments of music and East Asian languages and civilizations.) The composer's Western-style composition is titled "March of Peace," and may have been a reaction to World War I, said Qiu.
One case of the three glass cases and two wall displays that make up the exhibit is dedicated to contemporary Chinese piano music and includes a 1987 composition by Zhao Xiaosheng inspired by the Chinese theory of I Ching. Another case contains works based on compositions for the ancient Chinese stringed instruments pipa and guqin, whose original music, in some instances, dates back more than 1,000 years.
Among the show's highlights is one of China's most famous compositions, "Yellow River," a four-movement concerto for piano and orchestra based on a 1939 cantata of the same name by Xian Xinghai. The concerto, which premiered in 1969, was inspired by a poem by Guang Weiran that urged the Chinese to rise up against Japanese invaders. Despite its Western-influenced compositional style, its patriotic sentiment made it popular with Communist officials in China, who encouraged performances of the piece during the Cultural Revolution. It remains a popular favorite today.
For Qiu, the Loeb Library exhibit celebrates not only the treasures of the past, but also the future of Chinese piano music.
"This is also a show representing Chinese culture, Chinese history, and Chinese daily life, and it marks a significant step toward the next 100 years."