In a heartfelt ceremony at First Parish in Cambridge, the Harvard students and alumni who led the effort to open a student-run overnight shelter for homeless youth in Harvard Square announced that it is set to open next month, as winter weather nears.
Sam Greenberg '14 and Sarah Rosenkrantz '14, who work full time as co-directors of the shelter, thanked all those who helped the project, which they began in 2013, become a reality.
"Thank you for making us the people we wanted to be," said Greenberg as the crowd of 500 who packed the church's sanctuary on Friday afternoon broke into applause.
Located in the basement of First Parish, a Unitarian Universalist church, the shelter aims to be a safe space for those between the ages of 18 and 24. It will include 22 beds that are gender-neutral. Officials said it's the nation's first student-run overnight shelter specifically set aside for that age group.
Harvard students will run the shelter. Isabelle Yang '17, whose concentration is in chemistry, is one of them. As the shelter's student director, she'll make sure it's well-staffed. On any given day, she said, there will be 21 students working during dinner or breakfast shifts, in the evening and overnight. To get the place up and running, about 150 students volunteers per year are needed.
Yang will work Saturday nights at the shelter. "I can't imagine a better way to spend my weekend," she said.
Called Y2Y Harvard Square, a program of the Phillips Brooks House Association, a nonprofit public service organization at Harvard, the project was funded with $1.3 million. The project value is close to $2 million, said Greenberg, but donations helped reduce the cost.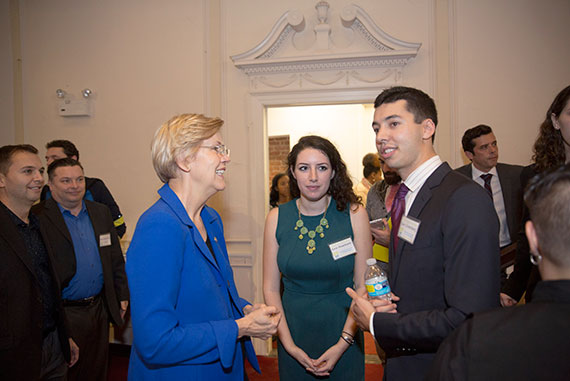 U.S. Sen. Elizabeth Warren, the keynote speaker, talked about how the shelter meets a need.
"Nationwide, we have 39,000 homeless youth on any given night in this country," said Warren. "An estimated 20 to 40 percent of those youth are LGBTQ, and that means it's a pretty tough street out there."
Warren commended Greenberg and Rosenkrantz for taking the initiative to solve a problem they encountered while they were at Harvard. Both graduated last year, Rosenkrantz in social and cognitive neuroscience and Greenberg in history and literature.
"They saw a problem and they found a way to fix it," Warren said. "They had a vision, led by example and gathered people around it. It's together that we make each other stronger."
Calling the project a "true community effort," Rosenkrantz and Greenberg thanked a long list of people, from construction companies to city officials to advocates for the homeless. With the opening slated for December, they said, the real work starts now.