"Grilling, broiling, barbecuing — whatever you want to call it — is an art," the late culinary master James Beard once said, while the writer William Deresiewicz asserted with much displeasure in a 2012 New York Times essay that food had replaced high culture.
"A good risotto is a fine thing, but it isn't going to give you insight into other people, allow you to see the world in a new way, or force you to take an inventory of your soul," he wrote.
Many chefs would shake their tongs in objection, as might people find joy at the dinner table, long a hotbed for exchanging ideas and forming philosophies. Yet Deresiewicz is at least partly right — food is now widely regarded as art, actual art, the kind once relegated to museum and gallery walls and meant for a clutch of highbrow intellectuals who understood.
But what would happen if food and art collided, if only for one night?
In homage to the pop artist Corita Kent — who regularly featured food in her work — and the Harvard Art Museums exhibit "Corita Kent and the Language of Pop," Harvard University Dining Services on Thursday hosted Corita Night in the University's dining halls. Inspired by Kent's "song about the greatness," which played on a DelMonte ketchup ad that read "Makes meatballs sing," campus chefs were invited to personalize their own version of meatballs.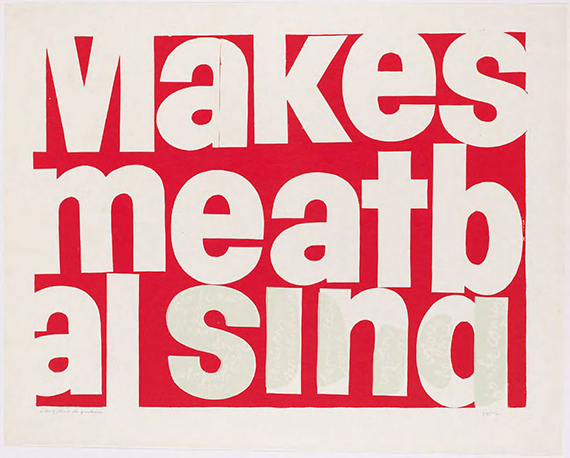 Luke Parker, Winthrop House's senior chef, drew on his love of spice and dished out Thai chicken meatballs seasoned with curry, lemongrass, and coconut milk.
Like art, cooking is about building, whether it's depth of color or depth of flavor. "I improvise all the time," said Parker. "I went to culinary school — and the school of hard knocks."
When the Kent exhibit opened in early September, the Harvard Art Museums partnered with Harvard's Food Literacy Project to invite students to share their stories about food, community, social justice, and art with NPR's StoryCorps. Corita Night served to not only highlight the exhibit, which runs through May, but to corral students for a special student-only event called "The Harvard Art Museums Go POP!" The Oct. 29 event will feature a pop art-inspired menu of small bites and sweets, provided by Crimson Catering.
Over in Leverett House, chef Kathleen Smith drew on her travels in Mexico — and her Mexican boyfriend — to create the night's menu. Her albondigas came drenched in a spicy chipotle sauce.
"As a student I enjoy when they create these theme-based meals," said Junaid Zubair '18. A class in the history of photography often leads him inside the Harvard Art Museums, he said, and the meatballs will motivate him to take a further look at Kent's work. How's that for inspiration?
If you're looking to feed an army, here's a traditional Italian meatball recipe, straight from Nonnie herself.