When Adam and Sarah Palmer, who are both from Australia, moved to the area so Adam could his pursue his Ph.D. at the Department of Systems Biology at Harvard Medical School (from which he graduated in 2013), Sarah didn't anticipate the feeling of isolation she would experience.
It's been eight years since the couple first called Harvard University Housing's (HUH) Peabody Terrace home. Their three children, Lucinda, 6, Odessa, 4, and Everett, 20 months, were all born in Cambridge. Yet the memories of that first Boston winter still linger for Sarah.
"I actually had to go home to Australia because I was so depressed," she said. "We didn't know anyone here, and it was very difficult to go out and meet people. We didn't know anyone past a 'hello.' It was just very difficult."
While it's not uncommon for international students and their spouses to struggle as they adapt and find community in university settings, HUH wanted to provide a supportive solution.
For the Palmers, it was the Graduate Commons Program (GCP) that turned things around.
"GCP transformed our lives," said Adam, who is now a research fellow in the Harvard Program in Therapeutic Science. "Before, it was more or less like living in an apartment building close to campus; there just wasn't much interaction between neighbors. It's likely that the people living here will never again have such interesting neighbors, and there wasn't really any use being made from that."
The GCP worked to create communities within Harvard housing through scholarly lectures, yoga classes, networking events, even wine and coffee nights.
Piloted in HUH properties Akron and Cowperthwaite, GCP houses an international community of scholars, bringing together Ph.D., master's degree, and postdoctoral students from around the world. Within the HUH setting, GCP offers diverse interdisciplinary programming to connect graduate students across programs and fields of study.
Events such as "Meet the Scholar," a monthly gathering that brings visiting scholars to Peabody Terrace to share their work and research, provides an opportunity for students, their spouses, and children to connect, creating a community that likens itself to an extended, international family.
"When people are happy, that can spark happiness among others," said Sarah Palmer. "These events really help not only to generate happiness, but pass it on as well," minimizing the sense of isolation and stress.
"Our children have also benefited from it immensely," she added. "They're much more outgoing than they ever would be without the program. They've developed a lot of social skills and friendships here."
Lisa Valela, associate director of the Graduate Commons Program, was part of its inception team back in 2008. Valela is still responsible for the coordination of programming in all Graduate Commons properties, totaling nearly 1,800 residents and their families.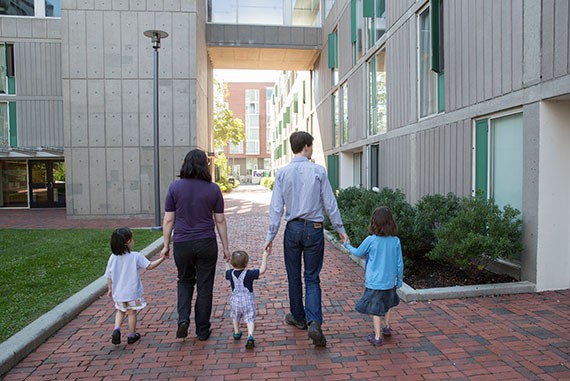 "We weren't anticipating the generational impact we were going to have on families living in GCP properties, from kids to parents and even grandparents," she said.
In addition to "Meet the Scholar," created by original faculty directors Jennifer Lerner and David Carrasco, GCP also hosts community dinners, offers block tickets to Red Sox games, and coordinates other seasonal ventures, such as apple picking in the fall.
"We provide a natural place for scholars, spouses, partners, and children to connect," Valela said. "It's not always easy to find a way into the Harvard community. Programs like these help your social capital to increase a thousand-fold. It can help you find not only friends, but a sense of identity and belonging here at Harvard."
With GCP, Adam Palmer said, "The social programs increase and deepen the level of contact with your neighbors so that you can really call it a support network. The undergraduate experience at Harvard emphasizes these kinds of cross-disciplinary communities … and the residential program here brings that together, so you can have a great exchange of viewpoints and ideas. It really is kind of like an instant community."