The celebration inside the W.E.B. Du Bois Medal ceremony was tempered by some harsh truths: The fight for African-American equality is not over, there is more work to be done, and everyone is implicated.
On the heels of a bruising year that saw the deaths of Freddie Gray and Sandra Bland while in police custody, and the mass killings at the Emanuel African Methodist Episcopal Church in Charleston, S.C., the Hutchins Center for African & African American Research on Wednesday afternoon honored seven luminaries whose pivotal social and cultural contributions follow in Du Bois' footsteps and "represent both the triumphs of the work that has been done and the vastness of the work that needs to be done," said Harvard's Henry Louis Gates Jr. in his opening remarks.
"Indeed, ladies and gentlemen," Gates added, "black lives matter."
The honorees were varied and accomplished. They included recent U.S. Attorney General Eric Holder, Children's Defense Fund founder Marian Wright Edelman, businesswoman Mellody Hobson, journalist Charlayne Hunter-Gault, hip-hop artist Nasir "Nas" Jones, and photographer Carrie Mae Weems. But one, receiving his award in absentia, floated, you might say, like a butterfly: the legendary boxer and activist Muhammad Ali.
In a special video message tracing his championships and audacious proclamations that rattled and electrified America during the 1960s and '70s, Ali donned his medal alongside his wife, Yolanda.
"Like Dr. Du Bois, Muhammad was very enlightened, and recognized and represented the truth, regardless of what other people thought," Yolanda Ali said. "He did not fear the establishment."
Acknowledging how Ali has slowed down due to Parkinson's disease, his wife said he remains very much an activist — and one who is still fighting.
In presenting the medal to Holder, Harvard Law School Dean Martha Minow said his "priorities as attorney general showed a man committed to transformative change and the work that it entails: defending the president's health care reform, advocating for equal marriage, espousing immigration reform, commitment to changing the criminal-justice system, and fervently opposing the recent and ugly chipping away of voting rights."
"It is an honor for me to receive this award, named for the person who laid the intellectual and historical foundations to all the progress that was made in the 20th century," said Holder, pausing momentarily to address his cell phone, which was ringing to the Temptations' "Since I Lost My Baby."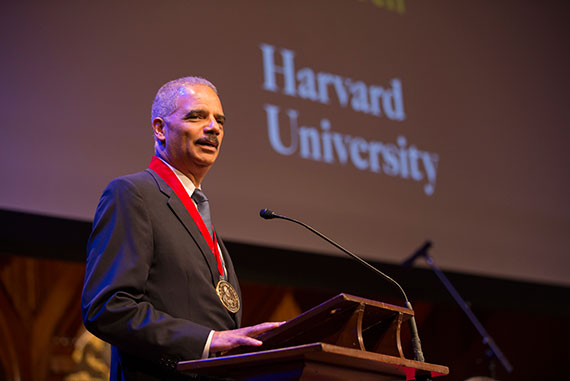 Harvard President Drew Faust presented the medal to Edelman, "the nation's leading advocate for children," Faust said, and the first African-American woman admitted to the bar in Mississippi in 1963. In founding and leading the Children's Defense Fund, Edelman worked "to ensure every child a healthy start, a head start, a fair start, and a safe start," Faust said.
In her remarks, Edelman addressed inequalities in education for minority children, saying, "We need every one of these children to be educated and healthy. And we neglect them at our peril."
In the end, everyone is in the same boat, she said. "Don't ever forget the ark was built by amateurs, and the Titanic was built by experts. We cannot expect the experts to resolve the issues on the Mississippi Delta. We've got to get out there and do it ourselves. Change is built from the ground up."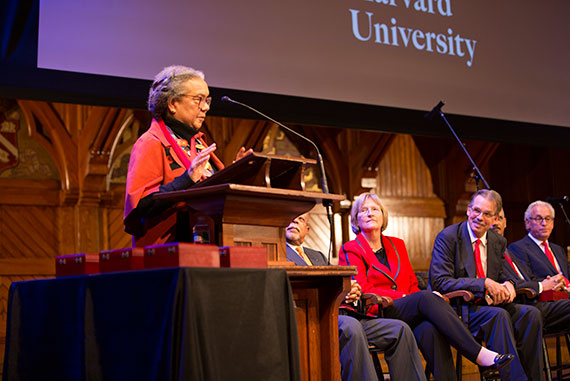 Harvard Business School Dean Nitin Nohria praised Hobson's commitment to financial literacy, working with people of color of all ages on money management and investment issues.
"It's been a calling that I've been so proud, so fulfilled in doing," said Hobson.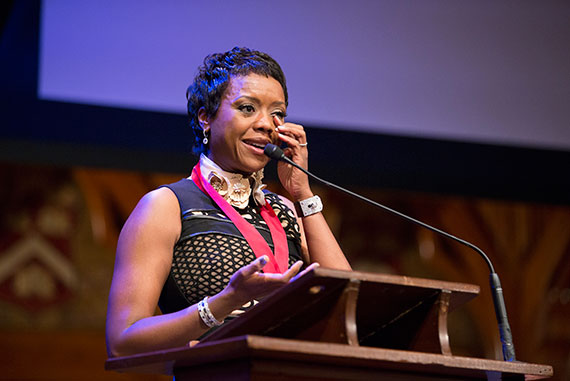 Robin Kelsey, Harvard's Shirley Carter Burden Professor of Photography, presented the medal to Weems, noting that the "upper reaches of the art world remain very male and very pale, and against long odds Weems has won great distinction."
Glenn H. Hutchins '77, J.D.-M.B.A. '83, bestowed the medal to his friend Hunter-Gault, "an icon in the Civil Rights Movement, and a renowned journalist," he said.
Hunter-Gault was thrust into the national spotlight when she became one of the first two blacks to enroll at the University of Georgia, spurring rioting and a suspension from the college "for her own safety."
Inspired to enter journalism by the comic strip "Brenda Starr," Hunter-Gault famously petitioned The New York Times to forfeit the descriptor "negro" in favor of black, and went on to win two Emmys and a Peabody Award.
"As I pursued my profession, in the forefront of my mind were those who have no voice," said Hunter-Gault. "And to this day, far too many of those who have no voice are women: women as weapons of war, where they are being in raped in places like the Congo and South Sudan or Northern Nigeria in the path of Boko Haram."
Professor and Hiphop Archive Director Marcyliena Morgan introduced Nas.
"Part poet, entrepreneur, intellectual, metaphysician, wordsmith, Nas is widely considered one of the greatest hip-hop artists of all time," she said. "His albums are lyrical ethnographies, where the plight of urban life is simultaneously chastised and romanticized. His lyrics go beyond autobiography to explore politics, family, religion, and race."
A soft-spoken Nas called receiving the award "surreal." He said he had waited for the day that hip-hop received its due as an art form, but he never dreamed that it would be acknowledged by Harvard.
"This is the thing I want kids to see," he said. "This is a light that I like on me. This is what I hope kids from my neighborhood can see, and want to be. I hope I can be a great role model for those kids."
Also awarded was Hutchins Center supporter Richard D. Cohen, whose eponymous lecture series takes up key issues in African and African-American art history, and Ethelbert Cooper, who funded the center's new Cooper Gallery, which has been open for a year.